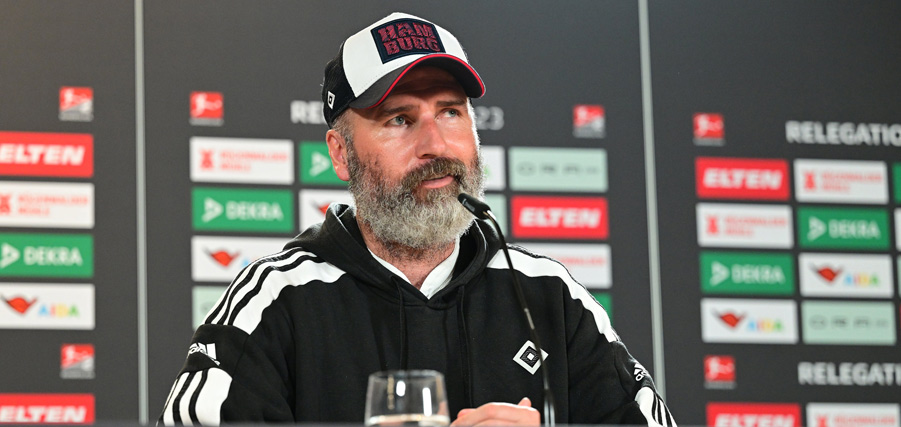 Press Conference
04.06.23
"We will fight until the end"
In the press conference before the relegation second leg against VfB Stuttgart, coach Tim Walter spoke about the chances of overturning the deficit, tactical changes and the support of the fans.
After the clear 3-0 defeat in the first leg, HSV face an "almost" insurmountable task in the relegation second leg tomorrow (Monday, 5 June, kick-off: 8.45 pm). But only "almost". With their own 50,000 fans in the sold-out Volksparkstadion behind them, coach Tim Walter and his team want to achieve the "miracle" and turn around the three-goal deficit. He told the press conference on Sunday (4 June) how this could be achieved.
Tim Walter on ...
... the first leg: I think we had our moments in the first half and could have scored a goal. It's about the fact that we only have a chance as a team if everyone delivers 100 per cent. If we don't get our players to 100 per cent, we have little to complain about as a team against another team that is well equipped individually and from the bench. That was the case on that day. We have to try to do better on Monday.
... the mood in the team: We don't need to spread a good mood. The boys have already had a few setbacks. And we always got up again. We have comeback qualities, whether we proved that in Heidenheim after 0:3. We always manage to come back. We might not always get our best performance on the pitch, but we will fight until the end. That's been our gene for two years. That's what we'll try to do tomorrow. Whether it's enough in the end, we don't know, but we'll try everything.
... tactical changes: VfB were strong on one side. Miro Muheim, who has been much-maligned this season, played a good game on the other side because he was on earlier. That was also the mission on the other side. We wanted to be on earlier, we didn't always manage that. Football is also always a one-on-one sport. It's not always about philosophy, but also about being on your toes individually and as a group. We weren't always on our toes that day. Nevertheless, we had a good phase before half-time in which we should have rewarded ourselves. That was when the opponent was better, you could see that on the day.

... the chances in the second leg: We had a completely different starting position last year. We had won 1:0. Now it's the other way round. We don't know yet which one is better. Of course, it's not ideal when you lose by three goals. We start at minus three, but we try to work our way forward bit by bit. The goal is to score first and then the north, the south, the west and the east will go along. We're trying to bring everyone along with us. The boys have managed to do that and you have to give them credit for that. We are a family and I am convinced of my family.
... the support of the fans: If we all - and I mean all - in blue and on the pitch pull together. Then we have a possibility. In football, everything is possible. And as long as that is the case, we will give everything. Jonas said: 'HSV needs a miracle.' I know, the Volkspark, it's wonderful.