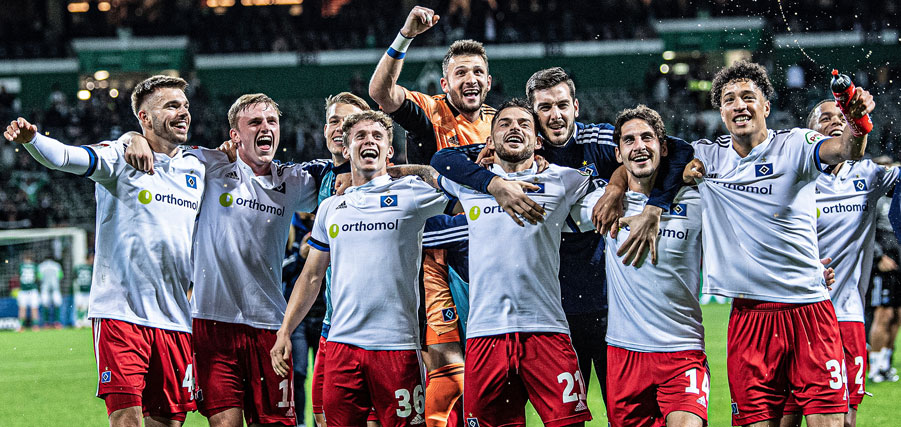 Post Match Thought's
20.09.21
After the derby triumph: joy and focus
After the furious and well-deserved 2:0 victory in the North derby against SV Werder Bremen, Tim Leibold spoke on Sunday about this very special evening and the tasks ahead.
Everywhere you looked: beaming faces. On Sunday morning (19 September), HSV coach Tim Walter had ordered his team straight back onto the training pitch, and the squad was clearly enjoying their work. Of course, with a victory in the North derby in the bag, everything is easier to do. Tim Leibold, who answered the journalists' questions after the training session, emphasised how nice, important and well-deserved this victory was, but at the same time pointed out the potential for development and dared to look ahead to the coming weekend, which will be his main focus from now on. Tim Leibold about...
... the feeling after the 2:0 victory in Bremen: This derby win feels really good, even better today than yesterday, it's even more tangible now. We are all happy and proud after this game and are very happy that we were able to give all HSV fans this derby victory. Of course, it was a pity that not so many HSV fans could be in the stadium, but with those who were there and supported us so much, we celebrated this victory.
... the course of the game was crazy: The first goal was a great goal and gave us a lot of self-confidence. Then came the Bremen sending-off and we played it very cleverly in overtime. At the end, when it was ten against ten, it was even. It's obvious that Werder can play good football and have great offensive quality, just like the fact that you can never defend everything against such an opponent and that you have to allow chances. But all in all, our victory was absolutely deserved.
... the special Nordderby feeling: It was a heated duel throughout the entire game. In the second half we had to make it 3:0 through Baka, then things would calm down. But as it was, it remained close and Werder had a few more chances, especially in the final quarter of an hour. If they scored one of them, it would be really exciting and heated. But as it was, it was the perfect derby evening for us.
"Rejoice today, but then: stay calm and keep working!"
... The fathers of the victory: Mo Heyer is doing us an enormous amount of good at the moment with his scoring threat, of course, but I can't just mention him, I'd have to single out too many players now. Jonas David, for example, who has been doing really well for weeks, and Gyambo, who showed a very strong performance. Or Ferro, who played another sensational game. We are functioning really well as a team at the moment.
... the conclusion of the northern derby: "We deserved to win after a really good game, even if we were a bit lucky at the end not to concede another goal. But that's how it is in football: luck and bad luck are sometimes very close together. Recently, we've had games in which we win in the 96th minute or don't manage to score from eight hundred per cent chances, and last night the first one went in and played into our favour. In the end, that was the difference to the last games: We started with similar intensity, but this time we were rewarded early.
... looking ahead: We are happy to take the momentum of the derby win with us, but we know very well that we have a lot of work to do. This time, too, we had to reproach ourselves for not having put the lid on it and instead getting into trouble again at the back. So we see that there is still a lot of potential. That's why we have to be happy today, but then we have to stay calm, keep working and see where we stand after ten matchdays, because that's when we can draw a first interim conclusion.
... the next game: We want to continue where we left off last time: Last-minute win against Sandhausen and derby win. Meaning: We want to inflict the first defeat of the season on 1. FC Nürnberg. That will be a very close game, though, because Nuremberg have really grown something. In addition, they have gained valuable experience in the defence and a few young guys up front who are doing really well. As I said: This will be a very difficult task, and from now on our full focus will be on it.