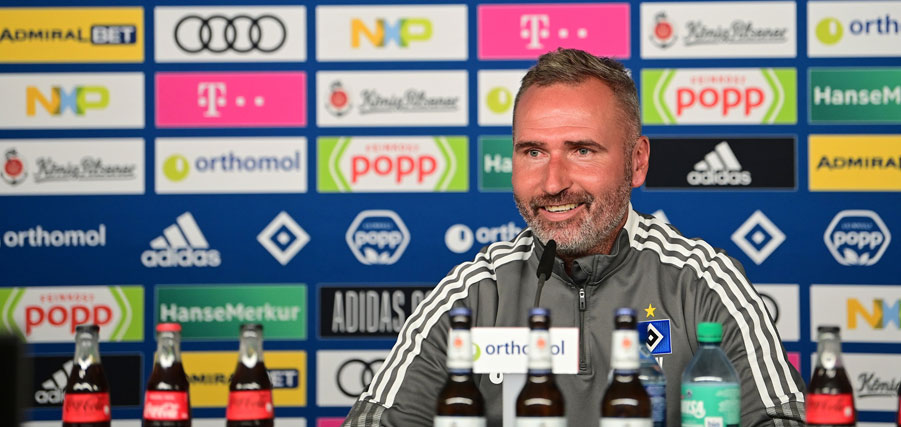 Press Conference
03.12.21
"Battered boxers are very dangerous".
In the press conference before the away game in Hannover, HSV head coach Tim Walter spoke about the sporting starting situation, the good defensive fundamentals and the Corona developments.
There are three games left before Christmas and the short winter break are on the agenda. HSV will play the first act in the final triangle next Sunday in Hannover (5 December, kick-off: 1.30 p.m.) and want to carry the recent home performances (4:1 against Regensburg, 3:0 against Ingolstadt) over to the away ground. The charges of Rothosen coach Tim Walter are now unbeaten in a total of 13 games (six wins, seven draws), and the 14th strike is to follow in the HDI Arena. He explained in today's press conference how this can be achieved, what connection the football coach has with H96 interim coach Christoph Dabrowski and how Tim Walter perceives the Corona developments.
The 46-year-old spoke in detail about...
... the good defensive performances: We have been adjusting all the time, both defensively and offensively. The way we play is very dependent on the game against the ball, because without rest defence and counter-pressing, nothing works. Currently we are simply rewarding ourselves more for the work, but overall it is a steady development.
"We go about our business with full conviction"

... the connection to H96 interim coach Christoph Dabrowski: "We got to know and appreciate each other at the football teacher training course. I wish him good luck with his job, but of course we want to win at the weekend. We're going about our business with full conviction, but we know that battered boxers are very dangerous. But we have also gained enough self-confidence and that is how we approach the task.
... the Corona development: The situation is very problematic in Germany and the world. However, around 95 per cent of the footballers in the Bundesliga are vaccinated, so we are pioneers. At HSV we are also very careful, we stick to the rules and follow the guidelines. That is the maximum we can do. We are happy that we can play football, regardless of the number of spectators.