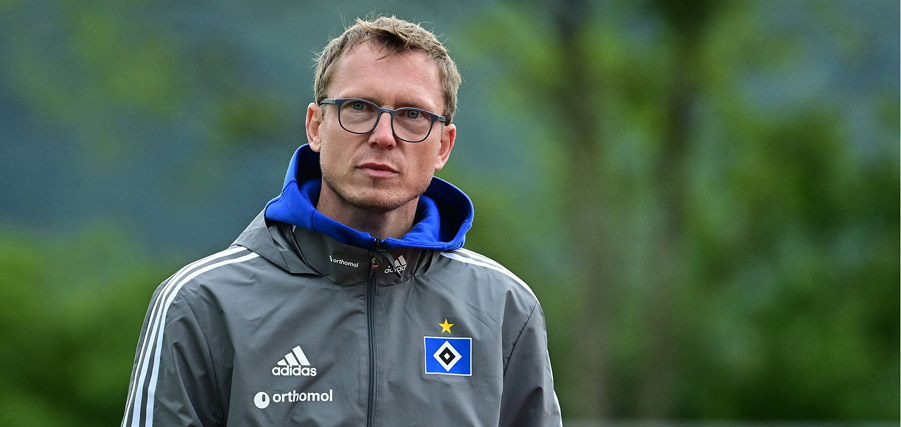 Post Match Thought's
17.10.21
Between effort and return - "The decisive tick is missing".
After the 1-1 draw against Fortuna Düsseldorf, HSV sporting director Michael Mutzel spoke at a media roundtable about the overall situation, the balance between effort and return and potential for improvement in his own game, among other things.
UImmediately after the final whistle of yesterday's 1-1 draw between Hamburger SV and Fortuna Düsseldorf, it was not only the 38,954 spectators who found it difficult to correctly classify the result. Under the eyes of the largest crowd in the Volksparkstadion since March 2020 and the Corona-related consequences, HSV had almost perfectly turned onto the winning road: Robert Glatzel's 1-0 lead in the 19th minute was followed around five minutes later by the sending-off of Düsseldorf's Edgar Prib, who was convicted of gross foul play against Tim Leibold by video evidence. With the lead behind them, HSV played for more than an hour in overtime, but failed to add any more goals and, to make matters worse, had to accept a 1-1 equaliser from substitute Bozenik (72nd). Thus, for the second time this season, effort and return were disproportionate. A fact that also prompted self-criticism among the Reds' supporters this Sunday. "Our position in the table corresponds to the points we have scored so far and in this respect we have simply given away too much so far. Yesterday's game was emblematic of that," sporting director Michael Mutzel stated during a media round and spoke in detail about…

... the potential for improvement: Unfortunately, the decisive tick is missing in both directions. When we conceded a goal yesterday or had a great chance, small mistakes have a big impact. It's the same on the offensive. In the analysis, we have an unbelievable number of moments in which you can see that something good can happen now, but we still make the wrong decision too often. The bottom line is that we don't get enough return for the huge effort we put in. That's why I don't want to reproach the boys. They march, sprint, do and make, but too little comes out of it. We have to work on that and become more effective.
... the overall situation: Our position in the table corresponds to the points we have scored so far and in this respect we have simply given away too much so far. Yesterday's game was emblematic of that. After the first ten match days, we have the feeling that we could always have done more, and the table is therefore meaningful. From our point of view, the positive thing is that it was to some extent our own fault and that we weren't outplayed by any of our opponents. We were often superior on the field, but simply didn't make enough of it.
... the balance in our own game: When you have a lot of possession, it's difficult to find the right balance. When do you play through? When do you go for the cross? When do you play directly into the box? We are still in a process here. Tim Walter has only been here for three months, not everything is working yet, but we are happy with the basic way we play football. What's missing is a few more points - that's quite clear.
... the development of the young team: We have proclaimed the path of development and have a lot of young players on the pitch who don't have that much experience yet, including some boys from our own academy. All the players are on board, they're up for it and they're pushing hard, but development doesn't happen with a snap of the fingers and you're ten points ahead of the competition. Of course, patience is a difficult word around the club, but we need it with the young players. I'm proud that so many players from our own youth team are on the pitch. A solid first eleven has not yet emerged, but I don't think that's unusual at this stage of the season. The coach is also gaining experience and getting to know many new players. It's a phase of finding one's way.