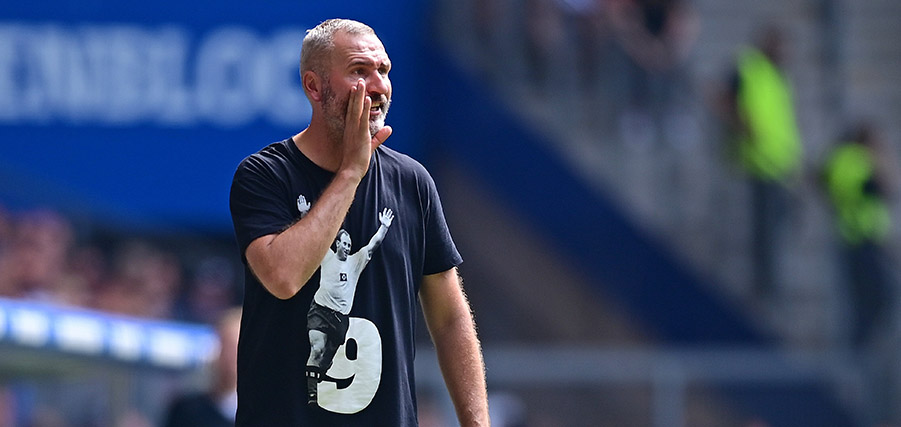 Between Rostock frustration and cup desire
After the 0:1 defeat against the Kogge, the Rothosen will head to Bayreuth on Saturday in the 1st round of the DFB Pokal.
Moving days lie behind the entire HSV which welcomed F.C. Hansa Rostock to the Volksparkstadion last Sunday under special circumstances and in front of a touched crowd. "It was a special game today. It wasn't much about football, but about paying tribute to the great Uwe Seeler," stated HSV head coach Tim Walter immediately after a game that his charges tried to take with a power play in the final quarter of an hour, but then completely gave away by conceding a bitter goal in eight minutes of injury time.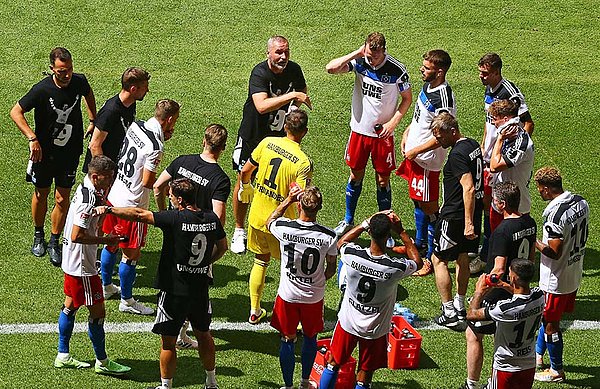 In search of rhythm
"In the end, we lose the game because we don't score at the right moment and concede a goal because we're in the wrong order. That's not how you win the game and you look stupid because you even lose," the 46-year-old football coach went deeper into the sporting analysis during a media round yesterday. True to his nature, Walter was brimming with energy again, far from letting the undoubtedly bitter result throw him off the track paved with self-confidence. "We are unhappy with the result, that is self-explanatory. We want to win games like this, that has to be our ambition. Nevertheless, we did significantly better than we did in Braunschweig, especially in the rest of the defence," explained Walter, without failing to recognise the clear potential for improvement, especially in the offensive game. "We don't want to have to rely only on Bobby (Robert Glatzel, editor's note). The others are also allowed to score goals. We've been blocked too often on completions, shot across the goal or not placed the cross well. It's about finding better solutions and then striking ice-cold."
Against deep-lying opponents like Braunschweig and Rostock recently, Hamburger SV face a permanent test of patience to find the gaps in the many-legged defence, as they did in the pre-season. With the newcomers Ransford-Yeboah Königsdörffer and Laszlo Benes, two highly talented starting players have so far found it difficult to internalise the appropriate rhythm of the Walter system. "For both of them, this situation is new. They want to be busy and do a lot. Then you might lose your patience and play the ball too early. There is certainly still potential there, which both will also exploit," says Walter and focuses on the training work. "We also play a lot of eight-on-eight in the box and two-on-two at the back in training. We have to get better. It was a special situation against Rostock, which we have to master and which we can only grow from."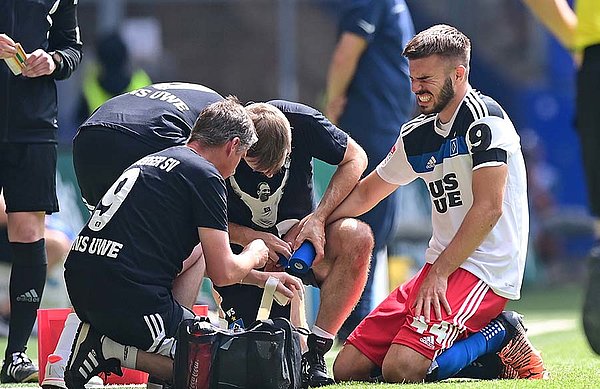 More assertivenes
The next task in this growth process awaits the Rothosen next Saturday at 3.30 p.m. in the 1st main round of the DFB Cup at SpVgg Bayreuth, promoted from the Third League. As a second-division team with promotion aspirations and last year's DFB Pokal semi-finalists, the Rothosen are once again the clear favourites and want to live up to this with the necessary enthusiasm in the offensive. In doing so, they will have to better compensate for the absences of Bakery Jatta, Anssi Suhonen and, most recently, Xavier Amaechi, while in defence Walter can probably continue to rely on a player who led the way in both league games with an incredible mentality: Centre-back Mario Vuskovic, who gritted his teeth against Rostock despite a serious thumb injury and also wants to attack again in tomorrow's training. "Mario is a warrior. He gives everything for his team. That's what makes him so strong," praises Walter. Also blessed with a special mentality is comebacker Tim Leibold, who is working his way up to competition level bit by bit after tearing his cruciate ligament, but at the same time is to be built up carefully. "Tim is of course also an option, but he was out injured for nine months. We have to be patient with him and don't want to waste him," explains Walter.
The DFB Pokal is another hotly contested event. The laws of this prestigious competition are well known: last year, HSV made it to the last four, eliminating 1. FC Köln (6:4 n.E.), a Bundesliga team, and beating Nuremberg and Karlsruhe, also on penalties. "The cup can weld a team together," HSV midfielder Jonas Meffert had remarked meaningfully in last year's competition. Now, from Tim Walter's point of view, the main thing in Bayreuth is to do his thing again: "We're lacking assertiveness right now: the toughness in two fights, the final bite in the box, more one-on-one. Especially the last aspect is missing at the moment. But you have to go one-on-one to open things up against such coverages." The pent-up frustration from the bitter defeat against Rostock and the anticipation of the cup competition, which was beloved during the past season, should help.