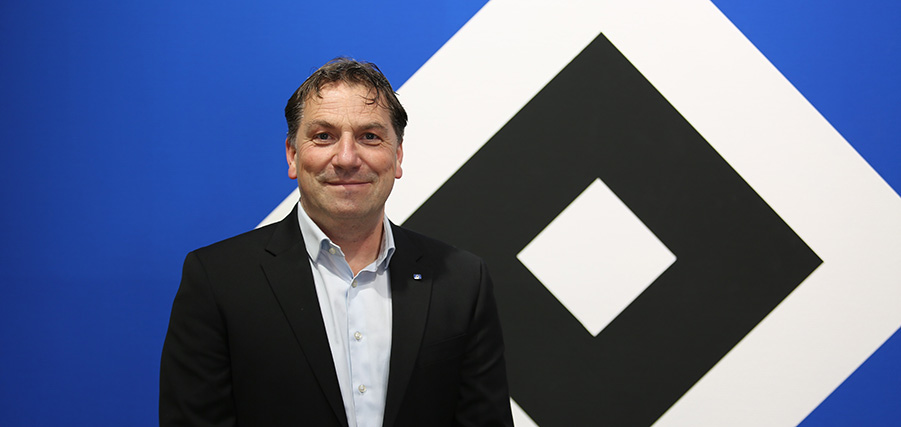 Dr. Thomas Wüstefeld: "Spectators are missing from football".
HSV board member Dr. Thomas Wüstefeld spoke at a press round on Wednesday lunchtime about, among other things, the spectator situation in pandemic times, an increase in spectator capacity in the near future and potential new arrivals in the winter transfer period.
Since the beginning of January, Dr. Thomas Wüstefeld has been acting as acting board member at HSV. The successful entrepreneur, who has also been a shareholder at HSV since the end of 2021 and previously held the office of Chairman of the Supervisory Board, has approached his new task full of zest for action - after all, he has had a very special relationship with HSV as a fan, not least since the age of 6. "I am a football fan and love HSV more than anything. HSV football matches are the greatest thing for me. That makes it all the more wonderful that I now have the opportunity to work in this capacity," the 53-year-old explained during a press round on Wednesday lunchtime. "My job is to look inside the company and get an overall picture as a board member. Through my new position, I thankfully have contact with all colleagues, which I actively seek and lead. I want to understand everything from greenkeeping to sports. For me, a lot of it is new territory, which is why my main focus is here at Volkspark." As a team player who is willing to "align the structures, the mission statement and the script of HSV" for the future in the process, Wüstefeld has meticulously familiarised himself with the initial issues on site and has entered into a direct exchange with colleagues in the football industry and the city of Hamburg, particularly with regard to spectator utilisation. Accordingly, the HSV board of directors commented on this topic in the press round and spoke, among other things, about...
... the current spectator situation: "It is difficult to understand why, for example, indoor events in the Elbphilharmonie have a high capacity and we only have 2,000 colleagues, spectators and fans at our Volksparkstadion for the derby. I try to question this objectively so that we can get more spectators to the Volkspark again in the long term. Because one thing is clear: spectators are missing from football. That is an essential feature of our sport and also a high source of income. Cumulative to the spectators are also the issues of sponsoring and merchandising. That's why we in sport are all fighting together to get as many people as possible back into the stadiums.
... a possible increase in spectator capacity: With a view to the next home match against Heidenheim, we are trying to get as many spectators as possible into the stadium. The premise is always that the hygiene concepts can be adhered to and the safety of the spectators can be guaranteed. It is difficult to find a uniform solution throughout the country because there are always special regulations. It is difficult to understand why some stadiums can hold 35,000 spectators and others, which have a much higher capacity, can only hold 750. This is a complex issue, for which I have unfortunately not yet received a plausible answer as to how these spectator numbers are generated and substantively justified. In Hamburg, under the conditions we know, we trust ourselves with 25,000 to 30,000 spectators without any risk to people. This number has not been rolled, but determined and deeply evaluated.
"We in Hamburg trust ourselves with 25,000 to 30,000 spectators without there being a risk for people"
... the exchange with colleagues and the city: We are in exchange with both parties. Our philosophy is still to talk, to look for factual solutions and content. We don't intend to take legal action at the moment, but of course we are observing what our colleagues in Dortmund, Cologne and Leipzig are doing. We are in dialogue with these clubs and the DFL to see that we get the best possible outcome for fans, members and all people who like football. We are trying to find a common line of argument.
... potential new arrivals in the winter transfer period: The current situation is difficult because of the pandemic and the overall situation. But at the same time we have one main product. That is the sport. This is the focus and enjoys priority. When our colleagues Jonas Boldt and Michael Mutzel present a possible personnel, it should not fail because of the financial possibilities, as long as they are within the framework.