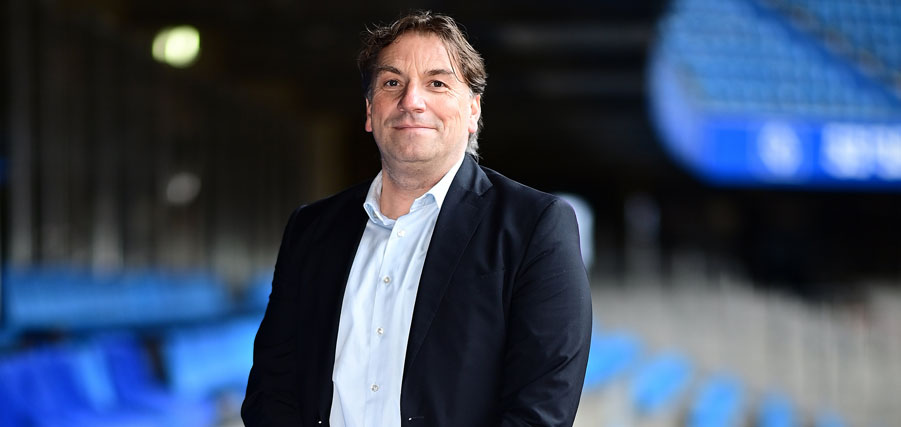 Dr. Wüstefeld: "Adjusting the plan for the 2.Liga now".
HSV board member Dr. Thomas Wüstefeld answered journalists' questions the day after the 2-0 defeat against Hertha BSC and the resulting missed return to the Bundesliga.
It was the morning after. And that's exactly what it felt like for everyone involved when they drove up to the Volksparkstadion on Tuesday (24 May) in hazy weather and occasional small showers. While the team, staff and coaching staff gathered in the dressing room after the 2-0 defeat in the relegation play-off against Hertha BSC and the resulting loss of Bundesliga promotion before the summer break, HSV board member Dr. Thomas Wüstefeld fielded questions from journalists at the same place where 50,000 fans had been eagerly awaiting the return to the Bundesliga the day before. Naturally, Dr. Wüstefeld was disappointed, as were all the Hamburg players, managers and supporters, but on the day after the narrowly missed promotion, the board not only looked in the rear-view mirror, but also looked ahead again.
Dr. Wüstefeld spoke about...
... the feeling of disappointment: "Of course it was a short night, because in the overall picture it was really bitter. But the time window until the start of the 2nd Bundesliga season is very short and we have many tasks to accomplish. We are now tackling them.
... the 2021/22 season: We had a few too many draws during the season, and after the defeats against Paderborn and in Kiel we were practically written off. However, the team continued to work, developed and formed itself into a team. Tim Walter and the entire coaching team have done a great job. In order to calm down the team and to push the development further, we extended our contracts very early.
... the support of the fans: In addition to the team and the coaching staff, we also have to mention the fans. Despite the Corona rules, the people have stood by us and, especially in the past weeks, stood behind HSV and achieved an enormous amount. The atmosphere and identification yesterday were once again fantastic.
... the financial challenges: We have structured the budget in such a way that we will achieve quite a good result despite all the Corona problems. Now we are adjusting the plan for the 2nd League and are working intensively on it. We will then go into the new season with the figures and want to implement what we envisage in sporting terms.