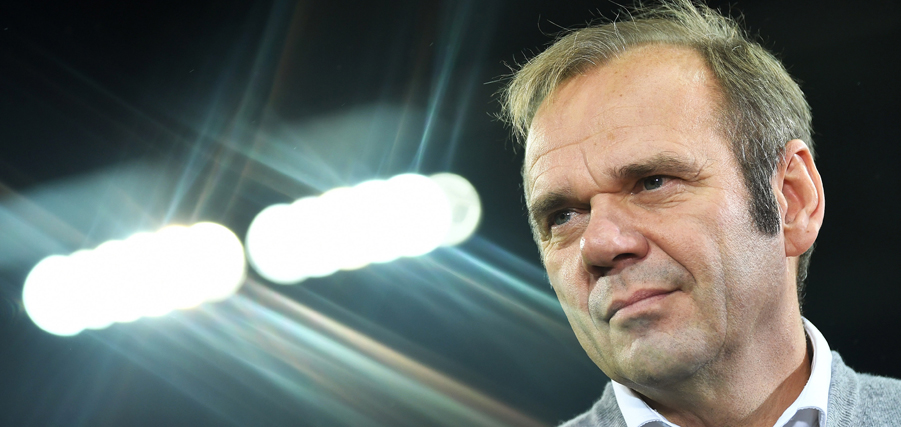 "We need four months of tunnel vision"
HSV chairman Bernd Hoffmann sat down with HSV.de to talk about the winter break, the competition in the 2. Bundesliga and his optimism for the months ahead.
HSV.de: The second half of the season starts for HSV in two days. How's everything shaping up?
Bernd Hoffmann: I have a lot of trust in the team as well as the whole organisation. We won't reach our goals due to the result of one game, but we also won't fail to reach them because of one result either. At the end it will be decisive if we work as one from Thursday onwards and go into each and every one of the 16 remaining games with the right attitude. We need four months of tunnel vision – fully focussed on the most crucial elements, and tune out all of the outside noise.
The past few days were influenced by a number of stories, that could have caused unrest internally. How do you combat situations like this?
Calm and collected, it certainly doesn't help when we lose our heads. For example, the Bozenik transfer: all of us in hierarchy wanted to sign this player, who for various reasons decided not to sign for us. That topic of discussion is now over as far as I'm concerned. That we were able to react so quickly and find an alternative with Joel Pohjanpalo says a lot about our professionalism and knowledge of the market. That's what counts. I am convinced that we've strengthened our squad over the January transfer window.
The competition for the promotion place looks different to perhaps some people expected. Bielefeld as table toppers are saying that Stuttgart and HSV are the clear favourites to go up.
Is that a surprise? It's clear that that will continue until the decisive phase in the 2. Bundesliga. We have to prepare ourselves for the fact that we have 15 cup games and one derby in front of us. Most of our opponents will put themselves in the underdog role to try and create a cup atmosphere. We could react to this but we could also use this energy for more important things. I am very happy that Jonas (Boldt) and Michael (Mutzel) are down-to-earth and don't underestimate our opponents. I think those will be the telling questions over the next few weeks: With what attitude are we going in to each game? Are we respectful to our opponents and are well-organised before each match-up?
What do you expect from our team, from the whole club?
That we continue to develop, that we throw everything at the game and get our reward for the hard work that we will put into the games. If we work as a unit from the Nuremberg game onwards, with our fans behind us, then I'm convinced that we can reach the goal that we set out to achieve at the start of the season.
Thanks very much for the interview.