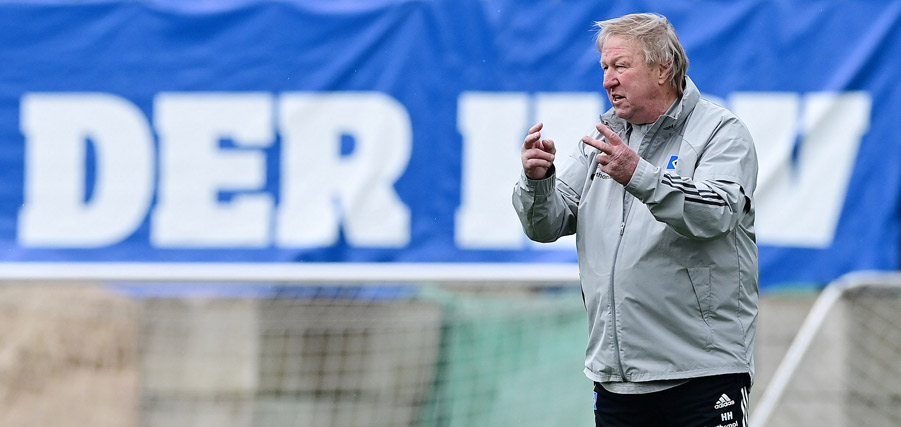 Press conference
14.05.21
Horst Hrubesch: "The players believe in themselves"
In a press conference ahead of Sunday's away game against VfL Osnabrück, head coach Horst Hrubesch spoke about the quarantine training camp, possible improvements to his side's game, and their chances of promotion.
Horst Hrubesch appeared in a good mood on Friday (14/05) during the pre-match press conference ahead of Sunday's away game against VfL Osnabrück (17/05, 15:30 CEST). "Football is always fun for me," he said, when asked about his mood over the last few days. After Monday's 5-2 win against 1. FC Nürnberg, his side have been working hard this week as well. "Right from the start, it was fun to work with the lads, even if one or the other had some mental blocks to overcome. They were doubting themselves a bit. We've since solved that," said Hrubesch. When asked whether he could see himself continuing on as head coach of HSV next season, Hrubesch said with a smile, "My wife won't have to ask for a divorce." Meaning that, for him, the topic is not an issue. Currently, he is focused on the upcoming game and ended the press conference with an old bit of footballing wisdom: "You can have all the right emotions, but in the end, it's what happens on the pitch that counts."
The head coach on…
...the training sessions this past week: We filled each day well. The way the team is participating makes it a lot of fun. We have enough to do to discuss amongst ourselves, and I'm able to lead good individual discussions. We're taking things how they come. We've been able to handle it well so far and can focus on preparing for Osnabrück. We've got a team spirit going now that runs through the entire side. The players believe in themselves now. We're focused. No one is easing off. There are plenty of signs that we've managed to turn things around, but in the end, what matters is how you perform on the pitch.
...the match against VfL Osnabrück: We need to know exactly what we're doing. We need to make it clear right from the start who will be taking the points home with them. We don't need to wait for anything; we need to win this game. I know the Bremer Brücke. You won't have anything handed to you there. It will come down to us doing what we know we're capable of. That's what we managed to do against Nürnberg. We now need to continue down that path. Osnabrück are, as far as we know, not a team that can outplay us, so it will be 90 minutes of hard work. They will try to play long balls and attack on the counter. We need to take control early on and decide what happens in the game. They don't want to be relegated and will give it everything."
"We will try to focus only on ourselves."
...possible improvements to HSV's game: There were a couple of things that I wasn't pleased with at all from the Nürnberg game. Sometimes I think that we celebrate too much. If we look back to the game against Paderborn, we celebrated and then conceded immediately after and ended up drawing 1-1. That didn't happen to us against Nürnberg, but we didn't fully have control of the game after we scored. We made it hard for ourselves. We weren't as aggressive as we were earlier in the game. We also failed to take advantage of all of our chances. You have to do better on those. One final area is set pieces. We had the chance to score off dead balls, but didn't do so.
...the chances of making the promotion play-off: We have two games left and need to win both, otherwise we have no chance. That's why I don't need to look at the results elsewhere. What good is it to me, to know what's happened elsewhere, if we don't win our game? In the end, we will see what happens. We could still be three points back, unless we get some help from Paderborn. We will try to focus only on ourselves.