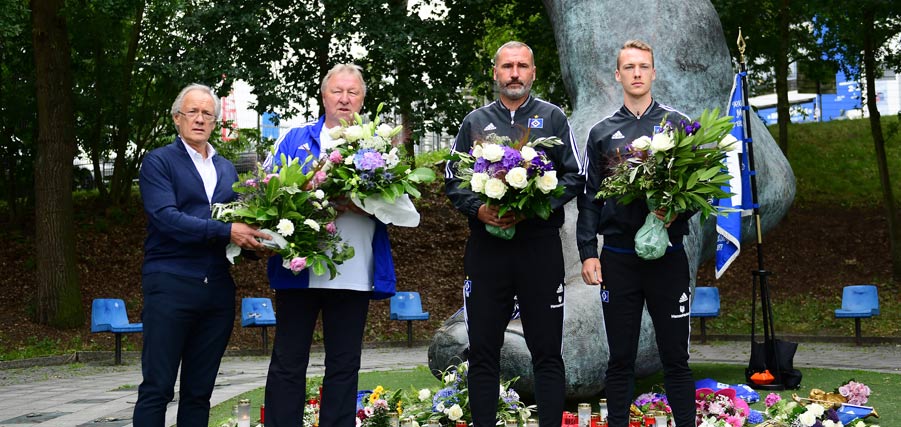 HSV Personalities pay tribute to Uwe Seeler
On the Occasion of the death of the greats HSV player of all time, former HSV companions and officials have expressed their sympathy, respect and recognition.
Since the death of Uwe Seeler became known, there has been great mourning in the Volkspark. Many HSV fans have visited the Uwe Seeler Foot at the stadium as a place of pilgrimage to pay their last respects to the greatest HSV player of all time. Today, Thursday morning (22 July), HSV legends Horst Hrubesch and Bernd Wehmeyer also gathered in front of the memorial, which was decorated with flowers, wreaths and greeting cards, and expressed their sympathy by laying flowers, as did head coach Tim Walter and captain Sebastian Schonlau.
Yesterday, Thursday (21 July), HSV board member Jonas Boldt expressed his condolences and summed up the life's work of "Uns Uwe", which goes far beyond football: "Uwe Seeler stands for everything that characterises a good person: Down-to-earthness, loyalty, joie de vivre, and he was always approachable. He is the epitome of HSV. I personally have special memories of our get-together on his last birthday. He talked shop, asked about his HSV, gave me tips and a few sayings. We will never forget him and will always cherish him. Now our thoughts and sympathies go out to Uwe's family, to whom we extend our heartfelt condolences."
HSV board member Thomas Wüstefeld paid tribute: "For me, Uwe Seeler is a landmark of this city like the Michel, the Elphi and the harbour. From my point of view, he was and remains Hamburg's most important sports ambassador, who will not be replaced. We are proud and happy that Uwe Seeler's values were and are positively perceived far beyond the city and state borders. It is a matter of the heart for us that we honour Uwe Seeler. His connection and love for HSV is something for eternity and will be treated as such by us."
Marcell Jansen, HSV President and Chairman of the Supervisory Board of HSV Fußball AG, emphasised: "Uwe Seeler will forever hold a firm place in our hearts. With his likeable and warm manner, he is and will remain a role model for many people - at HSV and beyond. We wish Uwe's family and friends much strength and are with them in our thoughts."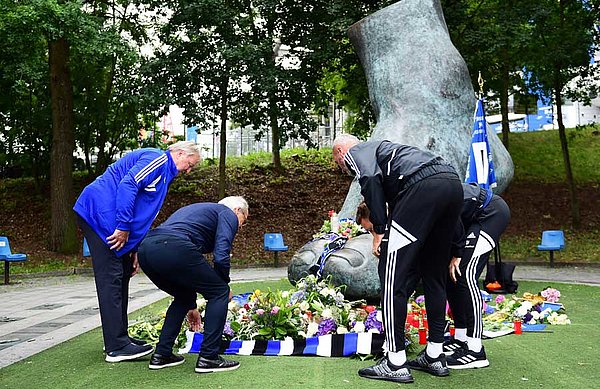 Horst Hrubesch, Bernd Wehmeyer, Tim Walter and Sebastian Schonlau (from left) laid flowers for Uwe Seeler and commemorated the greatest HS player of all time.
As part of the joint flower-laying ceremony, Horst Hrubesch and Bernd Wehmeyer, who share a very special and personal relationship with Uwe Seeler, also expressed their views today (22 July).
"To say something about Uwe is quite simple: He is not only a piece of HSV, but also a piece of Hamburg and Germany. When you see how great the sympathy is, even internationally, then that says it all. If he hadn't existed, he would have had to be invented. As a type, as a person and as a family man, he was unique," said HSV legend and youth director Horst Hrubesch.
Rothosen icon and club manager Bernd Wehmeyer added: "His virtues and strengths were unique, but he was also an outstanding person. Despite his success and popularity, he was always down-to-earth. I had the great fortune to work with him for ten years at Adidas. From this experience I can say: Uwe always worked hard from morning to night and was equally nice to all customers, no matter whether they were big businessmen or small shoemakers from the countryside. That says everything about him. Fairness, honesty and hard work distinguished him on and off the pitch.