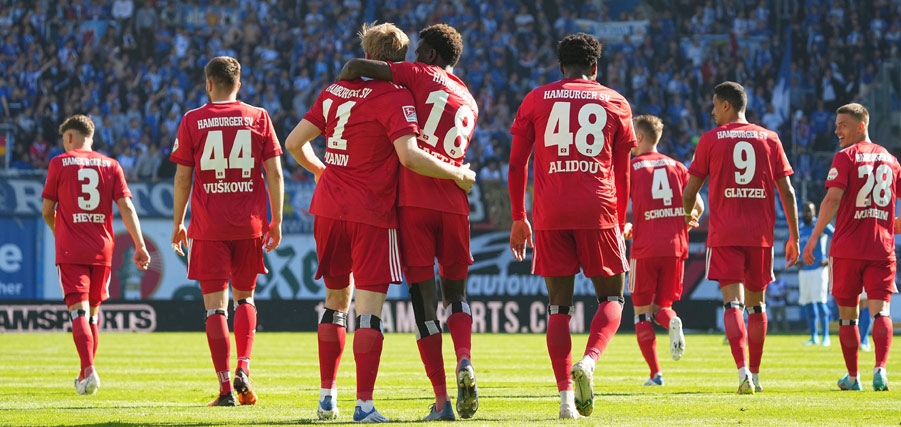 Voice's from the Game
15.05.22
"It proves that we never give up".
HSV turn around a 0:1 deficit in Rostock and shoot themselves into the relegation against Hertha BSC with a 3:2 away win. The emotionally charged voices on the game.
A game that mirrored the entire season: First a sporting setback, then a lot of further resistance, but in the end a victory thanks to great morale. The Rothosen once again showed their resilience in Rostock and turned a 0:1 deficit into a 3:2 away win, which, all things considered, entitles them to participate in the relegation. With the finals against Hertha BSC in the back of their minds, but above all with great joy at the hard-fought away win, the HSV protagonists spoke after the final whistle. The comments on the game.
Sebastian Schonlau: "There's nothing better than winning a game like that, it was really fun today. It's been a characteristic of us all season that we never give up, that's what the coaching team teaches us every day. We did much better in the second half, after my goal it was an indescribable feeling that I won't soon forget. I'm even more pleased that it was an important goal for the team, the club and the fans."
Miro Muheim: "It was an incredible atmosphere. We can't be happy with the first half at all, but we came back well in the second, made it 1-1 and fought our way into the game. After that, the momentum was on our side, we had a lot of energy. We are happy, but now we have to move on. We have to fight, give everything and then see what comes out of it."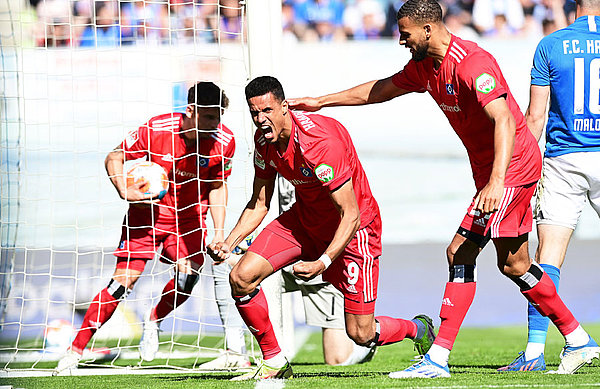 Robert Glatzel: "It's really indescribable. We fell down again and again, but we also got up again and again. We didn't doubt even after falling behind, because we knew that we needed a goal to turn the game around. Nevertheless, it is clear that we did not play well in the 1st half, nevertheless we did not give up. Our chances in the relegation are there, but Hertha is the Bundesliga team and has a lot of individual quality. Nevertheless, we can grab it!"
Jonas Boldt: "We got off to a good start, then conceded an unnecessary goal, and of course we were aware of the other results. Nevertheless, I sensed that the team was fighting back, even though the circumstances were very difficult. But when the squad came out for the second half, it was clear to me that we would put everything on the line - as we have done all season. Overall, third place is more than deserved, we overcame a lot of opposition. Now we have two cup games and we have shown this season that we can take them."
Tim Walter: "The spectators saw a hot game. It was a very good opponent who demanded everything from us. We saw today at Hansa that as a footballer you always want to win games. They never stopped. It was a difficult game. We didn't get in well, conceded the goal early and didn't find our composure. Instead, we played too hectically and too often in depth. We changed that in the second half: We were more gripping and more patient. We converted this approach into goals. We never stopped. That is emblematic of our team. We have the youngest team and we are so characterful and mature. I'm proud of the way my squad rocked it today. We are happy with the season and want even more now with the bonus games."
Jens Härtel: "Congratulations to HSV for the relegation. About the game today: I have to compliment my team. A lot of things worked out as we had planned. We started the game well and deserved the 1:0. After that, and I have to reproach my team for that today, we had to go one better. We had the chances. Then it's half-time and in the second half we had more trouble and weren't as handy. After the 1:1 we had another great chance from Svante Ingelsson. When you lead 2-1 again, it's a different game. In the end, HSV scored three goals, where we weren't that well off either. But we demanded everything from them and that was already a foretaste of what's in store for them in the relegation."