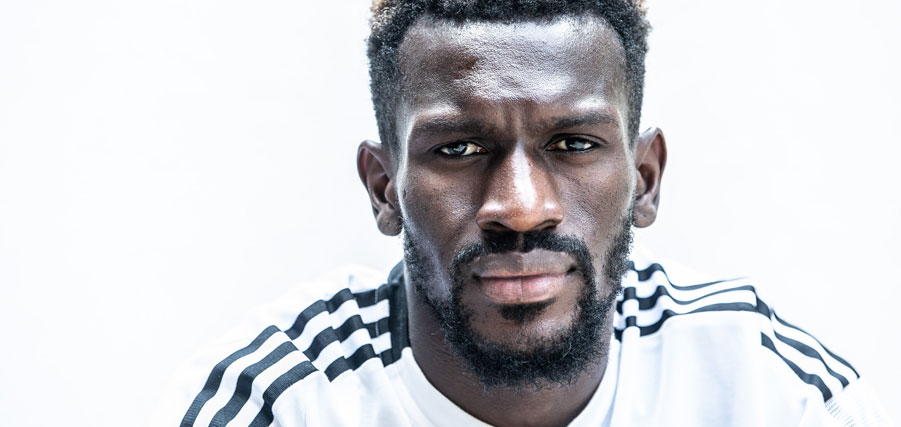 "I felt the special atmosphere"
The Nordderby between Werder Bremen and HSV is coming up on Saturday. For Bakery Jatta it is a special time and a special game, which he talks about in an in-depth HSV.de interview.
Games between Hamburger SV and SV Werder Bremen will never be ordinary games. It is the northern derby! Whereby, however, one has to state: Hardly any of the current players of both clubs, which have undergone major upheavals, have ever played a North derby. One player who has experienced this special atmosphere is Bakery Jatta. In April 2017, "Baka" celebrated his professional debut when he was substituted for the first time for HSV during the Nordderby at the Weserstadion in Bremen.
Today, four and a half years later, the North derby is on the agenda again. Different league, same significance. Jatta, who has developed from a youngster in an experienced team to an experienced player in a young team, is also aware of this. How he accepts this new role, what significance the North derby itself has for him and how he perceives the current situation surrounding HSV and the return of the spectators, is what he talked about in an in-depth HSV.de interview.
" At that moment, I just thought: Finally back! "
Baka, last weekend there was a real goosebump moment in the Volksparkstadion again after a long break. How did the 96th minute against Sandhausen feel for you?
That was a very special moment. The spectators pushed us throughout the game, especially in injury time, of course, and that made us even stronger. And when you score the goal in the last minute and the whole stadium explodes, of course it feels incredible. At that moment I just thought: Finally, again! Finally the fans can be part of it again. That's so important! Because football belongs to the fans. We all started playing football because we love the game itself, but when the spectators are there and you feel that atmosphere, it's just another game. Then you're not just playing for yourself, but for thousands of people. That's what this sport is all about. And that's exactly how it felt last weekend.
You have a very special connection to the HSV fans.
That's why I emphasise that so much: Finally they can be there again, at least in part. After all! And that's especially important for me, because I feel this support that I've felt from day one. From all the people at HSV. From the people in charge, from my team and especially from the fans. That makes me happy, that gives me joy. Even though I can't always show people that, because I'm very shy and it's hard for me to show these emotions. But when I go on the pitch, I give 100 per cent for these people, in every game, in every minute, to give something back to them. I'm grateful from the bottom of my heart for that support and I try to show it with good performances.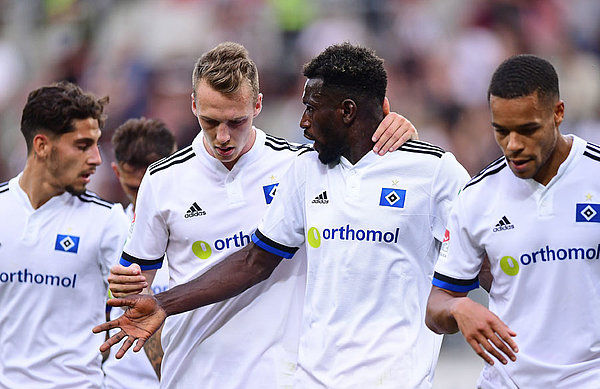 "I'm still learning"
You came on as a substitute against Sandhausen and provided plenty of action afterwards. Do you hope to play from the start in the North derby against Werder this weekend?
Of course I'd like to play from the start, that's obvious. But you have to look at it differently: It's not like it used to be, where you sat on the bench and knew: There are others better than me. It's different nowadays. You can change five times, you can influence the game with the changes, you can change it. The coaches plan for that. And if the coach says that I'll sit on the bench for a while and then come in as his weapon for the last half hour to push my team and make them better after they've already tired out the opponent, then that's my tactical task. And then I make sure that I am ready at all times. That I am fully there, at 100 per cent. That I am there for the team and can give them what they need. That's team sport. That's why against Werder, too, I'll accept the task the coach gives me.
Fittingly, you played your first game for HSV against Werder Bremen. Back then you were the youngster, but now you are the only HSV player who has played in the Bundesliga and against Werder. How do you feel in this role?
It's a fact that I didn't play a very big and important role in my first year at HSV. I was supposed to learn and get used to the level. I think I succeeded quite well, so that I gradually got more and more assignments. Today it's like that - although I'm still learning - I have a certain influence on the team, I've grown older, I've become better and I play a lot more games than I did back then. That's why my role has changed. I now also give assistance, I take responsibility. That is the course of time. And I like that. I have such a close connection to the team, I want to help. My connection to HSV and all the people here is so special. I was welcomed with open arms and always supported, that's so special for me, I can hardly describe that with words. And that's why I want to be there in every place I can help and give something back.
"I was the only player of ours to play in two northern derbies"
Games against Werder are always something very special for the fans. Also for you as a team?
For the fans, of course, it's a very special game. A derby is always something special. We players know that too, but it has to be said that our very young team doesn't know this northern derby at all yet. I'm the only one of us who has played in two northern derbies, and even those were a few years ago, but I've felt that special atmosphere and I have that feeling inside me. I also pass that on to the other players in the dressing room, but the most important thing for us as a team is the pure points. We have to focus on the game, on our performance. And if we do that and are successful, then we will automatically make all the fans happy and proud.
What kind of game do you expect against a strong opponent, of which there are many in the 2. Bundesliga this season?

I expect a great game. But I'm doing that mainly because I know how good we can be. You never know how good all the other teams are, many of whom have big names, because every game can be different. But I know what we can do, how good we are as a team. And that's why I only want to look at us. If we can show our quality on the pitch, if we can implement what the coach tells us to do, then we have a good chance of winning a lot of games. And that's what it's all about: winning games. If we can do that, then we can achieve a lot in the end.