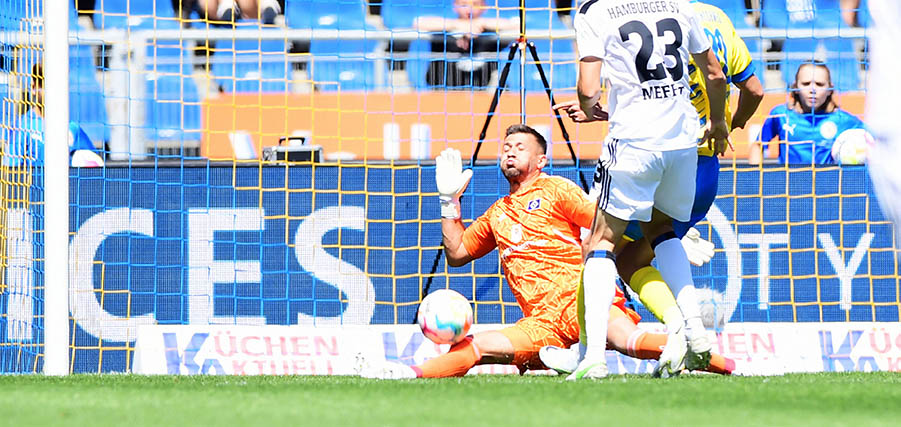 Monster Fernandes
HSV keeper Daniel Heuer Fernandes put in a hell of a performance at the start of the season, underlining his position as a leader.
It must feel special when one attacker after another runs at you with the sure feeling of a goal and you take that feeling away from your opposite number over and over again. HSV keeper Daniel Heuer Fernandes, who once played on the field himself in his youth before "at some point it was more cool to prevent goals than to score them", knows this special feeling all too well and delivered a blueprint for excellent goalkeeping in the 2-0 away win in Braunschweig at the start of the season.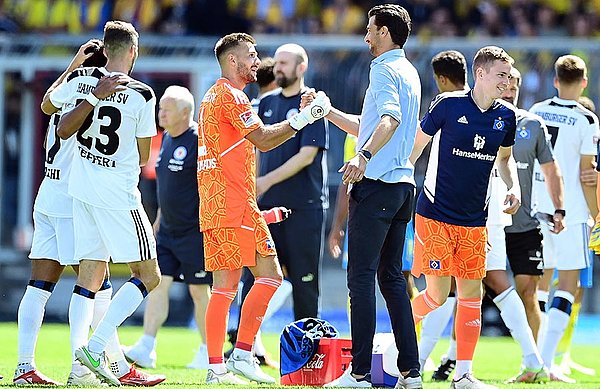 "It's my job to be there then".
The 29-year-old goalkeeper, who made seven nil saves in pre-season and was voted "ADMIRALBET Man of the Season" by HSV fans with 43 per cent of all votes, made the Braunschweig Lions despair with numerous saves and earned a spotless white waistcoat under his orange goalkeeper jersey. Consequently, "Ferro" was named in the "Eleven of the Day" of the trade magazine "kicker" and also received the "Player of the Day" award. His front men also knew who to thank after the game. "Ferro kept us in the game," said centre-forward Robert Glatzel, who scored a late brace to secure the win at Hamburger Straße.
And the protagonist himself? He practised restraint. "It is my job to be there in these moments. I'm satisfied that I was able to keep the team in the game," explained the Bochum-born player in the mixed zone of the Eintracht stadium after the match. "I re-evaluate every ball and try to position myself in the best possible way. We always say that as a goalkeeper you have to play a neutral game and be there in the decisive moments. That's my job, no matter how little or how much comes on the box."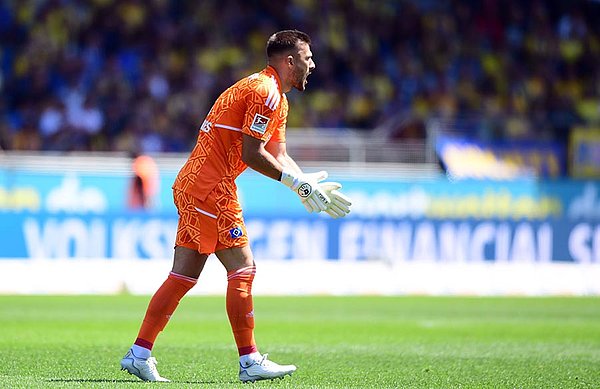 Step by step to becoming a leader
When Heuer Fernandes speaks of "we", he means the goalkeeping team around coach Sven Höh and his teammates Matheo Raab, Tom Mickel and Leo Oppermann. The 38-year-old Höh moved to the Elbe from 1. FC Kaiserslautern in pre-season and is known for his detailed work. "Sven demands a lot from us, gives us a lot of new approaches and thus takes our goalkeeping to another level," "Ferro" had already explained in January when he extended his contract at HSV until summer 2024 after a strong first half. The fact that the 1.88-metre goalkeeper, who previously stood between the posts for VfL Bochum II (2011-13), VfL Osnabrück (2013-15), SC Paderborn (2015-16) and SV Darmstadt 98 (2016-19), now has such a weighty role at HSV can be attributed to two other factors in addition to his promotion in goalkeeper training. "Ferro is my number one," head coach Tim Walter had expressed his full confidence in the keeper, who had not always been unchallenged in previous years, right at the start of the 2021/22 season. The latter paid back in the opening game at Schalke (3:1) with a comparably outrageous performance as in this year's season opener at Braunschweig. And ultimately, Heuer Fernandes himself is responsible for the lion's share of his development, as he never gave up despite setbacks and continued to develop athletically.
The German-Portuguese has thus long since matured into a leading player, formulated this claim to himself in the course of his contract extension, and not only leads with his voice on the pitch. Commanding is part of good goalkeeping, but "Ferro" also knows how to push the team loudly on the pitch and get them on track. This was the case in the 2-0 win in Braunschweig, when his front men were negligent in their backward movement, especially in the first half, and allowed the home side numerous counter-attacking chances. "We were too careless in possession. In the game, it's my job to wake us up as a team. That's how I see my role in the team," the 29-year-old let slip, well aware that he is there as a last resort to keep the nil and is also maximally happy about that. After all, it is a special feeling for a goalkeeper when the attackers keep running - and despair.