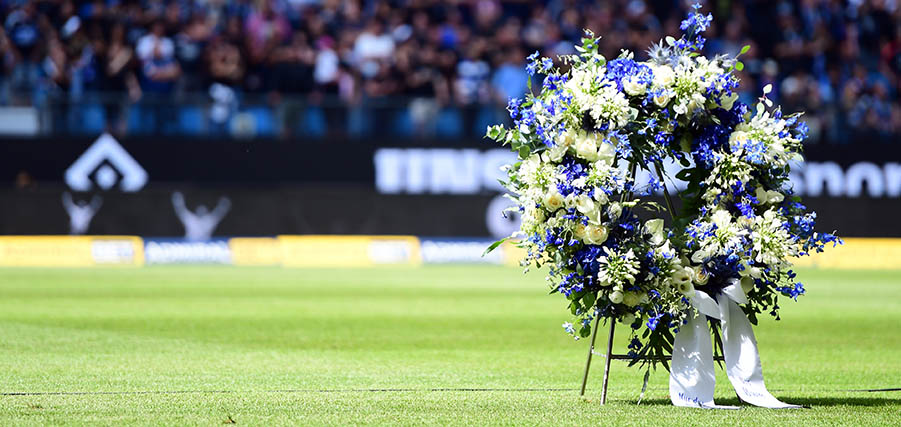 Moving farewell to Uwe Seeler
Hamburger SV bid farewell to the greatest sportsman in the club's history with numerous commemorative activities during the home match against Hansa Rostock at the Volksparkstadion.
The first home game of the 2022/23 season against F.C. Hansa Rostock (0:1) was dedicated to the greatest HSV player of all time. The HSV and the 54,500 spectators in the sold-out Volksparkstadion commemorated their club icon Uwe Seeler, who died last Thursday (21 July) at the age of 85, with numerous mourning activities.
The leaders of both clubs, FCH board members Robert Marien and Martin Pieckenhagen and HSV board members Jonas Boldt and Dr. Thomas Wüstefeld, each laid a wreath of flowers in the centre circle 15 minutes before kick-off. The North Stand paid homage to HSV's record goal scorer with a soulful choreography in black and white, which included two huge banners ("Loyal and Humble - The Greatest of All Time" and "R.I.P Uwe Seeler"), a single block flag with Seeler's counterfai and an "UNS UWE" in the upper tier. The referees as well as the coaches, players and support staff of both teams wore mourning flags and held up a banner with the message "UNS UWE - Sportler. HSVer. Mensch". Stadium announcer Christian "Stübi" Stübinger showed special tact when announcing the starting line-up and the head coach by reading out the name "Uwe" twelve times, only to get a loud "Seeler" back from the stands each time. Former HSV stadium announcer (January 1974 - April 1991) Joachim "Jo" Brauner took up this ball when he introduced himself as "Uwe Seeler" during his subsequent eulogy. The words of the equally impressive and moving eulogy, during which many spectators in the audience found it difficult to hold back tears of emotion, as well as the commemorative activities surrounding the special day in the video:
"Dear spectators, dear football fans,
my name is Uwe Seeler - before the kick-off of today's match HSV against Hansa Rostock, we want to remember together a great footballer, a great Hamburg player and a great person who unfortunately passed away last Thursday at the age of 85..
We mourn the loss of Uwe Seeler, a Hamburg landmark and an extraordinary personality. "Us Uwe" has secured a place in many hearts and memories through his sporting deeds, his fairness, his diligence, his down-to-earthness, loyalty, joie de vivre, closeness and his sense of family, and will remain there in the future
One is not born an idol and a role model. Uwe Seeler became both, sporting and human, because he was the way he was - a "stinking normal person" by his own admission. I will miss Uwe Seeler. We will all miss him. But he will not be forgotten. He was, is and will remain the greatest HS player of all time. We can orient ourselves by his values.
Despite the grief, despite the loss of a popular and beloved person and our deep sympathy for his family and friends, we should also be able to laugh and look forward today. Namely, to what Uwe Seeler has in common with all of us: football. His second great love next to Ilka was HSV. And they will cherish him. Forever.
Rest in peace, Uwe. And how they say it in Hamburg: Tschüs ".