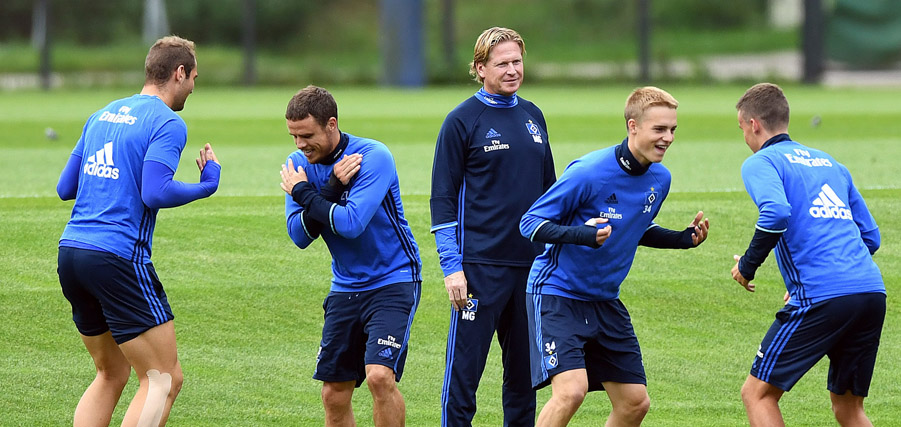 Between enjoyment and willingness to fight
Markus Gisdol and his co-trainers Frank Kaspari and Frank Fröhling have begun training and are trying to find the right blend.
HSV fans have been following training very carefully and with great interest this week. Not only the regulars have been present, but also many others keen to cast their eyes over the work being done by new Rothosen head coach Markus Gisdol and his staff. How does the 47 year old work and what does he do differenly to the last regime? Two questions that of cannot be answered after just a couple of sessions. Nevertheless those present got a good idea of what the new coaching team are about and what kind of game they want the team to play.
Focus on attack
"We have to manage to ease their minds ", explained Gisdol Gisdol (who hails from Geislingen) at his introduction to the media on Monday afternoon. That said the new trio brought skilful aspects to training. Reaction speed was high on the agenda. Using tennis balls, two players faced off against each other and the man with the quickest reaction won the reward of watching his opponent do press ups: "Things are relaxed and fun while we are not practising moves, but as soon as the whistle sounds to do so reaction speed takes centre stage. It is the most valuable time and there is no room to compromise."
The players felt that during the opening two sessions. Fun took a back seat as the focus turned to proper football as Fröhling and Kaspari noted every detail: "Move your head forward, open your body in the same direction and play on the front foot ", were the kind of commands being given. During his time in Hoffenheim Gisdol had the third strongest front line in the German top flight. It is hoped that he can breathe new life into the flagging attacking efforts of HSV: "That is where we must start work right away", confirmed the new coach but added: "Nobody should expect any miracles to happen. We have a clear idea of how to play but must act spontaneously and do what s. It cannot happen overnight and our next game is on Saturday. We have to compromise, but still work on a few things we would like to see in the game in Berlin."
Clean slate

The players all pulled their weight trying to impress the new coaches, which is normal when a new coach joins a club: "As far as I am concerned every player starts under me with a clean slate", says Gisdol, who played at third division level before being forced to end his playing days with a serious knee injury at the age of 27. He added: " I try to clear a player's mind of any influences be they positive or negative and am just assessing them right now. It is a new beginning for them as well as myself. I see it as a blank sheet of paper yet to be written on." Which means for every HSV player: Get stuck in!
Gisdol is known for his excellent work with young players, but those at HSV will not necessarily have an advantage at HSV: He explained: "Pulling on a blade of grass does not make it grow any quicker. You must give the youngsters time. Putting them under pressure is no use at all, you must be patient." Gisdol isn't interested how old players are, their willingness to fight is the crucial thing.