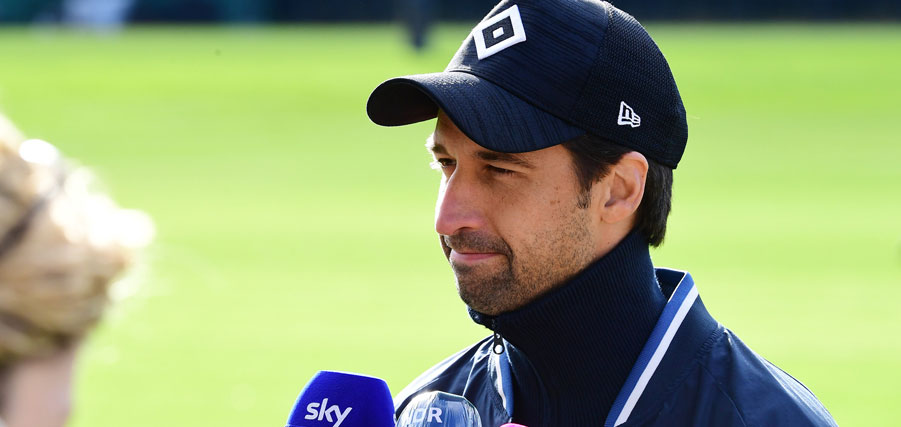 Boldt on goalkeepers, cancelled games and deadline day
In a meeting with the press on Sunday morning, HSV Head of Sport Jonas Boldt spoke about the cancellation of the fixture against Aue and the capture of Sven Ulreich.
HSV Head of Sport had an eventful Saturday afternoon, first completing the signing of this year's treble winner Sven Ulreich before a few hours later having to inform the team that Sunday's game against Erzgebirge Aue had been cancelled due to two positive coronavirus test results from the opponents. The 38-year-old answered the media's questions on Sunday morning (4th October) about…
… the cancellation of the game againt Aue: Yesterday evening I received a call from someone in the Aue team, suggesting that the people responsible for hygiene on both teams come together, as they believed they had some additional cases amongst their squad. The idea arose to complete some 'quick tests' but at such a late stage we weren't able to help. That was all I heard until 10:30pm when I got a call saying that Aue were going to announce they were travelling back to Saxony. I informed our team that the game wouldn't take place today and we had to rearrange our plans.
… the signing of Sven Ulreich: Sven is a very professional guy. He's someone who really wants to continue to develop himself. For that reason, he signed for Bayern, even though he received a lot of flak for the decision at the time. In Munich, he played 70 games in the end and won a lot of trophies. We're trying to transmit this exact mentality into the squad. We want to improve and with Sven have an additional pillar who helps the young players as well as the whole club to develop itself.
… putting together the squad: During the summer break we said that we wanted to continue to develop as a club, which was often misinterpreted to mean that we only wanted to develop younger players. But that's only a part of it and to do that you need pillars in the team, which we have done by signing experienced players. As part of that, we have never denied that we wanted to put together an ambitious squad. The words ambition and development were high up our agenda planning for the new season and with the squad we've put together we underline that. We've said that we need to bake smaller rolls [set our sights lower], but that doesn't mean that the roll can't taste good. It's important that we're always aware of the parameters we're working in.
… dealings on transfer deadline day: Until now it was a very constructive transfer period for all involved. You can see that it helps when a number of protagonists have been working together that bit longer. We've always said that we have some ideas that required patience. At the start of the window, the market was a bit slow and arduous, now there's a lot more movement and things are getting hectic. For us it's important to be not be affected by this flurry of activity. I'm not discounting that anything will happen for us tomorrow, but it won't be anything wild. We are prepared, have done our homework and will keep our eyes and ears open.