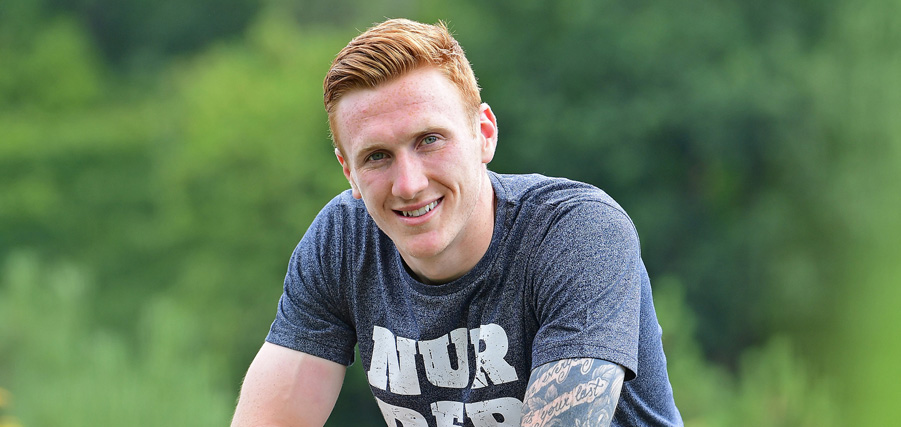 David Bates: A rocky road to become a professional
In order to turn his dream of becoming a professional footballer into reality, the 21-year-old Scot put in a huge amount of hard work, which now shows on the pitch.
David Bates is not a man you want to get in the way of, as Fiete Arp found out in training on Monday. The forward slammed (accidentally) into the elbow of the Scottish centre-back and had to shake himself to get up. Bates himself could carry on. As hard as the 21-year-old new signing for HSV plays on the pitch, he's also unbelievably nice to talk to off the pitch. Sometimes he can leave you confused – which is nothing to do with his manners, rather his strong Scottish accent. Bates is also full of interesting anecdotes and stories. He came from the small port town Kirkcaldy on the east coast of Scotland to the 54-time national champions Glasgow Rangers and now to HSV.
"I cleaned the men's team's boots"
David decided at a very early age that he wanted to make his way into the world of professional football. "Ever since I can remember, I've always dreamt of becoming a professional footballer. My family is absolutely football-mad. I used to play in the garden with my dad when I was four years old, then a few years later we played in the street with cans as goalposts," remembers Bates in an interview with HSV.de. His father took him to the legendary Ibrox Stadium – around 100km from their house – at a young age to watch the Glagow Rangers' home games. Bates began playing club football with his local team, second-tier club Raith Rovers.
The coach soon realised that there was a very strong-willed player in the squad. "I signed a youth contract at 16 and trained with the first team. We had to clean the men's team's boots, do the washing and clean up the changing room. It's very common in Scotland," reveals Bates. He was free of those duties early, however, as he made his debut for the men's team at 17 years old. However, his development took a hit just one year later. Bates didn't think twice and let himself be loaned out. He next played for East Sterling (January-May 2015) in the fourth tier and then Brechin City (September-December 2015) in the third division. One step back, two steps forward. For Bates it wasn't a problem. The lower leagues are very physical; I learned a lot from my time there. I can recommend it to every young player, to gain that experience. Without it, I don't think I'd be where I am now," he says.
"I dreamt of it as a kid"
After returning to the Rovers, things went better for Bates, who was making appearances and was named Man of the Match in the game against Rangers, who had been penalised and demoted to the fourth division, but had risen back up to the second tier already. The performance drew the attention of those responsible in Glasgow. "They enquired about me and wanted to sign me. One week later, I became injured and was out until the end of the season," explains the 1.93m-tall centre-back. For him, that meant his world came tumbling down. "I thought it was all over. It was a difficult time." Around half a year later, the transfer to Rangers went through. "It was something I'd dreamt of as a kid and then the dream became a reality," he says with a twinkle in his eye. Once a big fan, then a player at his favourite club. He's made 28 appearances since January 2017 and has even become a fan favourite. He's become lovingly known as "Ginger Ramos" due to his style of play.
Nevertheless, he moved to Hamburg on a free transfer after only a year and a half. "The German league is a completely different level. Everything is top-level stuff here – from the youth teams to the national team, even if you're out of the World Cup now," he says, laughing. Bates wants to continue his development. "I told myself that this is best for my development. I wanted to leave my comfort zone and come over here," he explains. Now he aims to adapt to the technically-demanding system of Christian Titz as fast as possible and fight for a place in the starting XI. "I want to hep the team and the club to achieve their goals and I already can't wait for the games in the Volksparkstadion," he says with excitement. The next chapter of his journey has already begun and is certainly not close to its end.