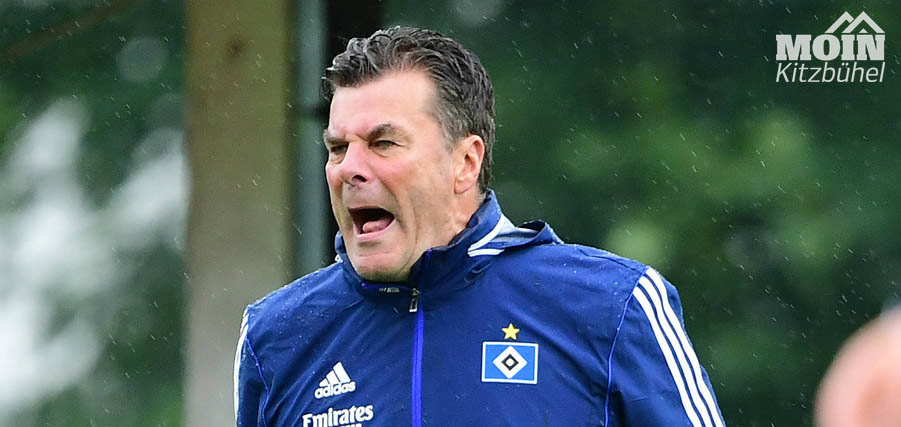 First day in Kitzbühel: Getting stuck in straight away
The first session of the training camp lasted well over two hours. Gaining belief in the daily processes and looking for continual improvement are the main aims in the coming days
The start of the training camp in Kitzbühel has set the precedent for the week to come. If anyone had been expecting a relaxed afternoon session getting used to the beautiful Alpine surroundings after arriving that morning, they would have been in for a serious shock. The coaching staff had developed an intense training session that lasted over two hours, with manager Dieter Hecking regularly pausing exercises to demand higher concentration or accuracy from his charges. "We don't have that much time. We've got two friendlies planned, where we want to see the players enacting what we've been talking about in training. Today as a first training session it was probably a bit longer than normal. But these are exactly the minutes that you need in a long season, where our endurance will certainly be tested,' concluded Hecking after a successful start in Austria.
"It will be decisive how quickly we can gel together as a team"
The permanent drizzle in the Tirolian Alps which blew across the training pitch also didn't manage to dampen the team's spirits, in fact the manager welcomed the rain clouds: "for training it's a lot more comfortable than if it was 30 degrees." The training, which included various different small-sided games as well as an 11-a-side game to round off the day, is particularly geared towards the game on Wednesday evening: "Olympiacos are a very dangerous opponent and it will be a good test of our defensive capabilities. What I want to see is that the team puts everything into the game and always has the self-belief to win games, even when the other team is maybe a touch stronger," according to the former Wolfsburg and Gladbach man. The team certainly put everything into their first outing in Austria. 150 fans had managed to make the trip down to the famous ski resort, and were treated to an intense full-sided game, where Berkay Özcan scored the decisive goal after nice build-up play.
As well as preparing for the upcoming season on the pitch, part of the role of the training camp is for the team to come together and grow as one. "It will be decisive how quickly we can gel together as a team", Hecking confirmed, not purely focussing on what happens on the pitch. There aren't any specific team events planned for the week, but rather the traditional methods are being trusted: "there are certainly enough options available such as team games, you don't necessarily have to go rafting or do something extravagant." The man in charge has already seen new friendship groups form: "there's a lot of mixing between old and new." And whilst Hecking didn't have a part to play in the room allocation, he can be fairly certain the new roommates will need their 40 winks tonight after a tiring first day away from Hamburg.