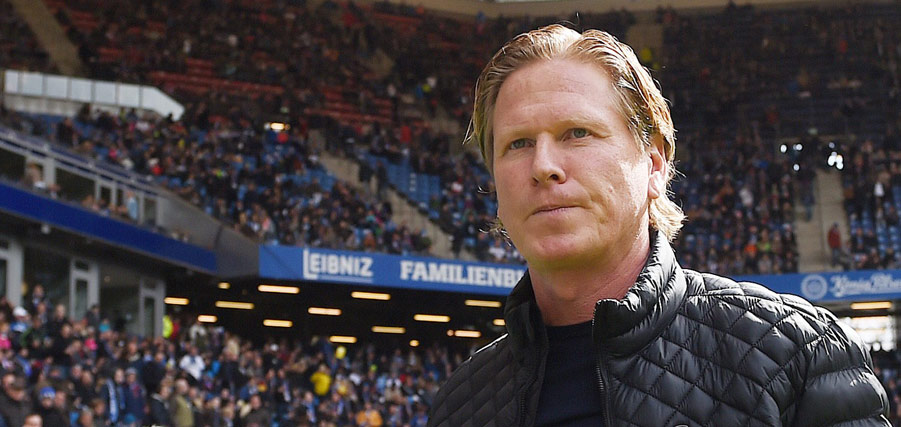 Gisdol: "Augsburg will be a different game"
After taking 90 minutes to analyse the 1-2 defeat to Darmstadt, HSV boss Markus Gisdol faced the press the following day. He discussed team matters and looked ahead to the matchday 31 clash in Augsburg.
The investigation lasted almost as long as the game itself. The players were only allowed to go for he obligatory warm down jog on the pitch 90 minutes after the final whistle, following the disappointing 1-2 home defeat to rock bottom side Darmstadt, who before kick off had failed to collect any points on their travels so far this season: "We discussed the game in depth as we should do. Everyone is and should be disappointed. But we have no time to dwell. We must look ahead", Gisdol told the media after the game.
Gisdol discussed…
… how the Darmstadt game went: On reflection we can say that we did well in the first half. Darmstadt had almost no chances while we had to or three good ones. I never expected it to be any different. The goals in quick succession early in the second half were a big blow for. We tired hard but my players were too hectic at times. After going behind we only thought on getting a goal back and take risks. We did not play intelligently in those situations. We had our chances but we failed to take them at the right time.
… situation in the table: Our situation hasn't changed. We have been in our around that area since I arrived. Looking back we have created a situation few people thought was possible. We lost a crucial game and it hurts. We would have loved to have won, but you just have to quickly analyse the situation and put the game behind us. We had a lengthy discussion on the matter in order to properly prepare for our next game. With everything going on in our part of the table where teams are busily collecting points we think the it will be a close race until the very last game of the season.
… the injury to Christian Mathenia: We have to wait for further analysis on Mathenia's injury. Hi is in a lot of pain and his knee is quite swollen. The Augsburg game comes too early for Rene Adler. Should Mathenia miss out we will have no problem with introducing Tom Mickel to the fray.
... the Augsburg game: It will be a very different game. Darmstadt could play freely here as my players pointed out after the game. Things will be different in Augsburg because both teams are in the same situation. That is why there is no comparison between both games. We have to be patient and accept that we will not be able to create ten clear cut chances and will have to make do with maybe five. You put one of them away and win the game with a solid defensive performance.
... possible changes in the run up to Augsburg: It is not as if the team doesn't function properly or that we have serious problems, so we have no reason to change things. In my opinion my team gave their all yesterday. We narrowly missed taking the lead had we done so the game could have been different. You have to accept defeat regardless of how tough it is to do. You can't afford to dwell on it. We must now look ahead.