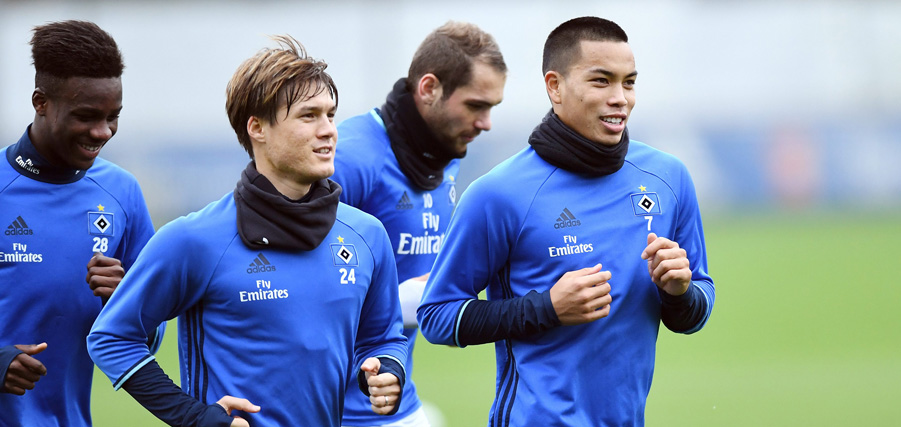 "I always consider what is best for the team"
Gotoku Sakai was named new HSV captain on Thursday (17.112). In an interview with HSV.de the Nippon defender discusses his new task and his method of leadership.
HSV.de: Go, first of all congratulations on being named new HSV captain. How did you hear the news and how did you react to it?
Gotoku Sakai: The coach spoke to me yesterday as soon as I landed back in Hamburg. He asked me if I wanted to be captain. I didn't hesitate. It is a great honour for me to be HSV captain and I am very proud.
What things do you want to change now that you are the new skipper?
Sakai: I don't need to change much. The last three or four weeks have involved lots of individual discussions between coaching staff and players. Although the lst defeat hurt we are now looking forward again. We have to be positive and move in the right direction. I want to bring me ever-positive mentality to the team.
The coach recently said that you epitomise everything the club needs at the moment. What did you think the qualities were that made them choose you as new skipper?
Sakai: Of course it is nice to hear the coach say such things, but to be honest I have been as always just carried on doing my job the best I could. I work hard and always in the interests of the team, regardless of whether I am on or off the pitch.
Will you be a quiet or loud captain in the future?
Sakai: Everyone has their own ideas of how a captain should be. Some like the quieter type, others a real battler. I am quiet in the changing rooms but that all changes when I take to the pitch. I am a combination of both. I am aggressive in the tackle, have positive body language and communicate a lot. Such things are crucial for us all. We have to communicate better in order to prevent elementary mistakes from happening.