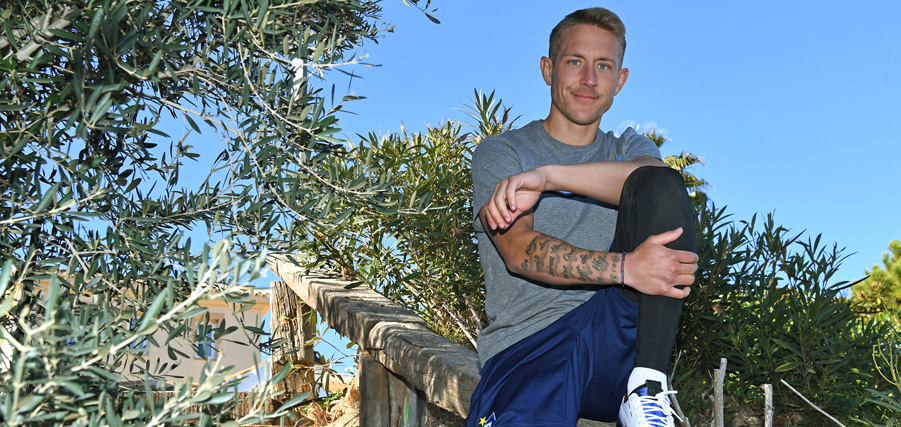 Lewis Holtby: I believe that we'll develop further
In La Manga during the winter break, vice-captain Lewis Holtby spoke about competition within the team, how he's portrayed in the media and upcoming challenges in the Rückrunde.
Lewis Holtby could only smile when he was asked whether he was looking forward to the physical strain of the training camp. The 28-year-old is currently in his tenth season as a professional, so it's something that he's used to at this point: "you look forward to playing and being on the ball again. We've done some good work here and want to prepare ourselves for the Rückrunde in the best way possible." Holtby is currently taking to the field as Hamburg captain due to Aaron Hunt's injury, and he spent the game hunting down the opposition and giving commands in midfield. He also found the right mix between nice play and hard work. Holtby, who has more than 350 games to his name (200 Bundesliga), knows what's to come with the Rückrunde: "We need to stay consistent and mentally strong. We need to keep picking up points, and open up a gap at the top. I trust the team to do that."
Holtby spoke about…
… the training camp in La Manga: We've got some good working conditions here, the facilities and the weather are good. We're looking forward to having some good training days here, we want to become even closer and prepare ourselves for the Rückrunde in the best way possible. Everything will now move pretty fast until the game against Sandhausen. We've got to have some really good sessions so that we're prepared for it.
… competition within the team: It's always about competition in football. It's important for everyone team to have two players for every position. The quality of the team increases automatically through that, as both players compete. Everyone has to fight for their place so that we can have a good rest of the season. That goes for me, too. I know what's required and that's what I'm going to aim for every day.
… the atmosphere in the team: We always have a lot of fun in the dressing room. Even yesterday with all the travelling and stops at airports, we had a lot of laughs. There's also a good atmosphere in the accommodation here. For example, the young players have a games room and play FIFA against each other. It's always funny to listen to the youngsters. Tom Mickel, Christoph Moritz and I noticed that we're 28 and 29, so we're the oldest here. We're the granddads, so to speak (laughs).
… how he's portrayed in the media: I know the situation, and sometimes they think it's good to pick out a scapegoat. We're top of the table, but someone always has to be guilty of something. It bothers me that I read so much negativity about myself. It wasn't all bad, even in the four games in which I was substituted. Sometimes in the external reviews, they make out that you're not having any impact. That's too inconsistent. If you score a goal, you're the best player in the world and when you don't score, you're the worst player in the world.
… the Rückrunde: We need to stay consistent and mentally strong in our games. We proved that we could do that in the games before Christmas. There were a lot of difficult games, but we won them and that's what matters. We have to carry on picking up points, and open up a gap at the top. The games will be difficult. For example, we have two away games in a row against Heidenheim and Regensburg coming up. We have to get through these. As a team, we've got to stick together in any difficult situations that come about. I trust the team and believe that we're not far away from taking that next step forward. I'd be happy if we could do this in a massive way.