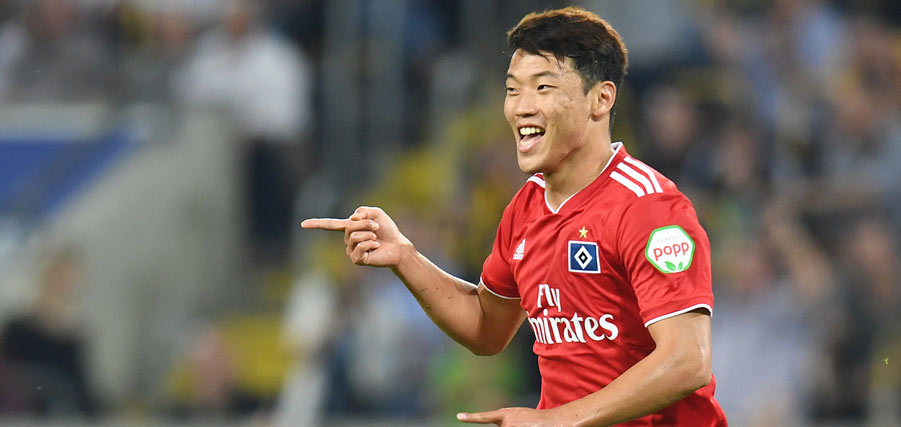 "I want to enjoy my time on the pitch again"
Hee-Chan Hwang has used his time on the sidelines to recharge and return to form. Now he is back and in an interview with HSV.de, we go a little insight into his spiritual life.
Hannes Wolf's team were given the day off on Thursday as they will begin preparation for the game against Union Berlin. A day off for a certain player in the HSV squad has been an exception for a long time – Hee-Chan Hwang has been playing constantly. In Sommer, Hwang was with South Korea at the World Cup, Won the Asia Games with South Korea and joined up with South Korea again in September as part of the head Coach Paul Bento's training course. In-between all of this, he made his transfer to HSV. The heavy workload left its mark on the 22-year-old offensive player, whose performances slightly dipped and then picked up a muscular problem. The current international break has given the South Korean the opportunity to regenerate and to train on specifics. "Chan has now completed light training and was with the team again on the field," said Wolf. "If his muscle problem reacts well after training, he can return to full training on Friday and he will be ready to give his all without any worries."
Hwang is on his way back and offers the coach another option for the upcoming games. Hee-Chan Hwang spoke to HSV.de about he sees his role in the team, his role in the South Korea national team and whether he already feels a bit at home in Hamburg.
Lots of games, lots of travelling, lots of impressions – Has it sometimes been too much for you recently?

Hee-Chan Hwang: I've been very busy and it has been stressful. I would be lying if I said that I wasn't tired sometimes. I think you have noticed in my recent games at one point or another. But the most important thing for me in football is, is that you enjoy being on the pitch. I want to enjoy being on the pitch again.

HSV is your home for the time being. What aspirations do you have during your time in Hamburg?

Hee-Chan Hwang: I think it is not only my dream, but also the whole team and every HSV fan's dream to be promoted back to the Bundesliga. I want to help and understand the team as much as I can during my time here. Therefore, it is less of a personal aim but more an aim for the team.

Has it been easy to settle in the team at HSV?

Hee-Chan Hwang: Apart from the language, which I am still struggle with, I very much feel part of the team here. Aaron Hunt, Tom Mickel and the two Japanese players Gotoku Sakai and Tatsuya Ito have especially welcomed me warmly here. We are culturally on the same wavelength, even if we have to speak German, as Japanese and South Korean are completely different languages.

You speak good German because you spent three years and a half in Salzburg. Has your experience from living in Austria helped you settle here in anyway?
Hee-Chan Hwang: From an early age, I have learnt to live away from my family. I went to a football school on my own when I was eleven-years-old in Pohang. In South Korea, it is very common that kids go to boarding school and live by their school. The football school in Pohang was more than 400 kilometres away from my home and my family. I was very homesick at the beginning, but I had to follow this path to reach my goals. This has all helped me to integrate better and quicker today, even if the cultures in South Korea and Europe are completely different.
What is the biggest difference between life in South Korea and Europe; Germany or Austria?

Hee-Chan Hwang: Simply everything is different: the mentality, the culture, the food and of course the language. For me the language is the biggest challenge. German is truly difficult. Understanding people is not my problem but speaking it, is hard for me.

You return to your homeland at regular intervals to play for the national team. How important is football in South Korea and are you perceived as a star there?

Hee-Chan Hwang: At the moment in South Korea, there is a huge interest in football and it is not only because we beat Germany at the World Cup and finally won the Asia games. I would already say that football is the number one sport in South Korea. I can't say whether I am a popular player or not in South Korea but whenever me and my teammates are seen on the streets, we are recognised.

Despite the successes of the national team, is there still an idea that as a really good footballer you have to take the next step to Europe to make it to the very top?
Hee-Chan Hwang: Yes it is very important that footballers from South Korea if they want to improve and be successful. Therefore, I always encourage a lot of my friends to take the next step, go to Europe and look for an opportunity here. I took this step and I am very happy that I did and am ver happy to be here.