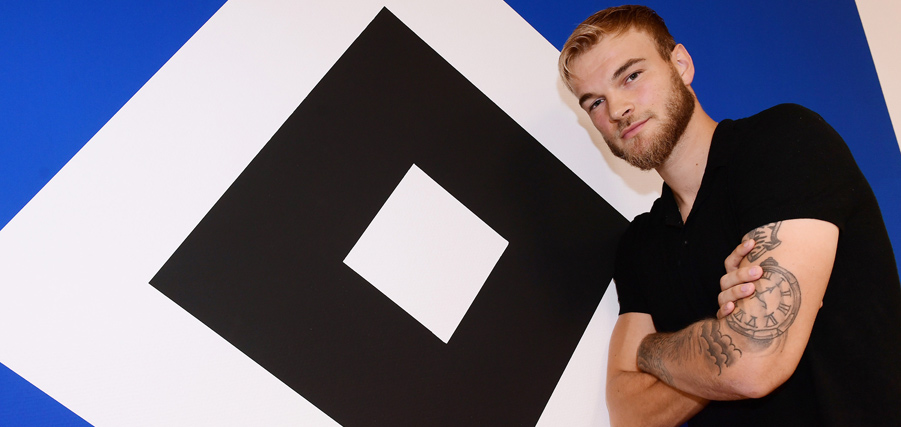 "I will always give everything so that we can win"
Whilst speaking to the press for the first time in Hamburg, new signing Timo Letschert talks about his first impressions of HSV, his teammate Rick van Drongelen and his experiences as a ball-boy at Ajax.
Timo Letschert doesn't have any problems fitting in. After the new signing from Sassuolo took part in a number of drills on Wednesday, he got stuck into a full training session on Thursday. Linguistically speaking the Dutchman's options are limited, either communication in English or Dutch (with Rickvan Drongelen), but Letschert wants to overcome this barrier fairly quickly. "German wasn't my favourite subject but I did at least study it at school. In Italy I also learnt Italian so I'm hoping that I can pick it up quickly," he relayed to the waiting journalists after the mornings' session had concluded.
Other topics discussed with the Hamburg press by the new centre-back included…
… his first impressions and his aims at HSV: The start was very positive. I got to train with the team for the first time yesterday and then today there was the first proper session. I've seen the stadium as well and got to know the manager first-hand. We had already spoken a few weeks ago. At that point he had explained his ideas and his footballing philosophy; it was a very good discussion. I trust the plans for the club. We should set ourselves the goal of continual improvement. I hope that I can help the team to achieve this aim.
… his way of playing: One of my clearest character traits is that I want to win and absolutely hate losing. I will always give everything so that we can win – during the week and then also on game day. I want to spur on my teammates so that they have the same motivation and fighting spirit as me. I will always try to be aggressive in the tackle and keep our defensive line as high as possible so that the opponents feel rushed. I can talk until I'm blue in the face but in the end it's important what happens on the pitch. I hope I can show my quality.
… Rick van Drongelen: Unfortunately we've never played against each other. But he's also a bit younger than me. But he also sent me a message a few weeks ago in which he said: 'What's the situation? Hurry up.' But I had to get a few things sorted first. Then on Tuesday we had a meal together here in Hamburg. It's nice to have a teammate who's also a Dutchman. That made it a bit easier for me to hit the ground running here.
… about other Dutchmen who have played for HSV: I was a ball-boy at Ajax when Rafael van der Vaart was playing there. As a ball boy you get to do keepy-uppies with the players every now and again. When I get chosen to take part someone asked me who my favourite player was so I could get a picture with them and I chose van der Vaart. The photo is still hanging on the wall at my parents' house. But at HSV there hasn't just been him but also other great players like Nigel de Jong or Ruud van Nistelrooy. It's a great feeling to walk in their footsteps.
… his private life: I am married and have a three-year-old son and am a family man off the pitch. I like doing normal things like going to get a bite to eat and that kind of thing.