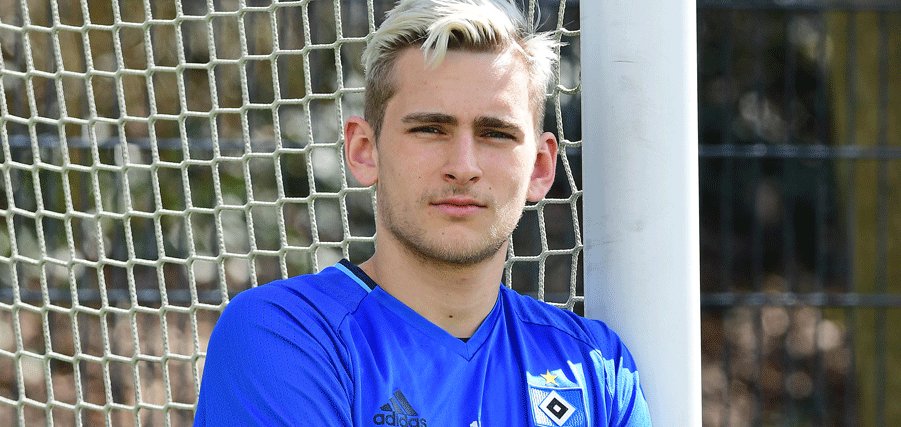 "I'M FULLY CONVINCED"
Julian Pollersbeck spoke about his role at the club and the current mood around camp during the fight for survival.
On Saturday, Julian Pollersbeck made the difference. His saves kept HSV in the game with SC Freiburg in the first half and, in the second half, the Rothosen snatched all three points. "Polle" kept a clean sheet and showed once again his capabilities between the sticks. In goal, he's had a huge part to play in HSV's last two home wins.
"I'm happy with how we're playing football now"
Julian, you have to choose between the safe option or taking a risk. Which do you pick?
It depends on the situation but in general I'd say take the risk.
Where does that mentality come from?
Risk has something to do with tension and adventure. I'm not a boring guy, I like to live a little. In a game scenario maybe that's aiming for the riskier pass. It feels good when the pass comes off.
Would it be fair to say Christian Titz's style of play suits you?
Absolutely. I enjoy how we're playing football – we're playing proper football again. We had the ball, lots of possession and tried to dominate game. That's fun to be a part of. It can be frustrating just sitting back – that's no fun.
How's it been since the head coach made it clear you were part of his plans?
I knew his style of play as I played for the U21s twice this season. So it wasn't a complete surprise. I knew what to expect. The head coach spoke to me and said I'd be playing again and explained how he wanted me to play. I'm playing higher up and have more touches of the ball.
"HSV are a club that's always changing"
Your first season at the club has been up and down. How would you sum it up so far?
I've learnt a lot. Especially in the first half of the season, a lot rained down on me. When I was going through the tough times, I was a bit frustrated but I'm generally a positive person and have always believed better times will be around the corner. Life can be like that. I've always believed I can learn from that.
What are you expecting in the season run-in? Can we do the unthinkable?
I wouldn't be sat here if I didn't think we could. It's tough but it gives us strength. I'm totally convinced. The great thing about football is that anything can happen. I love that about this club too. HSV are a club where anything goes.
Do you enjoy the adventure?
Yes, I enjoy the butterflies. In the Bundesliga, the focus is on the relegation scrap as the title has already been wrapped up. It was the same last year. I love the tension and the drama!