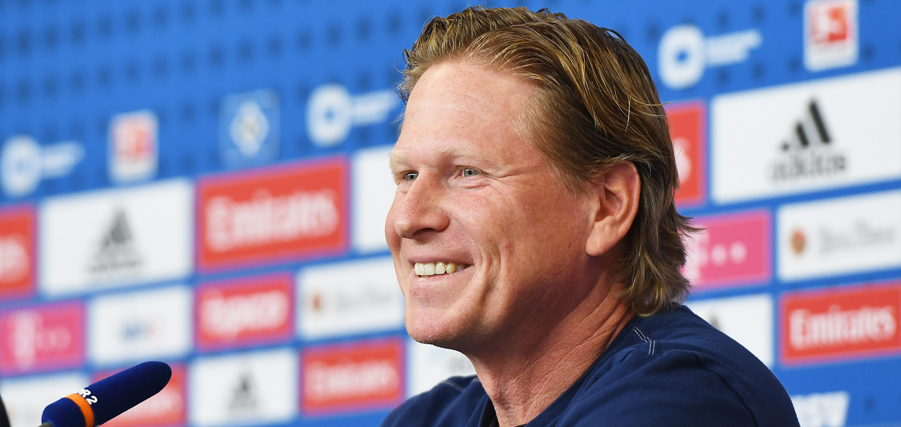 Into the pre-season preparation with "desire, anticipation and energy"
Markus Gisdol faced the press as the players reported back for training. The HSV head coach discussed the impending pre-season preparation period, the fitness level of the team and how the close season transfer period has gone so far.
After six and a half weeks off, HSV's squad were the second last Bundesliga club to resume training ahead of the 2017/18 season which starts next month: "We allowed ourselves the luxury of a few more days off because of how strenuous last season was. Looking into the eyes of the players today I could see how good the break had done them and that the energy was back", revealed the coach. That energy will be needed too as the group set up the first of two summer training camps on Sunday at nearby Rotenburg: "We were one of the fittest sides in the Bundesliga last season and want more of the same this term", added the coach who will hold three training sessions per day at the first camp. Although the players ran five times per week during the break the real work starts on Sunday. Gisdol hopes that his own anticipation and energy will be matched by his players.
Markus Gisdol on...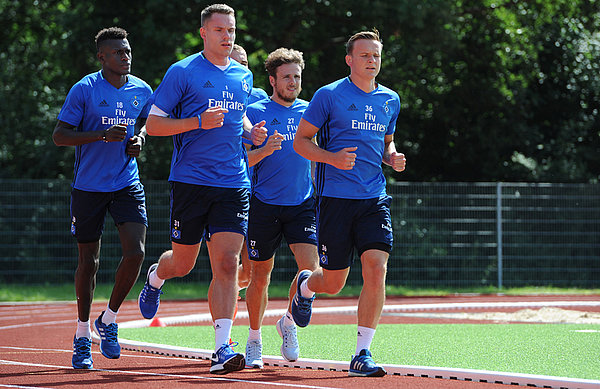 ... start to the new season: The desire for football is always there, it's like a professional illness. At the same time it was important to take those few extra days in order to recover from last season and recharge batteries for the new one. It iod feeling going into a new season without any baggage. During the latter stages of last season we had a few ideas we were unable to try out because of our predicament at the time. We will be trying many things during this preparation period. We base our game on aggressive pressing but we also want to try other things like becoming more variable during our build up play.
... fitness levels of the team: The players were given quite a tough training programme for the summer break which included five runs per week for some of them. We were one of the fittest Bundesliga teams last season and are striving for the same this time around. Obviously not all players are near 100% and Kyriakos Papadopoulos and Douglas missed lactate tests today. Papadopoulos is feeling the after effects of a calf problem from last season, so he will probably be training individually for the time being. Douglas had a knee problem during running.
... Rotenburg training camp: We will have a single session per day to start with. We will focus on during morning and afternoon periods which helped us last season. We will also be working in the gym a lot. We also plan to play a friendly against lower league opposition to help us get back into things.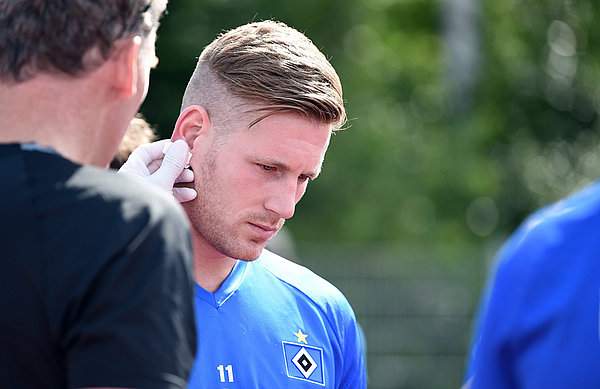 ... the transfer period: I was always confident that things would move in the right direction. We have taken the first major step and the pressure is now off. We have between now and possibly the end of August to round off the squad. We all believe that we need a left back and a central defender. Our cover is thin for those positions. Everything else is just cosmetic seeing how the preparation period goes. We also have to get used to further impending changes.
... the new signings: It was no secret that we needed wide men up front, which is why I am glad that we have been able to sign Andre who can play a central role up front as well as on the wings. That gives us flexibility, allowing to change to a 4-4-2 system if we choose to. Bjarne Thoelke is a player we need to build up to Bundesliga level and we are relishing watching his progress and development. Julian Pollersbeck is not yet back from holiday so I don't want to say too much about him right now. In Christian we have a good keeper who excelled last season. It is an interesting development for that position in the team.
... Nicolai Müller: I cannot believe how much is still being written on the subject. Anyone with any knowlge of football knows that Nicolai fits or way of playing to a tee, which is why we are trying our best to keep him here. You can never rule out approaches from other clubs you just have to keep a clear mind in such situations.