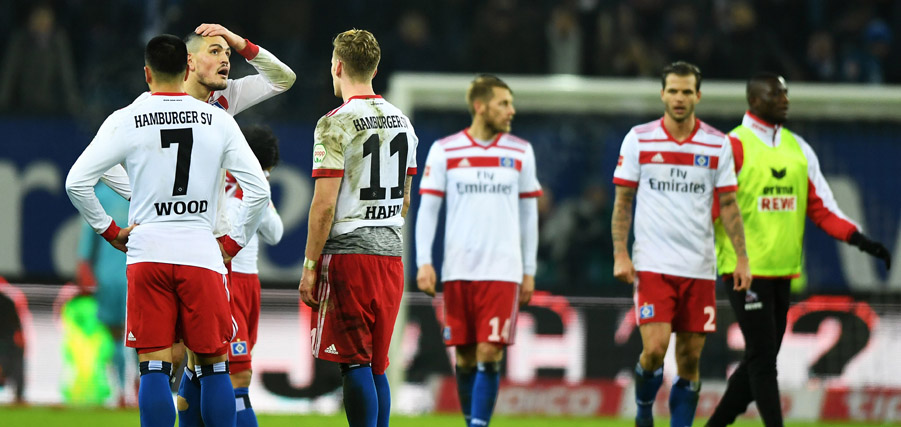 Post match reaction
20.01.18
"It feels horrible"
HAMBURGER SV WERE BEATEN 2-0 BY 1. FC KÖLN ON MATCHDAY 19 IN THE BUNDESLIGA. HSV.DE GATHERS THE FRUSTRATED AND DISAPPOINTED REACTIONS FROM AFTER THE GAME.
The hugely crucial crunch match against our relegation rivals from Cologne ended in a 2-0 defeat. Simon Terodde sealed our opponent's third win of the season with a brace, fanning the flames of hope that Köln might yet pull off the unlikeliest of survival miracles. Meanwhile, HSV fall further into the danger zone. The team gave a lot to try and seal a positive result, but in the end the ball just wouldn't go over the line. The atmosphere at the end of the match was naturally a disappointed one, when we caught up with the players in the mixed zone."
Andre Hahn: "It feels horrible. A lot was riding on this game and we had expected a lot from ourselves. We actually started well, but once again couldn't score the goal. Then we went behind from a set piece and then it became difficult. We couldn't get close to the goal in the second half, were no longer aggressive and were losing the second balls. I can understand the fans' frustrations. They give their blood, sweat and tears for HSV and invest a lot of money. They have the exact same emotions that we all feel on the pitch, but that needs to change."
Mergim Mavraj: "We've come through plenty of crisis situations before in the past. Everyone had written us off back then too. We will not give up and once again we will confront any situation with all our strength. We need to grind out a positive result soon. That can give us a boost, just as you can see with Cologne at the moment."
Dennis Diekmeier: "We are all incredibly disappointed. We were desperate to win the game. We actually started well, applied a good amount of pressure going forward and created some good chances. But then we conceded such a stupid goal from a set piece, which was obviously a big shock for everyone on the pitch. In the second half, we tried to pull ourselves together and come out of the changing room with pressure, which we managed on occasion. But in the end we lost the game 2-0. Everyone needs to have it in their heads that it's all about survival now. It's about staying alive, it's about HSV. We need to give our all in the next few weeks and absolutely have some positive form."
Markus Gisdol: "We started the game well and had good chances. We went behind from our opponent's first corner, which was obviously very frustrating. But even then we played well after that and even had some high pressure phases in the second half, but ultimately not enough chances on goal. Köln, on the other hand, took advantage of their counterattacking skills expertly. When you look back on the chances, it's a bit of a joke. We just can't get the ball over the line. Especially in the second half, you could see that the cogs in everyone's heads started working again. That's exactly why a game like that tips in the other team's favour."
Stefan Ruthenbeck: "We approached the game like a cup final. From the intensity and passion, I think we managed that. We didn't start well and were lucky not to go behind in the first ten minutes. HSV had a few phases where they put us under pressure, but that was when we managed to score. The first goal from a corner and the second was very well played. For that reason, I would say that today's win was lucky but not undeserved."