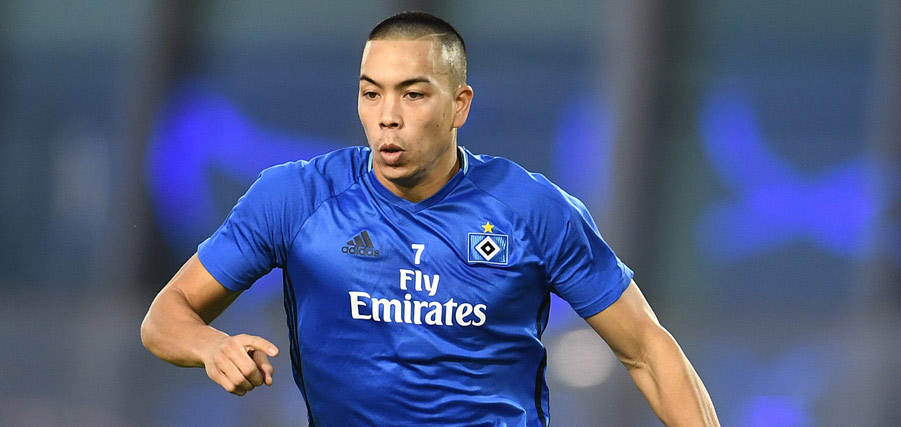 "It won't be easy"
In an interview with HSV.de Bobby Wood describes his first six months in Hamburg, the toughest period of the first half of the season and the reasons for recent success before the winter break.
There are two very different sides to Bobby Wood: On the pitch he uses his speed and physicality, while off the pitch he is more shy and modest. Nothing seems to fluster him. Wood answered questions for USA media people while sat in a comfy chair in the team hotel lobby. We caught up with the USA international striker who told us about his first six months in Hamburg, the tough period during the first half of the season and what he believes turned HSV fortunes around leading up to the winter break.
Bobby, the skyline of Dubai is our backdrop here. Do you like it here?
Wood: Yes it's quite nice here. I like the tall buildings and I could imagine spending a vacation here.
That of course not why you and the lads are here. How were the facilities at the hotel and at training?
Wood: It is like being in a town. We have great possibilities here. The training complex is simply top class. It is very enjoyable and we are all working hard to ensure we make a good start to the second half of the season.
You were unable to fully train early on. Everything OK again now?
Wood: True, I had an ankle problem at first but everything is fine again now and I am raring to go.
You had a couple of days off at Christmas. Did you have time to reflect on your first six months in Hamburg? How was your first six months in the Bundesliga?
Wood: I had hopedfor more success as a team. We went through a really tough patch be did well towards the start of the winter break. The most vital thing is that we stick together as a team. That aspect helped our gradual improvement.
How would you rate your performance during that time?
Wood: I would have been happier to help the team more by scoring more goals, but on the whole the first six months at Bundesliga level were OK. I adapted well. There were of course highs and lows but that's normal. I am happy on the whole.
The period leading up to the winter break was successful. How did you experience the development within the team?
Wood: We certainly grew as a team. We all knew the predicament we are in and something had to happen. Everyone had to focus on his own game in order to help the team. Things are of course easier when things finally go your way.
What does it mean for the second half of the season?
Wood: Very simple: We have to carry on where we left off. If we slacken now, recent success will be worthless. I am convinced we can do it. We have to look from game to game and not look too far ahead. We want to stay up at the end of the season. That is our main goal.
How do you see the fight for first team spots among HSV strikers?
Wood: We have a lot of good players in my position. You always have to get stuck in and give your all. The coach rthen makes the final decision.