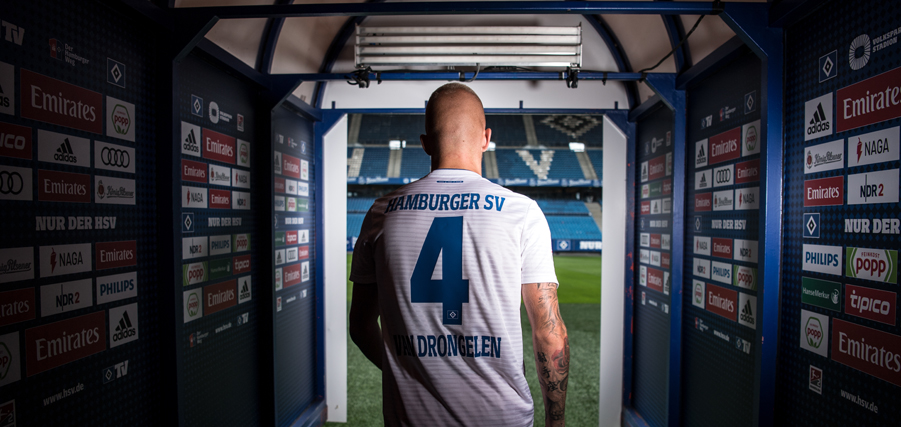 "I've always been a leader"
HSV.de talks to Rick van Drongelen about the origin of his leadership qualities and what he considers to be the perfect tackle.
Rick van Drongelen is currently on international duty with the Netherlands U21s trying to qualify for the European U21 Championship in Italy and San Marino in 2019. On Thursday, van Drongelen featured in a 0-0 draw against England. On Tuesday (11/09/18, kick off 18.30 CEST), the Dutch U21s will face Scotland in their next qualification match. The fixture will see van Drongelen face HSV teammate and centre-back partner David Bates.
Van Drongelen is a leader in defensive. Despite his young age, the leadership role suits the 19-year-old perfectly. HSV.de spoke to the youngster about where his leadership skills and winning mentality come from, as well as what he considers to be the perfect tackle.
Rick, is leadership a quality people are born with?
Yes.
How did you become a leader?
I learnt from my dad. He was always tough with me regarding football. He was a footballer and played in some of the highest amateur leagues. He was also my coach earlier in my career. He always told me to never give up and keep fighting. I've always had this mentality whether it be in a match or on the training pitch.
Did you find it difficult as a youngster when you didn't win?
Definitely, when I was very young I used to get really angry when we lost. Sometimes too much and I would go a bit crazy, run all over the pitch and scream at my teammates. Sometimes I got so exhausted that I couldn't breathe anymore and instead just broke down in tears. That's when my dad would sub me off and try to calm me down. Luckily we didn't lose that often!
So, did you have to learn to control yourself as a leader?
Definitely, it was a learning process. I had to learn that football is a team game and other players don't necessarily think the same way as you do. When I was playing in amateur football there were players who were less talented than me and so I got frustrated and criticised them. The players at my second club were a lot more talented, so stopped criticising. I was still a little crazy though because I always wanted to win. My coach had to try keep me under control, however, my winning mentality has always been my big strength.
How come?
I come from an area of Southern Holland where there's no professional club. When we played big clubs it was normally in bigger cities like Rotterdam. They had some top players there who were a lot physically stronger than us. My teammates were a little intimidated, however, I always said that we could hold our own and show them who we were. I've always been a leader.
Is leadership something you keep exclusively for the sports pitch, our does it come into your private life too?
It's a bit of both. Privately I'm quite a calm person, but also like to take the initiative. I've always been like that, even at school. I'm not a 'yes-man' who just does what everyone else says. I like to decide things for myself.
You're not just a loud voice on the pitch, you're also a tough tackler. What do you consider to be the perfect tackle?
When the opposition plays a long ball and it's a one-on-one sprint with the attacker for the ball. When you get your body in the way and put in a robust tackle: that's a great feeling. When you put in a good tackle as a defender it's like scoring a goal. A good tackle will get spectators up out of their seats.
Has your tackling game changed over the years?
I used to get a lot more yellows. My dad was a fierce defender too and used to tell me that after a foul he would just get up and walk away. He would never say anything to the opposition or the ref. This is the mindset that I have inherited, even though I do sometimes find it difficult to stay cool.
We noticed during the Monaco game that you quite like a little private duel with your opposite number. Is this true?
Are you referring to what happened with Jovetic? Yeah, we exchanged a few words and got on each other's nerves a bit. There was a point when he injured himself and was lying down in our half, but as soon as we lost the ball and Monaco was on the counter he was back up again and even managed to get a shot away. I ran up and confronted him. He got angry and grabbed me by the throat. The ref saw it and he got a yellow as a result.
Is that a conscious strategy of yours, to get into the opposition's head?
Yes, I little provocation is always good. It's up to the opponent though if they react or not. For example, in Sandhausen I had a little confrontation with Rurik Gislason, however he apologised right after. There are other players who don't say anything at all, so I have to set the tone.
Do you always shake hands after the game?
Of course, that's football: What happens on the pitch stays on the pitch.