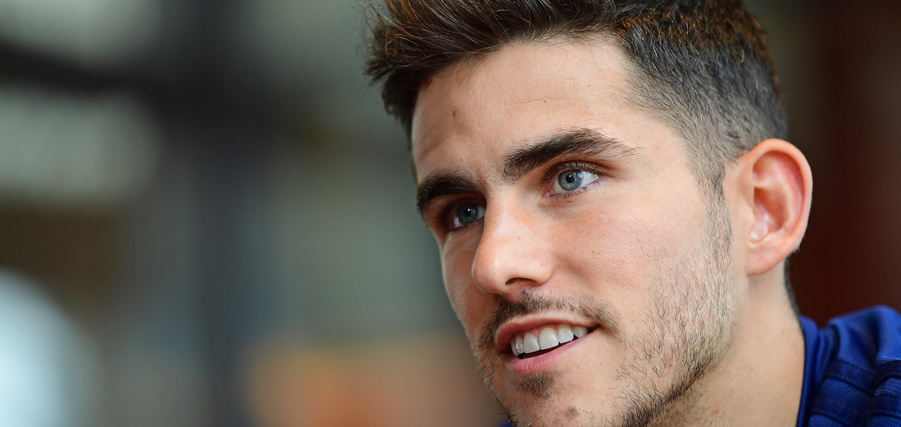 Jairo: "I had to make a decision: football or studies"
The 25-year-old reveals in an interview with HSV.de why he faced a crucial decision at 17, why he spent lots of time in car parks and what qualities he can bring to HSV.
If you watch Jairo Samperio in training, you soon realise that he's a very easy-going and likeable character. The new signing from UD Las Palmas can be seen talking to and laughing with his new teammates on the pitch. His radiance was also there to be seen in his talk with HSV.de. Jairo seems to feel at home after only a short time at the club. In the interview, the Spaniard reveals which influences he can bring to HSV from his home country, why he had a crucial decision to make at the age of 17 and what he wanted for his birthday.
You celebrated your birthday at the training camp on 11th July. Can you remember the last time you were at home for your birthday?
Jairo Samperio: (laughs) That's quite a few years ago now. Since I've been a professional footballer, it's becoming normal for me to celebrate my birthday at a training camp. In the past, I've always brought along a few presents from my parents and we've celebrated together afterwards.
Did you always know that you wanted to be a football player?
I think I dreamt of it since I was a baby. I always played football with my friends. We used to play five-a-side on a hard pitch. It wasn't organised club football – that came later. But I was always outdoors playing football – it was what my life revolved around.
You switched to Santander, 45 kilometres away from your hometown in your youth, but you stayed living at home of course. What memories do you have of this time?
My parents always tried to do everything they could to support me and also take me to training. Something that was very tricky to fit around their work, so sometimes I had to wait an hour or so after training was over for my dad to come from work – sometimes by train or sometimes I would wait in the car park. But it was all worth it.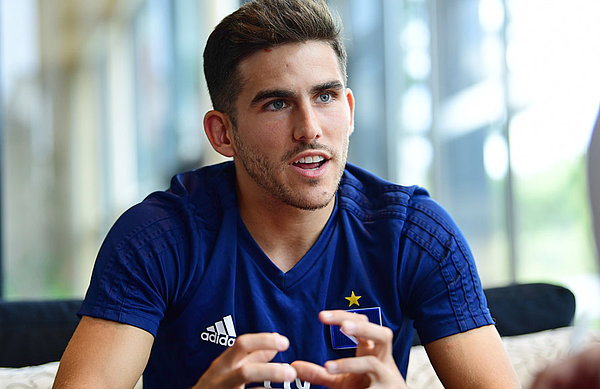 When did you first feel that you could do it?
That was when I was 17. I had finished school and began a course alongside the football. Then I got the chance to train with the first team of Racing Santander. But at the time, they often trained in the mornings, which clashed with my lectures. So I had to make a decision: football or studies. When I played both of the first two games for the first team, I stopped my studies to focus fully on football and try my luck.
That worked out well. You moved to Sevilla at 20, where you were able to win the Europa League. Then in 2014 you moved to Mainz 05. What did your parents say when you came to Germany?
It was absolutely fine by them. They were more worried about the transfer to Sevilla because it meant I had to move out. Like all parents do, they said things like 'look after yourself', 'be careful' and 'keep working hard'. When I moved there, they knew that I was fine by myself.
Now you're in Germany for the second time. What are your impressions of the country?
I like the structure in Germany. Everything is very well organised and reliable. Football is worked on at a high level in Spain too, but here you have the feeling that more value is placed on clear procedures – in the clubs and in everyday life too. I like that.
Is that a good combination with your Spanish traits?
When I came to Mainz aged 21, the clearly laid-out procedures helped me a lot. Otherwise, you don't take it so seriously when you're young. I think I can use the German and Spanish influences really well.
When does the Spaniard in you come out?
I have a gritty personality. I'm actually always very cheerful and I like to make jokes. But I also have a temper and my mood can switch within a second. When I'm enraged, I can rant at somebody, but then apologise after a few minutes and laugh together with the person.
Is it also a strength which you'd like to bring to HSV?
Absolutely. I think that a mix of focused work and a certain looseness is a great foundation in any competitive sport.
What was the reason for your transfer to Hamburg in the end?
HSV is a big club with great fans. I could see in my games with Mainz that there's a great atmosphere in the stadium and relationship between the club and the fans. I think it's a good opportunity for both sides. I'll try to play my best football after a tough season and HSV wants to do exactly the same thing. My style of play fits well with the way the coach wants the team to play. My talks with Christian Titz and Ralf Becker were good from the start.
What are your goals for the upcoming season?
Like I said, I want to get back to my prime, which I showed at Mainz and other clubs, as soon as possible. I'm going to work hard to do that and to play as many games as possible and help the club and the team. Our collective goal is of course to return to the Bundesliga.
Is that your birthday wish too?
I think it's all of our wishes. But to do that, we all have to work very hard and keep our heads down.