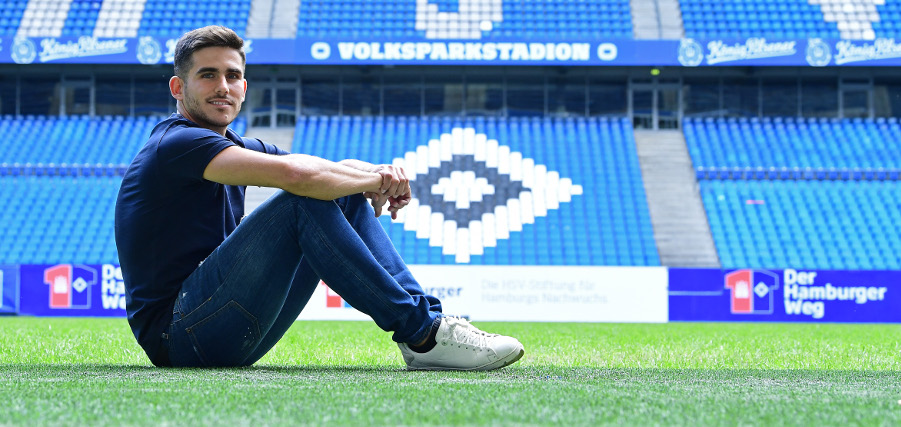 Jairo Samperio: "I want to show what I've got"
The 24-year-old Spanish forward speaks about HSV, his goals for the season and his previous time in Germany.
Jairo Samperio has only been in Hamburg for a day now, but the Spaniard has already won a lot of people over. With his laidback, friendly nature and his beaming smile, he's very easy to get along with. Jairo has experience in German football from his time at 1. FSV Mainz 05 and has seemed to be right at home in Hamburg from the moment he got here. Samperio spoke with the media on Friday and provided some insight on...
... his reasoning for moving to Hamburg: HSV is a big club with a lot of history. The management also laid out their plans for how they want the team to play and it really convinced me. The coach really made me feel that he wanted me. I'm excited to be back in Germany and to show what I've got. I want to pay the team back for the trust they have shown in me.

... his first impressions of his new home town: This is not first time that I've been here. Hamburg is a really beautiful city. The most important thing for me is that I'm close to water. I really enjoy being outside with my girlfriend and my dog and there are so many places we can explore and do that in Hamburg.
... his memories of the Volksparkstadion: I have a lot of good memories of this stadium. I played one of my best Bundesliga games here with Mainz when I scored two goals. I'm sure I'll get reminded of that game a lot. Now I want to score goals for HSV and impress the home fans.

... his last club: The last year in Mainz was anything but easy for me because of my injury. It meant that I had a lot of time to think about my contract. The relegation battle in Las Palmas was also very hard. It's important for me to put that time behind me now and get back to where I was before.

... his new teammates: It's obviously a positive that I know Christoph Moritz from earlier in my career. We both played for Mainz and got along really well. The fact that we now also both play for HSV will really help me to get settled. I've also had a really good impression of the rest of the lads. Now I want to quickly improve my German, so that my teammates don't always have to speak in English with me. I think that I'll be able to do that fairly soon and integrate myself into the squad well.
... his goals: This club belongs in the Bundesliga, that is my ultimate goal. It's still important that the bar isn't set too high though. My teammates and I will work extremely hard to get promoted back up, but we know that Bundesliga 2 will be very difficult. Personally, I want to obviously play as much as possible and help the team. I'm really looking forward to the future.