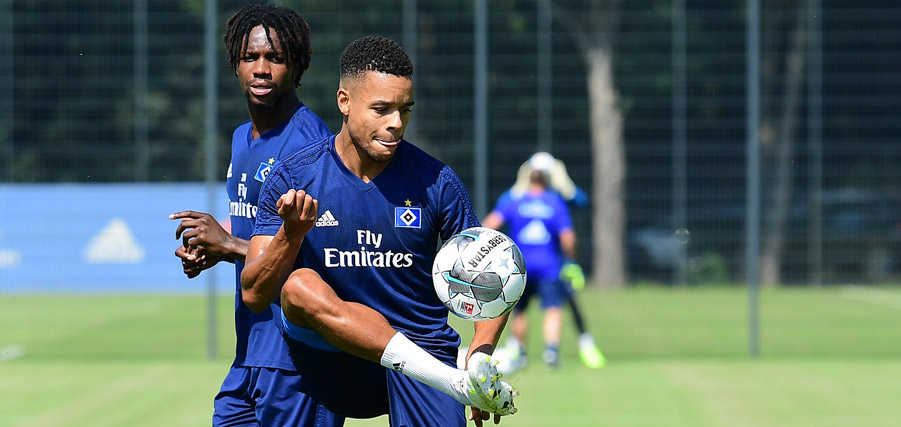 Jan Gyamerah: Embracing a new challenge
The 24-year-old full-back has bedded into life at HSV very quickly and is enjoying working with new manager Dieter Hecking
The fans saw a mere glimpse of Gyamerah's potential during the first two friendlies of the new season. Having seen his great turn of pace and the quality of his crossing in training as well as in the two games against Meiendorf (8-0) and Buchholz 08 (13-1), it was clear to the fans why the HSV hierarchy had reeled him in from fellow second division side VfL Bochum. The 24-year-old full back has settled into life in Hamburg with the same pace that he shows down the flanks during games. "I already feel at home. I guess part of that is due to the fact that there are so many new faces around here. That makes it easier for all of us to settle down quickly. On the other hand the team is completely open and I'm sure I wouldn't have had any problems even if I'd been the only new signing," explained Gyamerah in a wide-ranging interview with HSV.de.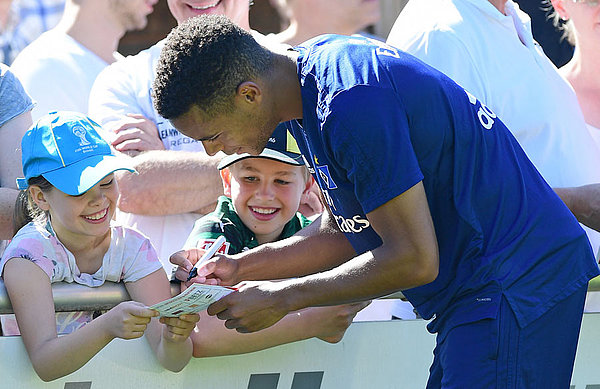 "At HSV there's just a different level of ambition"
It wasn't easy to make the move all the way up north to Hamburg from his beloved home in the Ruhr area ("I had an unbelievable time in Bochum"), where the Berlin native had played for eight years after spells in Stadthagen and Bielefeld. But in the end that was the exact reason why Gyamerah felt that he had to move on: "In Bochum I knew what I had. But the size of the challenge of doing something memorable for the club is certainly greater here," according to Gyamerah, this being underlined with his experiences from the first few days. "When I look at training today and how many people are standing there and watching on, it's definitely a different level. The level of support at the Volksparkstadion during home games is then another step up. At HSV there's just a different level of ambition. I wanted to be part of that and hope that our journey this season matches those ambitions."
The 1.84m tall utility man, who feels at home anywhere in the back four and played a number of games for Bochum at centre-half, always looked forward to games at the Volksparkstadion as an opponent. "When you come here as an opposing team, you're always more motivated than at other grounds in the second division. You've got more motivation and energy and it doesn't hurt as much when you cover a lot of ground."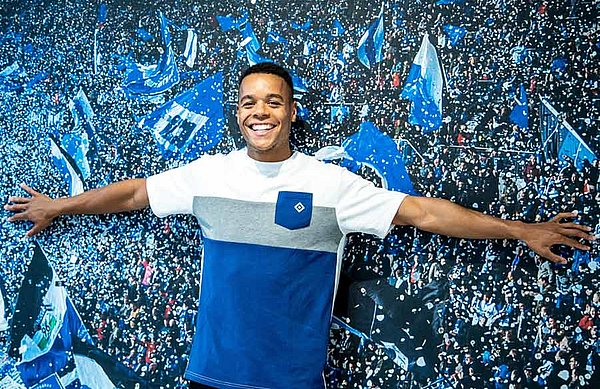 "Dieter Hecking knows what he's talking about"
Now he gets to experience the atmosphere at the Volksparkstadion from another perspective and wants to transfer the energy he felt as an away player when he pulls on the famous blue, white and black diamond. Being physical and exerting yourself on the pitch is the name of the game in the 2. Liga; playing the ball around nicely doesn't bring many results. "There are a number of teams whose game plan is simply to come and be combative and you've got to find a way to overcome that," he says, speaking from the experience gained from 74 appearances in the second tier. "It's important not to withdraw into yourself and to step up and accept the challenge. Only when you embrace the challenge and get your hands dirty can you then get on the ball and show your quality. Without a doubt we've got several players who will cause problems at this level in our ranks", he said with a knowing grin on his face.
Bringing those two elements together will be crucial for Dieter Hecking. Gyamerah is already very impressed with the work of the new manager. "We've already done a lot of work on our tactical shape. I can learn a lot from him. He knows what he's talking about and you can see how much experience he has as a coach. I'm very confident I'm going to develop with him as manager," said the 24-year-old. If the positive start continues then the flickers of promise could turn into something special for HSV and Gyamerah.