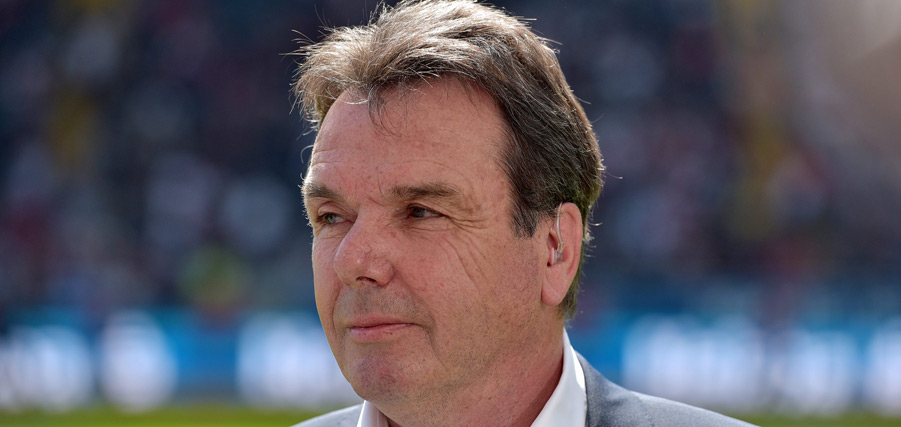 "Just another game"
In an exclusive interview with HSV.de this week HSV club boss Heribert Bruchhagen discussed his return to his former club Eintracht Frankfurt, the impending clash in Frankfurt and the development of HSV since he arrived.
It is exactly three months since Heribert Bruchhagen became board chairman at HSV. On Saturday (18.03.17, 6.30 PM) the Rothosen face Bruchagen's old club Eintracht Frankfurt away from home in a Bundesliga matchday 25 encounter. Bruchagen was at Eintracht for 13 years but still claims: "It is just another Bundesliga game." HSV.de caught up with him for a chat during which he discussed how much he is looking forward to Saturday and the return to his former stomping ground and how he assesses the development in Hamburg since he joined the club.
HSV.de: The Volksparkstadion is a real fortress again with the team unbeaten in seven home league games there. There were two recent vital victories over Hertha BSC (1-0) and Borussia Mönchengladbach (2-1). How did you experience those games?
Bruchhagen: I was of course very happy and I must say that apart from the cup defeat to Gladbach I haven't seen us lose a game yet. My first game was against Schalke which I watched from the box belonging to Mr. Plambeck because I did not want to draw attention to myself. I have not seen a home defeat and long may it continue.
What difference do the fans make?
We do of course enjoy tremendous support, which is not a foregone conclusion especially after the start we made to the season taking two points from a possible 30. The last Gladbach game was a cauldron of emotion at the Volksparkstadion. That is something which Gladbach coach Dieter Hecking confirmed as he told me: "We came under such strong pressure in the second half and i cannot explain it." I'm sure that our fantastic support had something to do with it.
There was always support in Frankfurt too. You were board chairman for 13 years and now HSV travel there on Saturday. Any nerves yet?
I have had more requests from media circles this week than I can remember in my 29 years in the game. Everyone wants to make a story out of my return to Eintracht and that after 13 years there i am now doing the same job at HSV. Of course you can do it, but it is just another Bundesliga game between sixth placed Frankfurt and sixteenth placed HSV. Eintracht want to qualify for Europe at the end of the season while HSV want to fight off relegation.
What kind of game are you expecting?
There is a lot at stake for both sides, but I won't make any predictions because games tend to form their own dynamic. It will be an exciting game and I hope that we can reproduce the kind of form we showed at Leipzig and not Munich. We are a bit of a lucky dip away from home. You never know what to expect.
In what way do you still monitor Eintracht Frankfurt?
Very closely obviously. I know most of the players there and Alex Meier for instance is a player I bought from Hamburg 12 years ago. He has grown very close to my heart. It is human nature to follow the progress of a club you spent thirteen years at. But this weekend all my support is for HSV.
You know so many people in Frankfurt. How is Saturday's clash not just another game for you?
Obviously I am looking forward to meeting former colleagues, employees and other people. You build relationships over the years which do not stop just because you move to a new club.
You have been at HSV for three months now and have been able to get an overall view of things. What are your impressions so far?
I will always argue that HSV is not the so-called chaos club that some say it is. That lable was given because of our position in the table at the time. What I have found internally though paints a completely different picture. The club is well structured and is an almost perfect working environment where there is a clear plan and the people have clear tasks. That is all good at HSV. Our position in the table is still not satisfying especially because of the major investments made before the start of this season. That is used by some to tarnish the name of the club. I don't see it that way. We will continue to work hard against such labelling.
Fingers crossed that the good work continues in Frankfurt. Many thanks for the chat.