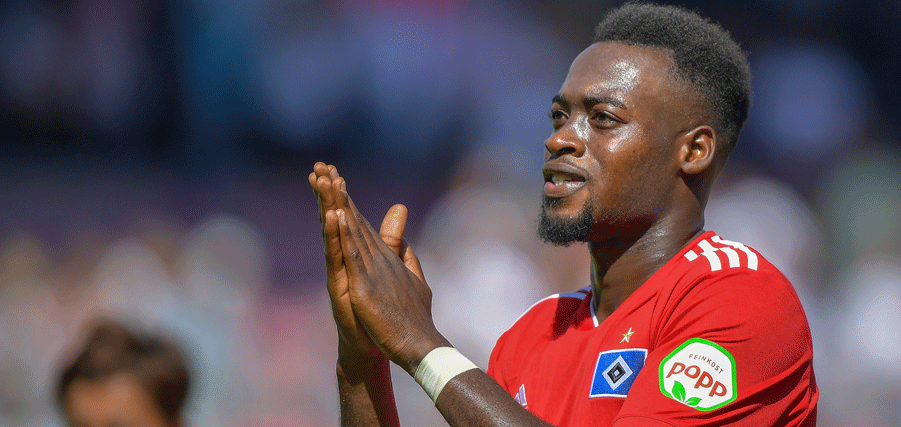 Khaled Narey: "HSV fans are extraordinary"
The super quick dribbler and crowd favourite Khaled Narey talks about his career, HSV fans and a childhood dream that he wants to fulfil with HSV.
Within just a few weeks, Khaled Narey has won not only a HSV starting XI spot and but also the hearts of many fans. His dribbling, goals and electric pace has made the 24-year-old a fan favourite. However, it's definitely not a case of unrequited love. Narey himself is a big fan of the fans. He has already scored for the club against Monaco, Sandhausen and Bayern. So, what kind of a guy is he? Where is he from and what does he like about football and his new club? Narey has worked his way from the Regionalliga, to the 2. Bundesliga, his dream is to play in the top flight of German football. A dream he wants to fulfil with HSV. HSV.de interviewed the German-Togolese player born in Leverkusen.
Khaled, in the last five years you've played at four different clubs. Are you a changeable kind of guy by nature?
I spent a lot of time in the youth set-up at Bayer Leverkusen. My next step was to move from Leverkusen's Regionalliga side to the Borussia Dortmund U23s in the 3. Liga. However, it's hard to make it professionally at BVB, so I accepted the loan to Paderborn and then eventually the transfer to Fürth. It was the right decision to move to Fürth, it's a great club that's well managed and puts a strong focus on young talent, it was there that I managed to establish myself in the 2. Bundesliga.
And then came the offer from HSV?
Yes, I didn't have to think about it for long. I've signed a contract for four years, but if I like it I'll stay longer. Despite what it might look like considering the last few years, I'm not the kind of guy who wants to move clubs year on year, I'd like to stay longer.
It looks like you've settled in on the pitch.
Yes, I always do quite quickly. I don't need a lot to feel at home. I'm happy as long as my wife is there and there's a good vibe at the club. That's what it's like at HSV. I had a very warm welcome; the atmosphere in around the team is great.
Leverkusen is your home though, isn't it?
Yes, I grew up there and my family and closest friends live there. I go back a lot to visit my parents. My older sister has two sons, so I'm an uncle too. I like to go back to visit my nephews. I've also got an 18-year-old brother who I like to visit. I watch his football games and the games of my friends in the Kreisliga, its fun. When the game kicks off, football is just football, no matter whether it's Kreisliga or Bundesliga.
Was it your ambition that has brought you all the way to the 2. Bundesliga?
I'm very ambitious and focused; I've always been like that. Of course they're other factors like talent and luck that play a major role. At Dortmund they used to tell us the story of Erik Durm. He was a striker in the second team, but one day he was injured so he couldn't travel to the game. Instead he stayed in Dortmund and was doing some recovery training when suddenly Dortmund's first team right back got injured. Darm was asked to step in for the first-team's game. Jürgen Klopp was so impressed by Darm that he kept him in the professional squad and he swapped position from striker to right-back. As a result, in 2014, Durm was part of the Germany squad that won the World Cup. Life just turns out like that sometimes.
How do you feel running out in front of a fully-packed Volksparkstadion?
I'm very thankful and I know how hard I have worked to get to there. I'm also fully aware how special it is to play football in this atmosphere. You notice it when you're on the field particularly due to the volume. When we're away it's no different. So many travelled to the Sandhausen game and DFB-Pokal match, it felt as if we were at home. Unbelievable! I'm very happy to be playing for such a special club.
What do you make of your chances of fulfilling your dream and making it to the Bundesliga together with HSV?
It's my childhood dream to play in the Bundesliga. I'm convinced that I'll manage it with HSV. We have a very young team with a lot of talent. The 2. Bundesliga is no walk in the park though, that's for sure. But, we have a lot of quality and a great coach who is helping every player and the team as a whole improve. We have, as I've already mentioned, huge support from the fans. They're so loud in the stadium and support us to the bitter end. HSV fans are truly extraordinary.