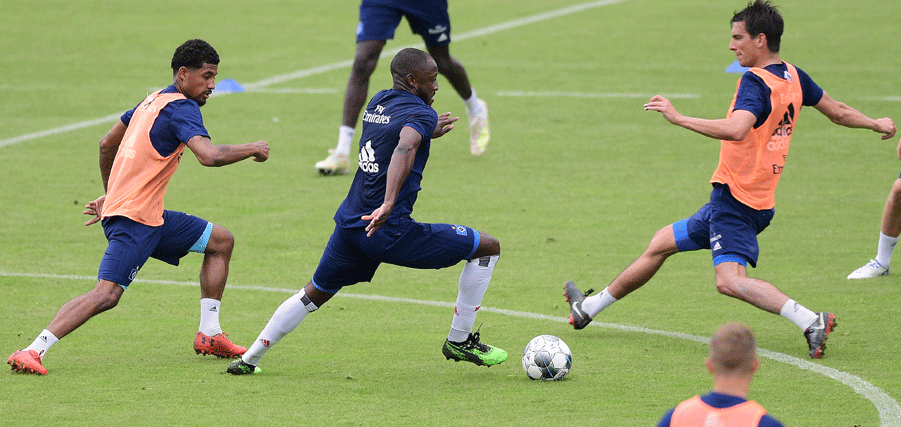 Kinsombi and the "Central role in midfield"
David Kinsombi has moved from Holstein Kiel to HSV and, in the eyes of coach Dieter Hecking, will take on a central role in midfield.
He's already stood out in the first few training sessions. His dynamism, presence, his battling behavior – you can see that David Kinsombi is excited for the new season and his new challenge with HSV, especially since he had been out for a few months with a leg fracture last season. "It was a real shame for David," said his new coach, Dieter Hecking, continuing "up until that injury he was, for me, the face of Holstien Kiel's progress."It's one of the reasons the coach is so excited to have the former Kiel man: "If David performs here as he did in Kiel, then he will also play a central role for us in midfield. I am very much looking forward to working with him because he's a lovely guy and open person who will play an important role for us in central midfield."
The man himself is heading into the new season with a similar idea, but didn't say it quite as outright. "I'm really looking forward to the new task here and want to take on responsibility, but without making big speeches," said Kinsombi. The fact that he was Kiel captain at such a young age, or that he played a central midfield role – be it the No. 6 or No. 8 – and even the fact that he's been snapped up by several clubs despite injuries, are all things that David Kinsombi doesn't like to get too caught up on. Off the pitch, where the Rhineland native has moved into his new house in Hamburg and is studying marketing in addition to pursuing a career as a professional footballer, Kinsombi is a man of few words. It's a different story on the pitch, where Kinsombi leads the way and sets the tone. That's exactly what the 23-year-old spoke about during his first time in front of the media at HSV. David Kinsombi on…
…HSV: Of course I was cheering for HSV during their promotion battle last season, but I made the decision to come here because I absolutely want to play for this club, no matter what division they are in. When it was clear that it would be another season in the second division, myself and everyone else on the team were ready to put 100 per cent into this task. Right now, what matters is putting in the work, not thinking about what could have been. That won't help us.
…the first steps: We want to come together as a team as quickly as possible. That means integrating the new players and learning what my teammates are like on and off the pitch in order to become a tight-knit unit. That helps us give it our all during every training session and to continue to grow and get better each time we train.
…the expectations: I know there's a lot expected of me, but that's normal and will drive me on. I was accepted into the team really well and my first day nerves were gone after a few hours. I will be as positive as I can for this team, on and off the pitch. I want to take responsibility as well, without having to give big speeches or anything like that.
…his fractured leg: It was the first bad injury of my career, but I feel good now, both mentally and physically. I was able to train with the team in Kiel at the end of last season, so I have the confidence and I feel really, really good now.
...Dieter Hecking: Every player will be more motivated by working with a coach like Dieter Hecking. He has so much experience, has achieved so much and has spent so many years working in the Bundesliga. All the squad will do their best to gain as much from working with him as possible. This will improve us as a team.
…the 2. Bundesliga: There are some teams who try to play football, while others are more defensive and robust. Regardless of that, the last few years have shown that there is a lot of quality in the division and no teams can just stroll through the league. This just simply won't happen. As a result of this, we have a lot of hard work ahead of us if we want to be successful.