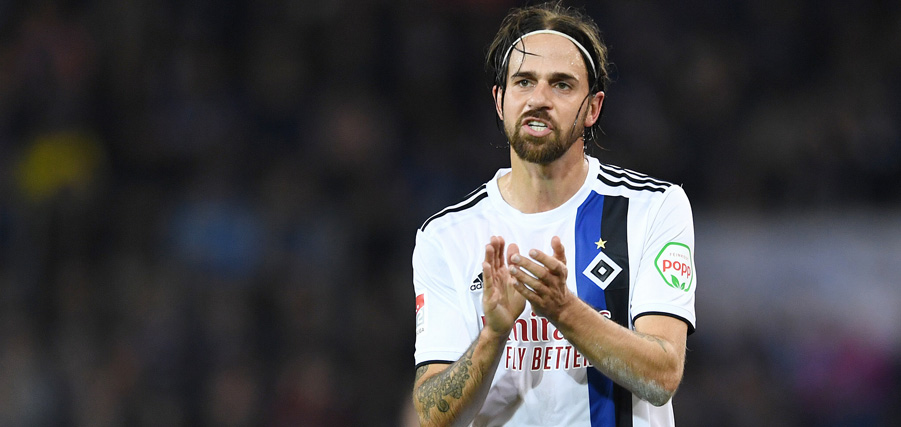 Martin Harnik: 'I can feel a special kind of tension'
The 32-year-old wore the famous red and white of Stuttgart for six years, the next opponents in league and cup for the Red Shorts. Naturally, the two games against VfB aren't your everyday fixtures.
In January 2006, Martin Harnik departed Hamburg and his home club SC Vier- und Marschlande for the boarding school at Werder Bremen's academy to follow his dream of becoming a professional footballer, having to turn his back on his beloved Hamburg. Now 32, the striker has returned to his spiritual home, having moved back to the Hanseatic city in August. The coming week promises two match-ups against VfB Stuttgart, the club that Harnik proudly represented for six years of an impressive career. "It was the first club where I made real inroads on the first division and developed into a Bundesliga player. I have a lot of happy memories from that time and got to know a lot of my current friends," he says. For that very reason, the striker was a man in demand this week, answering the journalists' questions during a press conference on Wednesday.
… his time in Stuttgart: "It was the first club where I really made inroads into the Bundesliga und developed into a Bundesliga player. I have some great memories of my time there, played in Europe and just had fun. On the one hand, it was my springboard into the professional ranks, but getting relegated in 2016 was the lowest point in my career. I don't know many of the players who are currently in their squad but I'm looking forward to seeing a few old faces from the management and physio teams."
… VfB's qualities: "They play like a top team, have top players and transmit that feeling on the pitch as well. They play a very dominant style of football but at the same time are willing to take risks, because they have that confidence which the manager also gives them. The way he likes to play is well known from his time in Kiel and created a bit of attention whilst he was there. Therefore we know that they are going to be successful long-term. We're going to come up against a very attacking and confident team at the weekend."
… VfB's current form: "Stuttgart are definitely going to play at a higher level than Bielefeld did on Monday. You have to look at their last two games differently. Against Wehen Wiesbaden (Stuttgart lost 2-1), it was a crazy game that they could have won 5 or 6-1. The game against Kiel was similar. They weren't the worst side on the pitch or have forgotten how to play football. They simply had a bad day at the office. That makes them dangerous against us, because naturally they want to show a reaction. We are preparing ourselves for a strong Stuttgart team."
… what to expect from the game: "We have the advantage of playing at home. Up until now we've performed a lot better at home, and we want to continue that in the next two games against Stuttgart. It's important to use our strengths and our home form to our advantage. But that doesn't make it any easier than the Bielefeld game. We are meeting an opponent who we haven't played against yet this season. They have a lot of quality and experience. That experience will particularly come in handy for them to help them emerge from this little blip of form. For that reason, they won't be shy or feeling sorry for themselves when they come here, they'll want to win both games. We've got to work against that.
... the current mood in the camp: "I think that as a team we play with a certain amount of joy and there's a feeling of excitement within the squad, that we're at the start of something special. The potential and possibilities for the club are well known throughout Germany. It's important that we continue to follow the path that has brought us success so far. If we do that then I'm sure this isn't the last game that will be sold out. The atmosphere and the readiness to support the club is amazing."