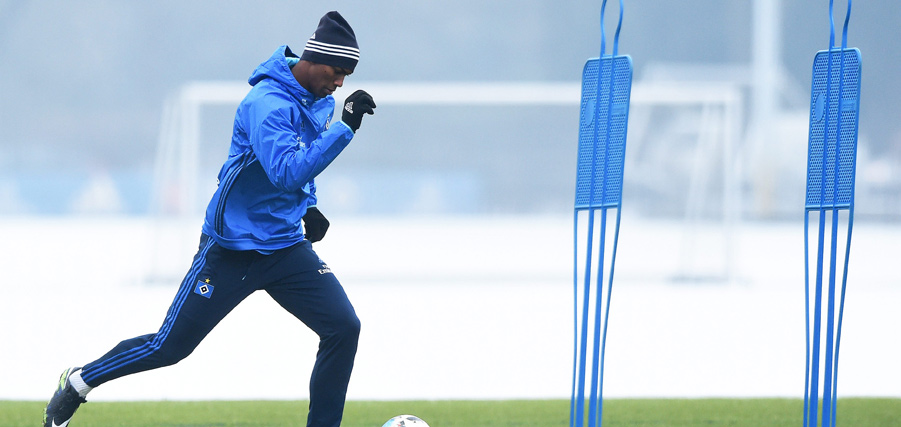 New signing Walace: Snow, playing style and Bundesliga survival
The 21 year old Brazilian has been brought in to bolster HSV's flagging defensive midfield. In his first interview with HSV.de he describes his first training session in Hamburg, the current situation at the club and his way of playing.
As HSV new signing Walace Souza Silva (Walace), arrived in Hamburg on Monday (Jan. 30) he was greeted by snow drifts. It has been cold in Hamburg for some time but snow was something new for the midfielder, who has experienced below zero temperatures in his homeland but has never seen the white stuff. He said at his first meeting with the press: "I know the temperatures from Brazil but without snow which is a new thing for me." He added: "I think I can get used to it quickly." The 2-time capped midfielder wants to settle in at his new club as soon as possible in order to help HSV fight off relegation.
In a chat with HSV.de the new signing spoke of his first training session with his new team mates, the current situation at the club and his way of playing.
HSV.de: Walace, welcome to Hamburg. You trained for the first time with your new team mates. How was it for you?
Walace: Of course it was completely new for me but still enjoyable. I experienced the speed at which football in Germany is played and it is just a case of getting used to it. We were in the middle of pre-season preparations in Brazil, so I need to settle in. HSV is a very good club which welcomed me with open arms, and has top players who are very friendly.
With Gremio Porto Alegre you won the Brazilian cup in December and came to Hamburg who are fighting relegation. What made you move here?
Yes that is true. Beforehand I held positive talks with Jens Todt. I liked to whole project he presented to me and was able to build up trust in the club. Of course the situation is not easy, but I knew that before I came. We now just have to focus on moving out of our current predicament in the Bundesliga table. We have to work hard and start winning again. I don't know much about HSV but I do know that they have never been relegated to the second division. I very much hope to contribute to maintaining that record this season.
How wouldlike tohelp the club do so?
I am a player who covers a lot but also plays a lot of passes. I try to get forward when I can to support the front line. I have scored goals playing that way in Brazil. When I play, I try to help the team any way I can. The coach will decide whether or not I play against Leverkusen.
Have you been able tospeak to your new coach Markus Gisdol yet or how are you communicating?
I have had a short chat with Markus Gisdol and weplan to sit together for a longer one over coming days. Because I don't speak and German yet gestures are my way of communicating. Of course having Douglas Santos here is a great help as well as my translator Edson, who will help me learn the language quickly. My wife and young son are coming to Hamburg this week. It is important to have them here with me and that we settle in as soon as possible.
You have chosen to wear the number 12 – an unusual number for an outfield player…
(grins) Yes, I know the meaning of the number, but I must say that I have worn the number for a long time and it always brought me luck at club and international level. I fully identify with the number which is why I chose it.
You mentioned your national team. Does it play a part in your future plans?
Of course. Every Brazilian dreams of playing for the Seleção. Now though I am only focusing on the huge job of fighting to stay in the Bundesliga with HSV. I will try to adapt to the Bundesliga as quickly as possible.