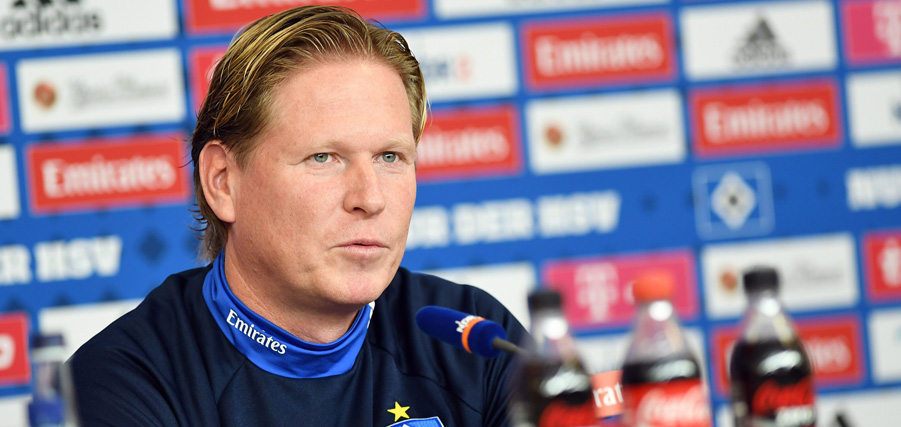 Press conference
20.04.17
"No easy game"
At the official pre-match press conference ahead of the visit of Darmstadt 98 to the Volksparkstadion in Hamburg on Saturday afternoon, Rothosen coach Markus Gisdol discussed selection matters and the qualities of the visitors who are currently bottom of the Bundesliga table.
On paper things look clear cut HSV are unbeaten in their last 9 home games and Darmastadt have yet to win a point on their travels so far this season, leaving them rock bottom of the Bundesliga table as matchday 30 looms. But games are not won on paper as Rothosen boss Markus Gisdol warned as he faced the media in Hamburg on Thursday (20.04): "The greatest danger is believing that we only have to turn up to beat Darmstadt. Thing is, I'm not convinced that it will be the easy game people think it will be. We must perform to 100% and be tight as a unit. That is the key to success."
Markus Gisdol on…
... team selection: As expected the injury situation has improved. We are on track with the return of Bobby Wood, Kyriakos Papadopoulos and Johan Djourou, and we think they will be available for Saturday's game which would be a huge help.
... his expectations from the game: Of course we are aware that Darmstadt have not collected any points away from home so far this season. That can burden the home team: "The greatest danger is playing the bottom-placed team in the table at home will be easy. I'm not convinced that it will be the easy game people think it will be. Darmstadt will fight tooth and nail and we must find the right approach to this game. We must perform to 100% and be tight as a unit. That is the key to success."
... Darmstadt 98: Darmstadt are much-improved since the winter break. You only have to look at their last two away games. They were so close to winning in Ingolstadt and they put pressure on Schalke and struck at set pieces. They are a side that deserves respect. They no longer play long balls like they did earlier in the season. Thgey are a big threat at set pieces in every game. I am not trying to build them up but just remain realistic.
... return of Sven Schipplock: I know Sven very well. He had a good time under me at Hoffenheim and we got on well. I rate him and his qualities as a player. He will return here at the end of the season, and as things stand right now he will be in our plans for next season.
... the current situation: Our situation hasn't changed and it does not matter which team we face. We have to do our thing regardless of whether we play the top or bottom team. Points count the same regardless of the opposition. Apart from that it is all about the next game. I am fixated on that aspect and try to get that over to the team everyone at the club. We want to take maximum points every weekend and we have to fully focus on our next opponents.
... ending player contracts: Players must put such things to the back of their minds. They are used to such things popping up every couple of years. I do not have the impression that the players with a contract which ends in June are trying less than anyone else. On the contrary: Performing well is in their future interests so that can keep them focused. I don't see any distractions on that front. We want to go on the attack with our fans right behind us.