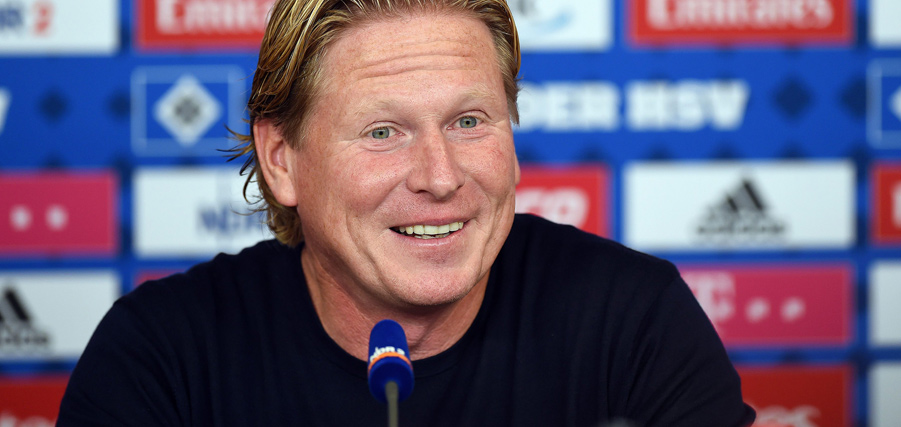 Press conference
11.05.17
Pleasure, confidence and courage
Rothosen head coach Markus Gisdol told the media what the final two games of the season will be about at the official pre-match press conference ahead of the matchday 33 trip to face Schalke in Gelsenkirchen.
There are only two games to go in the 2016/17 Bundesliga season. As always those games will kick off at 3.30 PM on Saturday afternoons: "Everyone has the same conditions and nobody goes into the games handicapped", Gisdol told the press at the conference held at the Volksparkstadion on Thursday afternoon this week. The coach pointed out that sole focus on HSV's own job at hand is vital. He added: "During these last two matches I do not consider it a good thing to be constantly informed on the progress of other teams. We want to take something home with us from the game in Gelsenkirchen." Which makes other results irrelevant.
Gisdol on…
… the Mainz draw: We had three really poor losing performances beforehand, which totally changed our situation. It put huge pressure on us and there was no getting away. Playing long balls instead of a risky pass is simply down to confidence. I am often asked about it. But that was exactly what Mainz did too. Awful football to watch without doubt and there is no getting away from that fact. As a spectator you have to say that it doesn't count. I am sure that the next two games will have more quality on the pitch.
… end of season run in: The last two games of the season are always special, especially when there is something at stake, for those playing for nice things near the top of the table or for the likes of us battling for top flight survival. They are special moments when everyone starts games at the same time. It requires strong nerves. The last four games were very nervy affairs and I think that we can free ourselves from that somewhat.
… measures needed in the current situation: One must not forget that players are only human. You have to approach them in a certain way in order to loosen the tension. Pleasure, confidence and courage are missing when the unbearable pressure is on. In the end it is only sport – the best thing in the world. Proper order helps sometimes.
… the performances of Bobby Wood: Bobby Wood is a player whose performances have exploded this year after spending last season in division two and is being classified as a top striker who has constantly produced top performances at the highest level. Bobby is a young man with a clear mind who can't quite produce that kind of consistency. He grits his teeth week for week and has been training with pain killing medication for weeks. I find it difficult to criticise a player who tries so hard because I know how importnat hir role is with us. He gives his all for the team and will be there when the chips are down. He alone cannot solve HSV's striking problems.
… team selection: Mergim had the flu this week and although he will resume training today is suspended for Saturday's game anyway. Mickel was also poorly. The long term injured men are progressing step by step and we are confident that they will be back over coming weeks.
... experience in relegation battles: Obviously you never want to experience such things again. Your quality of life plummets during such times. But we have been in the situation since I arrived on September 26 so we are kind of used to it. But things are still coming to a head so it helps when you have experience in such matters and are able to master them. Players talk among themselves about it all the time.
… Schalke: On the whole Schalke are a side with good individual quality who have their own way of playing. That is completely different to team we have recently faced. I am totally convinced that the game will be completely different to the ones against say Mainz or Augsburg. We will be carefully looking to find gaps against them.
... Schalke's situation: We must block out everything which has nothing to do with sport. We have analysed them and will prepare accordingly. Anything can happen in their stadium as at other stadia so it doesn't matter.