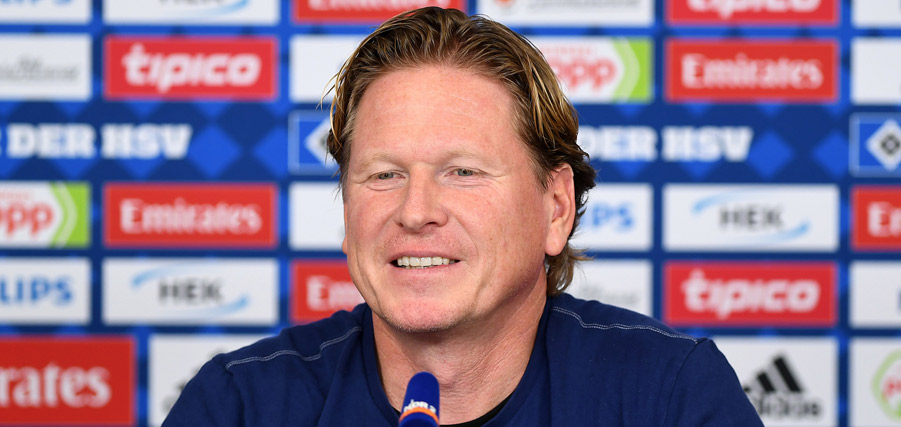 Press conference
17.11.17
"It would be great to repeat last season's performance"
In Friday's pre-match press conference ahead of this weekend's clash with Schalke, Markus Gisdol discussed topics including the current state of his squad, the mood in the camp and the last trip to Schalke.
HSV are back in Bundesliga following the final international break of the year. Markus Gisdol will take his side back to a stadium that has good memories for them after last year's late point ensured that automatic survival was a possibility going into the final game of the season. "It was very emotional. It was a good game from us with several new players and we caused them a lot of problems. It would be great to repeat our performance from last season," said the 48-year-old looking back.
The coach spoke in detail about…
… the current state of the squad: We already had an idea that Albin Ekdal would not return from the break completely fit. But he is the only one to pick up an injury in the last week. Other than that all the boys are fit and ready for selection at the weekend.
… mood in the camp: The atmosphere in the camp is good, particularly when you go into the two week break off the back of a win. But it is also about backing up the those three points up. It was an important win for us, to stay in touch and now and we now want to make sure we keep collecting points leading up to the winter break in the next few weeks. Normally players don't get back from internationals until Thursday but this time everyone was back by Tuesday, so we could train as normal on Wednesday and have the pos-match breakdown of the Stuttgart game. We worked on things yesterday and today was all about preparing for Schalke.
... memories of the last game in Schalke: Because of what happened against Wolfsburg that point went under the radar a bit. The fact we could get a point was key for going on to get the win against Wolfsburg in the final game. We got that last minute equaliser and that was very emotional. "It was very emotional. It was a good game from us with several new players and we caused them a lot of problems. It would be great to repeat our performance from last season.
... the youngsters: We are delighted that Arp and Ito have been able to make such strides this seasons. They are players who were in mind so much at the start of the season, btu it's great to have them to bolster the squad. They inject the team with their youthful energy. But we should not be putting all of the weight on their shoulders. They give you something to build on but first and foremost we should be looking for good team performances.
... the hype surrounding Fiete Arp: I got a lot out of my recent chat with Fiete and I gave him advice about not getting swept away in all the palaver. He should stay true to his family and his skills. We need to leave him in his world, support him and offer help when he needs. Apart from that it doesn't help to link him with so many topics. It's going very well up until now and I would like to let him run free and develop.
... VAR: I am trying not to think too much about that. I hope clever heads and staying calm will help to find a good and sensible solution to the problem. Perhaps it will also help if everyone stopped constantly trying to have their say, but that is easier said than done. But we have all chosen to option and must take that into consideration and give it time. It's a big change and we must let it develop on its own.
... Lewis Holtby: It's been for sporting reasons that Lewis has not been in the squad of late. We have to name a squad and not everyone can always be part of that. Lewis has accepted that without complaint. It has nothing to do with a disagreement. He is a lad who gives everything all the time and never holds back. In the daily life we find ourselves in a lot can still change. This is not a permanent decision. I think he'll be able to get himself out of this sporting rut.