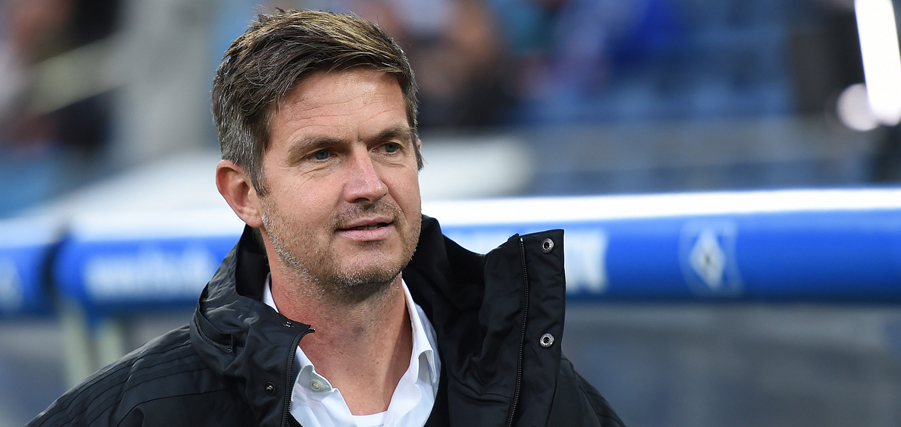 Ralf Becker: "We must also be able to say no"
Ralf Becker speaks to HSV.de about the development of the team under Hannes Wolf, his plans for the winter break and a possible wage cap.
Ralf Becker has been sporting director of HSV for 171 days. He has already overseen one transfer window, one change in manager and 13 league games as well as a progression to the last 16 of the DFB Pokal. The focus during this international break is on future squad plans, which Becker has spoken with Hannes Wolf in great detail about. Becker talks to HSV.de about the head coach, the winter break and the general direction of the club.
Ralf Becker, Hannes Wolf took over as HSV coach about three weeks ago. Four games later and he has four wins under his belt, has steered HSV to the top of the table as well as into the round of 16 of the DFB Pokal. The start could not have gone any better. How do you see the current developments?
Ralf Becker: We are obviously very pleased with our recent results. It was important to introduce some calmness with some good wins. It has allowed everyone to just concentrate on the football. We were convinced that Hannes Wolf was the right coach for HSV. This would have also been the case even if the first few games had not gone our way. The current situation is very positive.
Hannes Wolf has made it clear that he analysed the situation with the club and his role thoroughly before he took the job. One of the important things for him was whether he could bring in his own assistants. How certain were you that this would work?
Hannes is an honest guy. This was important for us in our search. It is unusual that a head coach cannot bring his own assistants in. The other coaches did not know him beforehand. It was never going to be certain whether this would work out. What we did know, was that all the coaches and backroom staff are honest people and can work well with other people and in different teams. This hope has turned into reality. Hannes Wolf also confirmed this with me in a conversation I had. He is very happy with his position and he is really looking forward to carry on working for this club and with these players.
What was your role in getting the coach and backroom staff to work together?
I have already mentioned this before but when the coaching staff have similar ideas and have a good feeling amongst each other, I don't think it is necessary for me to get involved and try to moderate everything. That would be counterproductive. My role is to let the coaches work the way they want to but keep an eye on things to check that everything is going well.
You sit on the bench during games and you also visit training sessions regularly. How involved are you in the team?
It changes at different times. In pre-season, I focus on squad planning and transfers. I have to look at which players we need to bring in to achieve our objectives. When we have the squad together, we need to do as much as possible behind the scenes to keep the squad and coaches consistently working as best we can.
You used to be a player, a coach and a scout. What have your experiences been with previous sporting directors and what experiences have you taken into your own role?
You take lots of different things on board when you are involved in football for such a long period of time. What I think is very important is to have a really good head coach. This coach should have complete support because he has to work with 30 people in a squad, who all have their own traits and desires. I experienced a lot as a player, such as pullinh through crisis situations and this has given me a good sense of when something is good and when it will turn bad. I always try to use this in my own work.
You have got a bit of time to speak to Hannes Wolf about the ideas for the squad during the current international break. How do you view the international break and what aims do you have for it?
We have spoken to each other and have analysed the way it is going at the moment and whether we need to do anything during the winter break. The international break is good for this because you are do not have the pressure of matches and results and you have a bit of time to analyse things. Hannes has also thought of some ideas over the past few weeks so we can get together and have a think about which ideas we want to pursue.
Is it possible that the squad will change over the winter break?
We have both thought about this. We are both happy with the squad. Gideon Jung will definitely be back fit and Papadopoulos might be able to return sometime in the New Year. I believe we are both very happy with the squad and are well prepared for the second half of the season, if nothing out of the ordinary happens between now and the winter break.
HSV are working under restricted financial conditions and the road back to the Bundesliga can be long and challenging. How much of an impact does this have on the plans and discussions with potential new players?
Johannes Spors and his team are central to this. We are interested in players who are not bothered what league they are playing in. We have dipped into the loan market and have also got some players in on frees. This will continue to be a theme in our dealings as we try to make the most of the situation we are in.
Orel Mangala, Hee-chan Hwang and Léo Lacroix are all on loan this season. Will there be an increase in loan players in the coming years?
We cannot guarantee this. It is not always ideal to get players on loan deals but we need to make the most of the opportunities we have. We need to keep an eye on the loan market and see if we can get some players on loan, who are not getting offers elsewhere. It would be a mistake to ignore getting players in on loan. The absolute priority is to have as much quality in the squad as possible. Therefore loans are always an option.
A wage cap is also something that has been spoken about. Are there plans to introduce this?
It is not a necessity but the wages need to be regulated to some extent. We need to make sure that the situation is as comfortable as possible. We have an idea to not always pursue every idea we think of and that we can sometimes say no and try to find a different solution. Other clubs have achieved their aims with fewer resources than what we have. We need to make it work with what we have got. We need to be consistent and have a clear direction and also be able to say no to certain ideas.
HSV have the youngest squad in the top two leagues. Has this come about because of restricted resources or is this because of a new ideology at the club?
I think it is ideological. We have integrated lots of our own young players and also brought in lots of young players from other clubs. We currently have a head coach who wants to use youth and develop young players just as much as his predecessor. The times when HSV could sign lots of players or do anything they wanted are over and we need to find a different direction for the club. We want our future to be focussed on young players and to find players that are not at their peak yet and try to develop them and give them a platform to improve. It is not going to always be our aim to have the youngest squad, but we want young players.
At HSV it often seems that things can quickly turn to the extremes. What is your opinion on this accusation?
You must always put things into perspective and not overreact, no matter in which direction things are going. No one has got the champagne out after two wins and the club is not going to collapse if we lose a game. It is important to stay level headed. We know that there is a long path ahead of us and we want to keep trying to win the next game. Up next we want to win our game against Union Berlin. We will do everything to win every game and when one game is over our focus is on the next game, always taking it one game as it comes.