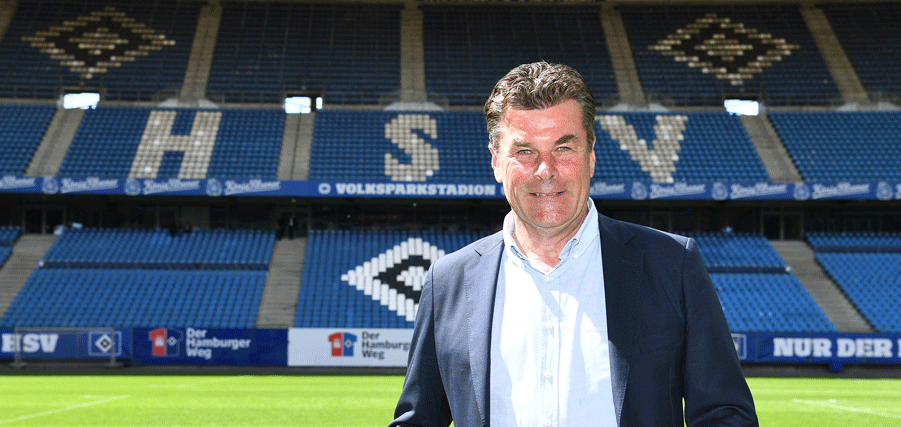 "Something has to jump out at me if I want to do it"
Dieter Hecking was announced as the new head coach of Hamburger SV during a press conference on Wednesday. Among other things, the 54-year-old spoke about the appeal of taking on the job at HSV.
There were hardly any empty seats left in the press conference room at the Volksparkstadion when sporting director Jonas Boldt officially welcomed new head coach Dieter Hecking. Boldt appeared delighted to have brought "the ideal candidate"—who was accompanied by his assistant coach Dirk Bremser and his wife, Kerstin—to Hamburger SV. "It's by no means a given that a highly-renowned Bundesliga coach like Dieter Hecking would commit himself so clearly to HSV. He is an experienced coach, prioritizes consistency and composure, is battle-tried, and meets every item on our wish list," said Boldt, who is looking forward to working together. "I'm convinced that HSV need an experienced and level-headed coach, and I am very happy that we were able to get Dieter to take on this job. We will work together to tackle the tasks ahead and the goals we have set." Before training resumes on 17th June, the squad for the 2019/20 season still has to be put together. During the press conference, the new head coach explained what he has in mind for the squad and what his approach will be to the job.
Dieter Hecking on…
…his relationship with HSV: I've been following this club since I was a young boy. I was a big fan of Kevin Keegan during his time at HSV. That always drew me to the club. HSV also ranks highly within my own family. My son is a die-hard HSV fan. He's probably watching from the Faroe Islands and thinking 'thank God it worked out.' I'm now the head coach of this club that's going through a bit of a tough time, but is still a good club. My main focus is on calming things down a bit and bringing back the on-field success. I'm really very, very, happy to be introduced as the head coach of HSV today.
…the negotiation process: You should always be fully in support of any decisions you make. Ralf Becker gave me a very clear picture of the club. Of course I was a bit surprised with the news from last week, but football is a business that moves fast. Jonas Boldt then took over the discussions with me on Sunday. Over the last 14 days, I've also been in contact with Bernd Hoffmann, who also outlined what things could look like. The most important thing to me is that they want me to be here. Jonas Boldt and Bernd Hoffmann gave me the feeling that they trust me to work well together with them. I had the feeling that I was their ideal candidate and that I wasn't up against any other candidates. As a head coach, you have to sense that you're not fighting against objections, but that you're being welcomed with open arms.
…the process of agreeing to take over at HSV: You always make decisions with full conviction. Ralf Becker portrayed a clear picture of Hamburger SV to me. Of course I was surprised with the developments of recent weeks but the business of football is fast-paced. Jonas Boldt then continued discussions with me on Sunday and I've also had contact with Bernd Hoffmann over the course of the last two weeks, who has also outlined how things could play out. Personally, the most important thing is that they want me to be here, and aren't just using clever tactics. Jonas Boldt and Bernd Hoffmann both gave me the clear feeling that they have faith in me successfully working alongside them. I had the feeling from them that I was their ideal candidate for this role and there wasn't a need for me to battle against any other candidate for the job. As a head coach you have to feel you aren't struggling against any reservations the club has, but instead are being embraced with open arms.
…the appeal of the job: Something has to jump out at me if I want to do something. I have now been a Bundesliga coach for fourteen years. I now know every groundsman, every kitman and how to get to every stadium in the league. I wasn't happy with end of my time in Gladbach, as I would have liked to have continued my work there. Subsequently, I asked myself: What do I want. I didn't think about going abroad at all, similarly with taking up a different role such as a sporting director. In the end, the HSV job and their ambitious aims became an appealing role to take over. As a result, here I am. This has nothing to do with the division the team are playing in either, in fact quite the opposite. I'm looking forward to coaching in the 2. Bundesliga. For me this is exactly what I now need: this exciting feeling of working a team back up through the ranks and being able to shape something from day one. That appeal brought me here to Hamburg. Many people said: Why is he doing this? I don't care what people say, I'm looking forward to this challenge.
…HSV's high expectations: In the last five decades, HSV haven't really been put under too much pressure. Why should that suddenly change now? There are always ambitious aims if you work for Hamburger SV. You have to also be aware of these aims here at the club. Everything else wouldn't be acceptable and I wouldn't be here otherwise. If HSV wanted to remain a strong second tier side, then someone else would be sitting here right now speaking to you. HSV has a big challenge ahead of them. I want to embrace football and feel the passion on the pitch. I believe it could be the case that I'm in the right place at the right time.
…his coaching staff: It's no secret that Dirk [Bremser] is by my side. I think he's like my second wife. You can't simply replace him—he's too loyal and good at his job for that. I have some ideas about the rest of the coaching staff, but want to take my time before making any decisions. First, I have to take a look at the candidates that are here and speak with them. Maybe certain opinions will come up that I also agree with. It's not about putting people on the chopping block and stirring up unrest.
...the togetherness of the team: We have to work on the squad as well as certain ideas that Jonas has envisaged, having reviewed what's feasible. We have until 31st August to get a strong team together. I'm not under the impression that we'll have the team we need on the first day of the season by the time our first training session rolls around. You need patience. We want to and have to do something, obviously, but it has to be something good. Making a knee-jerk reaction and causing a ruckus makes absolutely no sense. At the end of the day we have to be convinced of the player's quality. We need players that have the desire to play for HSV and have the ability to withstand the pressure that will undoubtedly be present here.
...Aaron Hunt: Aaron was with me during my time in Wolfsburg, having arrived from Werder Bremen. It wasn't always so easy between us, we don't need to beat around the bush on that topic. It was a difficult time for him when he was with me. He played a really good game and then in the next match he didn't play. He didn't understand that. That's where the cracks began to show in our relationship. Aaron is a very important player. Last season showed that, as the stats with and without him proved. I will speak with Aaron soon and that will be decisive. Everything's open.
...the quality of the 2. Liga: It's not just become a highly interesting league because of those that have been relegated from the Bundesliga; the 2. Bundesliga has done a lot of things right in the last few years. The football has continued to develop enormously, which has been shown in DFB-Pokal and relegation playoff results. Of course there is always a difference in quality when compared to the Bundesliga but, for me, the second division is often sold short of its true sporting ability. In any case, there will certainly be no lack on enjoyment in this league.