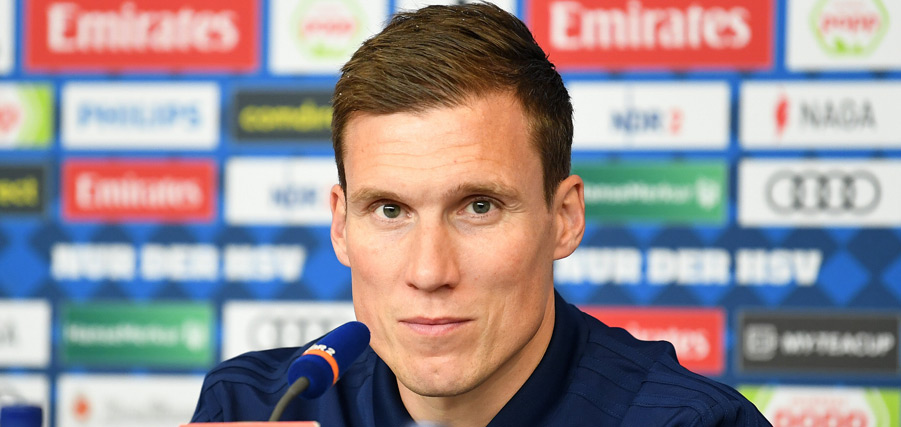 Press conference
03.03.19
"The others can rely on Aaron"
Head coach Hannes Wolf spoke in the press conference ahead of Monday's home game against Greuther Fürth and touched on topics such as the importance of Aaron Hunt, tomorrow's opponents and the increasing pressure on the team.
After a long week of training, the head coach and players have been focusing on one thing only – their football. "When the pressure is on, the best thing is to just concentrate on our football," said Wolf in the press conference held on Sunday morning ahead of the clash against Greuther Fürth (kick-off 20:30 CET).
Aside from their own game, everything else is out of their hands - for example, the fact that Die Rothosen have dropped to third in the table after promotion rivals 1. FC Köln and Union Berlin picked up victories. "We are aware of the impact of the results," emphasised Wolf, who was excited about the prospect of an Aaron Hunt return from injury. The captain could be set to return to the team following a spell on the sidelines with a muscle injury. "His absence has affected us. We're hoping that he will be in a good enough condition to be able to help the team again. The other guys can look up to Aaron."
The head coach also spoke about…
… the player situation: Fiete took a knock to his head on Friday, so we've had to monitor him and he didn't take part in set-piece training today. Apart from that, everything else was normal. We will decide tomorrow morning whether he will be in the matchday squad.
… the return of Aaron Hunt: We are very happy that he is back. He's taken part in training ten days now. We need him in good condition because he can always create something and can also score goals. We need him on the pitch; his absence has affected us. We're hoping that he will be in a good enough condition to be able to help the team again. The other guys can look up to him because they know his style of play and which passes he makes, and can rely on him to a certain extent because of his personality. We need a good performance from everyone tomorrow.
... the position of holding midfielder: When two holding midfielders are injured, you're happy that you have someone like Go Sakai, who's match fit and has played in this position a lot. He's a key player and a leader in the team who always gives 100%. We also have another experienced option in Gideon.
... the opponents: Fürth have changed since they changed their manager. They have an aggressive approach, play controlled in a 4-3-3, push up high and they're bold. They're played very well against Kiel and Heidenheim, who are also high up in the table. They're put us under pressure and push high up the pitch. We'll have to be wide awake to that. We've been working on this within the team. They've not lose in three games. We'll need to respect our opponents. There's no room to take our foot off the gas.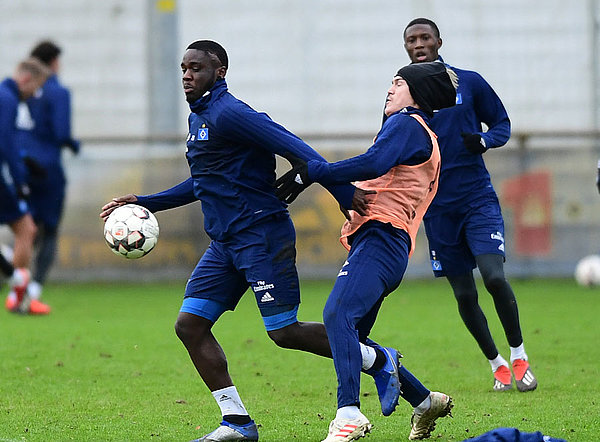 ... the young team's nerves: I don't think we're that young. When you look at who's on the pitch, there's a few young players, like Rick for example, but he's already played a lot. When you look at Douglas Santos, Go Sakai, Khaled, Pierre, Aaron, Lewis or Hwang, who's played in three tournaments in the last year, you see that there's enough experience. So I think we'll cope. Strength of nerve always plays a roll. It's important that you stay on your own track. We want to concentrate on football. When there's pressure, that's the only thing that helps.
... the table: You can be annoyed for a day but then you have to accept it, but we knew there would be periods like this. Now it's just about what we can change. We know the importance of this game. You need good tactics, but you also need passion and fire in your belly in order to win the game. Then you'll get the key moments to make the game yours. You have to be fully on the ball in these situations. We need a very good performance and we need points.
... Monday games: It's hard for the fans. When kick off is on Monday at 20:30 and you have to go to work or school the next day after the journey to and from the game, obviously a fewer people come. There are still fantastic numbers, though. We've looked good in the evening games and I like playing in the evenings, but it's horrible for the fans.