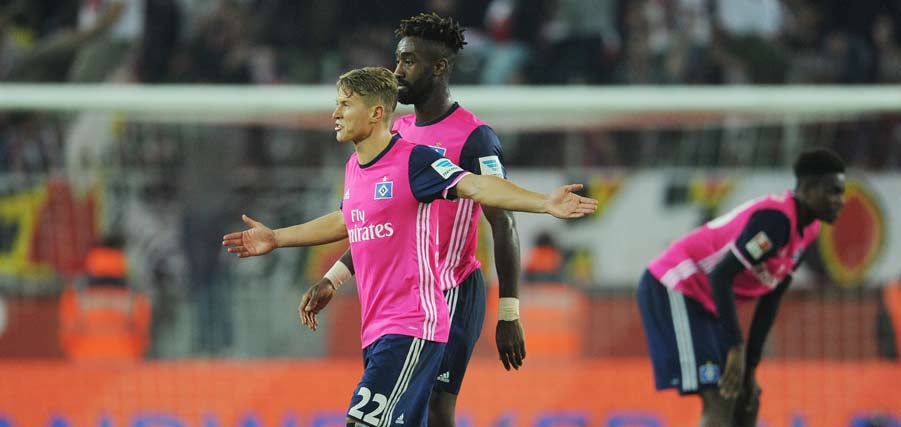 Votes for the Match
30.10.16
"There were two key moments"
HSV lost their latest Bundesliga encounter 0-3 to Cologne on matchday 9. Most of the protagonists felt that there were two key moments during the hard fought math. Here is what we were told in the mixed zone at the packed Rhein Energie Stadion.
The 0-3 defeat at Cologne was not only the second successive loss by that scoreline, but it was also the third consecutive time the Rothosen had a man sent off. HSV.de collected the following reaction after full time.
Matthias Ostrzolek: It was an even game until the red card. We could have scored in the first half but weren't clever enough. Höger committed a tactical foul and should have been sent off moments earlier. If we could have played with a man advantage tings could have turned out differently. As it was the red card was shown to our own Bobby Woods. Bad luck is really sticking to us right now. We now have to analyse the game and we know we can only come through it together if we stick together as a team. We have to fight hard for each other in order to force some luck to go our way. It is no good when everyone is just doing their own thing. Of course the disappointment is huge just after the game but tomorrow we must motivate ourselves to play Dortmund next time out. We must ignore the Bundesliga table and remain brave. We have dealt with such situations in the past. That said, obviously we have to start collecting points as soon as possible.
Rene Adler: We are not bad losers, but Marco Höger should have been sent off before Bobby was shown his red card. I don't know what Bobby did to get sent off, but I don't blame him. His goals have helped us a lot since he joined us. Of course we must accept the fact that we are right in the middle of another relegation scrap. When you lose 0-3 away, it is hard to find many positives but we have no choice. We played well for certain periods and didn't allow them much before their penalty. Obviously when confidence is low you tend to leak more goals.
Johan Djourou: It is very bitter. They should have been shown a second yellow card before our man was sent off. That was why Bobby was so frustrated. But such things cannot happen but he knows that best himself. After going a man down it was very tough regardless of how hard we tried to play on. We have to re-discover the passion we displayed during the opening hour here. Maybe luck will smile on us again. Nobody is going to help us we must find our own way out. Although so many things are against us right now we must somehow remain positive. The will is there and I am sure that the situation will change. Things happen fast in football.
Markus Gisdol: We played well for long periods until two key situations happened in the second half. Until the hour mark the teams matched each other. The key scene however completely rattled us. According to the rules Höger should have been sent off just before Woods was. Thast decision was decisive. Of course it is bitter for us but we cannot change it now. This sending off was the most unnecessary so far, which is no excuse. Until then I saw a decent display by my team. I saw many things we can build on. Obviously we are not about to explode into world class form. We have to approach our success gradually. Congratulations to Cologne who have has a great season so far.
Peter Stöger (Cologne coach): As expected today's game was tough but we prepared well. HSV are going through a tough time right now, but their performance tioday showed that they don't have to be where they are. They made life extremely tough for us, were gritty and well organised. The missed penalty was just typical. It was a tough and uncomfortable game. There were many controversial incidents today but that happens in such intense games. They were tough decisions to make. Modeste then did very well. Hats off to him the way he responded to missing that spot kick. We are of course glad that we managed to win today but our opponents made it very very tough for us.