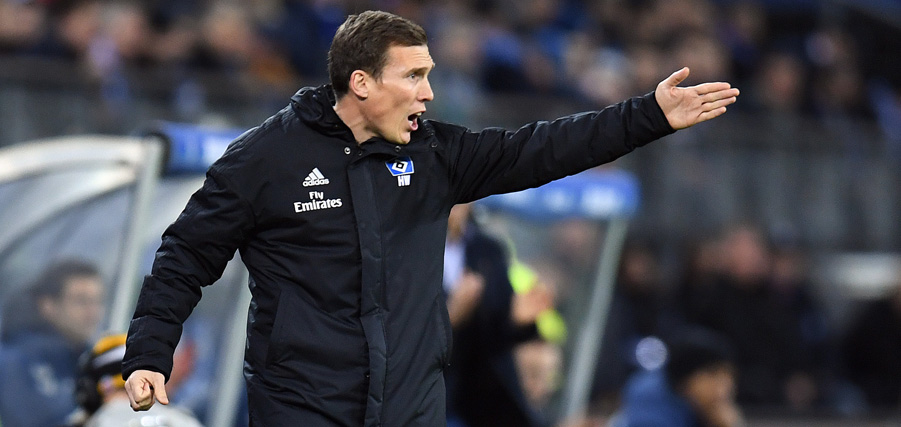 Post-match report
05.03.19
"There are bigger problems than just winning a match"
In a press conference this afternoon, HSV head coach Hannes Wolfs reflected on the narrow 1-0 win at home against SpVgg Greuther Fürth and spoke about improving from that performance, the overall situation at the club and the upcoming Hamburg derby against FC St. Pauli.
Hannes Wolf was self-critical, analytical and showed a desire for more attacking threats as he spoke to the media following yesterday's narrow 1-0 win at home to SpVgg Greuther Fürth. Wolf also admitted that his side need to improve ahead of the Hamburg derby against FC St. Pauli in the Millerntor stadium next Sunday (13:30 CET). Reflecting on the hard fought victory against the 'Shamrocks' from Friday night, the 37-year-old HSV head coach was critical of the team performance on Monday night but gave a realistic summary of the current situation at the club. The ambitious Wolf certainly didn't gloss over the performance, instead opting to focus on carrying the positives out of the match and improving the other areas for future matches. The Rothosen certainly want to win the Hamburg derby and a victory wouldn't just be special for Hannes Wolf and his team but for all the HSV member and fans. Wolf highlighted as he turned his attentions to the match. "We know we can and have to play better. The 47 points we have secured this season don't count for anything. Sunday is a great opportunity to secure our next three points."
In further detail, Hannes Wolf spoke about…
…the home victory against Greuther Fürth: You certainly need to win matches like this one over the course of a season. However, we will have to look into why we lost our grip on the match after a strong opening quarter of an hour. We want to and have to improve on this in the future to give ourselves the best chance of victory. We cannot rely on the fact that we had momentum on our side. We know we can and have to play better. However, there are bigger problems than just winning a match. Looking back, the 1-0 win was important when you consider what happened in the match.
…the difficulties in attack: Fundamentally, we simply haven't scored enough goals so far this season. Nevertheless, we are just a point behind the league leaders. We have a team who look to break the opposition down on the pitch. To achieve this, we cannot lose our pressing game against the ball, our intensity and our compact shape. Losing the ball as you attempt to build up an attack is something that can happen. However, you have to react better compared with how we did last night. This is something we certainly have to change. We need our players to perform at the highest level possible. If the pressure on the team were to increase then you need to show courage.
…the mental components: There is always pressure on us. It would be ridiculous to deny that there is pressure on us. We have to accept it and embrace. For us it is all about doing the right things to win matches. The reality is that you go through tough periods like this. We have to act correctly now to make things right and improve on the difficult areas. Overall, we have deservedly won most of our matches. Consequently, we don't have to apologise for winning one match fortunately.
…squad updates: Hee-chan Hwang is likely to be out for the next few weeks. He has suffered a muscle injury which we will need to assess in further detail. He has currently suffered something in his back thigh. Julian Pollersbeck's situation is much better. He has recovered from a adductor problem and he could potentially return to the team for the derby. I believe he will return to full fitness by the end of the week. We will have to monitor his situation over the next few days.
…the overall club situation: Overall, we are keeping up the pace with the league leaders. If some had said to me that we would are currently be in second place in the table and three points clear of third place then I would've certainly taken that. You saw yesterday the impact of a red card on a game of red card. We suffered setbacks in Bielefeld and Regensburg but we benefited from a fortunate victory yesterday. We also didn't play to the best of our ability in the first half of the season. Every week we speak about this and try to train hard to put things right. Everyone goes through ups and downs over the course of a season.
…next weekend's Hamburg derby: In this city, it is an incredibly important match full of tradition. We want to give a strong performance and fight hard for victory. We know what this match means to the fans. We want to give them something to cheer about on Sunday afternoon and secure victory. The 47 points we have secured so far this season don't count for anything. Sunday provides us with a good chance to secure our next win. It will be very tough for us but we have to give 100%.