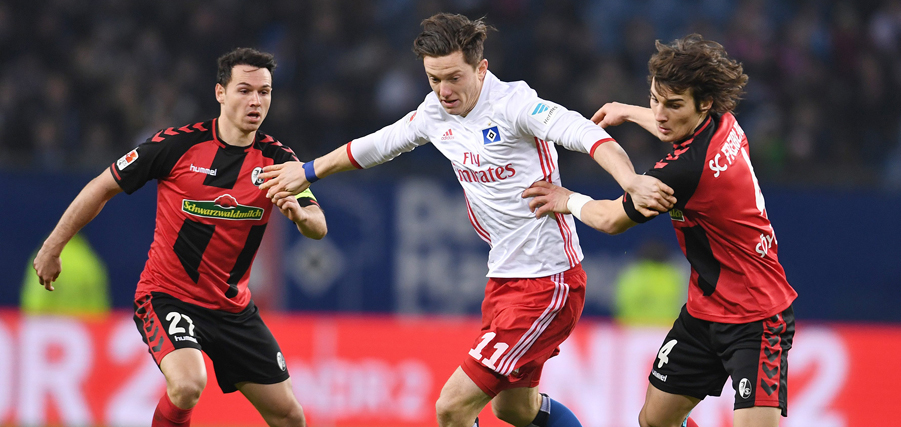 Voices for the Match
18.02.17
"Vital to take points from every game"
HSV and SC Freiburg drew their dramatic matchday 21 game 2-2 at the Volksparkstadion in Hamburg on Saturday evening. The result was about right on the balance of play. Read here what was said by the protagonists after the full time whistle had been blown.
Bundesliga matchday 21 saaw HSV host SC Freiburg at the Volksparkstadion on Saturday evening (18.02). The game ended in a 2-2 draw despite the home side taking the lead twice. HSV could and probably should have won the game but Aaron Hunt missed a penalty two minutes from full time. So there was plenty to discuss as we caught up with the protagonists in the mixed zone after the game was over. Read here what they told HSV.de.
Gotoku Sakai: We are not satisfied because we could have taken more than a point especially in the second half. On the other hand it is important that we take points from every game, so I suppose a point is okay in the end. I am proud of the lads. Forced changes just before and during the game can make a team nervous, but everyone did their job well and accepted the role they were told to play. It was great that Aaron Hunt and Michael Gregoritsch scored. It proves that it is always worth giving 100% in training while waiting for a chance to play. That is a very professional approach.
Aaron Hunt: It is my fault. I failed to put the match point away from the penalty spot as I should have done. But such things are part of the game. I have often taken and scored from the spot after being fouled. I wanted to fool the keeper but lost the battle this time. It was my worst attempt ever from the spot. The forced changes just before kick off and during the game played a role, as we struggled to find a foothold in the game in the first half. Freiburg played well and don't have so many points for nothing. But we fought hard and had a chance to win.
Michael Gregoritsch: Wearing my HSV spectacles we would have deserved to win. I am happy that I was able to score on my comeback and I would like to thank our medical team who got me fit again in such a short time. I wouldn't have let me start the game either, especially when it cam so soon following a torn hamstring. I would of course have liked to take the penalty but I don't blame Aaron at all. He has scored so many times from the spot in the Bundesliga and was just unlucky on this occasion.
Mergim Mavraj: We came close to beating Freiburg. We allowed them too much space in the first half. In the end though this point is vital for our battle against relegation. The spontaneous forced changes only played a slight role in my opinion. It is always a shame when a player is forced to drop out but we had enough men to fill the gaps. We have proved on many occasions that we have the players to do the job which is a good sign.
Jens Todt: For me it was a point won today. We had to do without three key men: Müller in the morning, Wood just before kick off and Papadopoulos after half an hour. That of course mixes things up but the team came through. There were moments when Freiburg were closer to scoring than we were. Aaron Hunt had a fine game despite missing the late penalty, and Johan Djourou impressed me after coming on. I am glad that we have a full bench of players we can rely on which is very important for us!
Markus Gisdol: We faced a good team today who didn't give us much room or scoring chances. 2-2 is the right result. Despite that fact we had a chanceto win with the late penalty. Bobby Wood is our first choice spot kick man. If like today he was not available a decision is made within the team. Hunt had scored so many timesfrom the spot in his long career but sadly not today. It was probably my fault in the end. We have to have a clear plan in the future so that everyone knows what to do. I would like topraise my team for the way they compensated the spontaneous loss of three key men and still managed to retain some stability in our game. In the end wemust be realistic and not expect to blow every team away. Sometimes you have to be happy with a point.
Christian Streich (SC Freiburg coach): It is a tough game to assess because it was so unusual. We conceded two goals far too easily and I had the feeling that we werein charge after the break despite being 1-2 down at the time. I believe that we could have won because I saw us as slightly on top. But the result is okay. We can be satisfied but not completely. It is very hard to concede a penalty so late in the game. Yes there was slight contact but I am not sure it warranted a spot kick. But they missed it so it is all good.