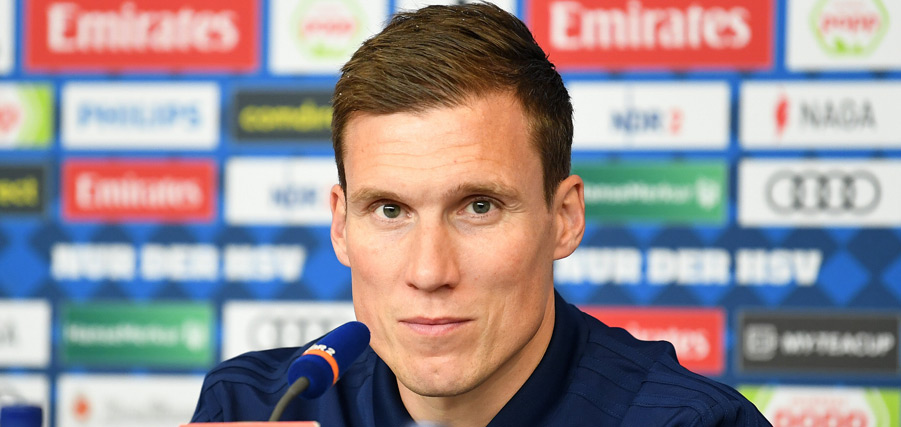 Press conference
28.03.19
"We need to give our all and find the right balance"
Ahead of Saturday's trip to VfL Bochum, head coach Hannes Wolf spoke to the media and discussed topics such as player availability and his expectations for the game. Additionally, the coach answered questions from schoolchildren who took part in the press conference as part of a "future careers" day.
It was no normal press conference on Thursday for Hannes Wolf, as boys and girls were given the opportunity to quiz the head coach as part of the annual "future careers day", a nationwide initiative where schoolchildren learn about the working world. A pupil named Ben opened the press conference at Wolf's side before handing over the reins to spokesman Till Müller, who invited professional journalists to present their questions, before Wolf was then tested by the young visitors who asked the head coach a range of different questions. No matter what kinds of questions came his way, Wolf made sure to leave nothing unanswered.
The Bochum-born head coach spoke about...

… team news: Berkay Özcan has a muscle issue. He had a long trip with his national team and felt something in the adductor muscle in training with us. It isn't a structural injury but there is some stiffness. Orel Mangala is in a similar situation. He returned from international duty with a muscle injury but is also doing well. We need to wait and see how they both do. But with exception of the players with long-term injuries, I would say everyone is available for Saturday.
… Kyriakos Papadopoulos: Papa was able to complete every session with the team dealt with the workload. He is someone who can help us at this stage of the season for a number of reasons. I am pleased that he is back. He is ready to be used in any role now.
… his expectations for the game: There are eight games to go and we will give everything. The meaning of every game is clear. Bochum have had a few problems of their own recently but we won't underestimate them at all. They have a lot of experienced players. If we want to get a win there we need to give 100%. As we saw last time out, giving 90% is not enough. We have to try and press forward and play with a high tempo, whilst remaining secure at the back for the full game. We have to find the right balance between pressing forward and being solid in defense.
… Lewis Holtby: In some cases, clarity is very important and that's what we have in this situation. The discussions were honest and open. It is not the nicest discussion to have, but you have to respect people's desires and the decision has been made. Lewis is a professional and always has a fantastic mentality. He is of course still a big part of our team and wants to give his all, as he will do. I have no concerns over his attitude.
… his job as HSV head coach: It is a very good job. Of course it is very demanding because there is always a lot to do and as the head coach you feel a lot of responsibility. You stand on the sideline and everything happens on the field – for example the team concedes a goal – and you are the one responsible. You have to accept it and carry on. However there are many positives – it is a very active and lively job. It is something you put everything into and you deal with people every day. When I was younger, being a footballer was my dream job, but unfortunately I got injured so early that I couldn't continue. Therefore, I moved into coaching and that is also a great job.
… the feeling of a defeat: I am always very frustrated immediately after a defeat. Most of the time I can't sleep very well that night, because I am always thinking about it. Everyone who plays or coaches s a sport will understand that feeling! When you lose or something doesn't go to plan, then you get frustrated. Eventually the moment comes where you tell yourself, 'okay, I can't change anything about it anymore – all I can do is do better next time.' For me, it usually takes a day before I can get into this way of thinking. Not just in football but in life in general, not everything goes to plan. You may be upset about it, but then you have to calm down, find a way to deal with it and be positive. That is a very important part of the job. If you allow yourself to be down about a setback for a long period of time, you are unable to focus on what is ahead.
… his half-time team talks: Every half time team talk is different from the rest. Sometimes it helps to be louder and really address the players directly, whereas sometimes the atmosphere is a lot more relaxed and we analyse the game more, using video footage. Also a team talk may include talks with individual players held one-to-one. The goal is always the same – to help the players as best we can.
… an ideal club or player that he would love to coach: I have always given 100% to whatever job I have done. Whatever else happens will happen. When I was the youth coach at Borussia Dortmund, I never thought about coaching the first team – I was simply just trying to do my job to the best of my ability. However it goes without saying that there are many interesting clubs. Above all I am very grateful to be able to coach the players here but of course I look at the Bundesliga and Champions League and see many fantastic players who I would enjoy working with.