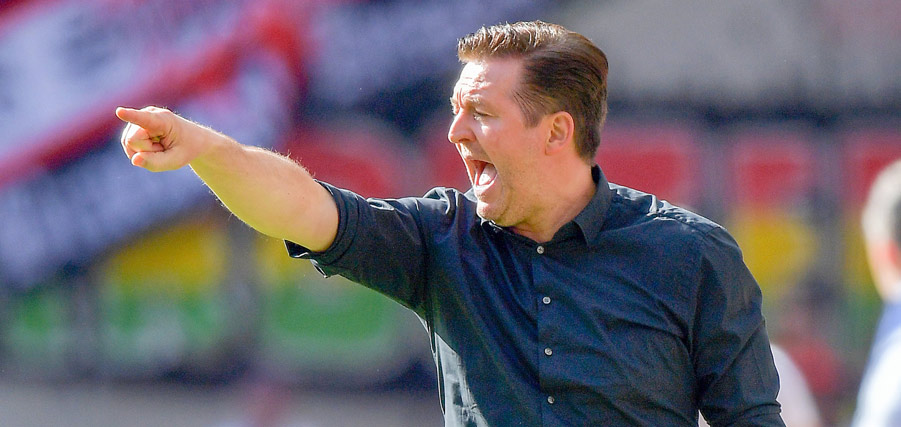 Post match reaction
05.05.18
"We will set our sights forwards"
HSV in the end lose convincingly to Eintracht Frankfurt. The hope of staying up however remains albeit by a thread.
It was just not our day. HSV today came up against a defensively organised Eintracht Frankfurt side, who were decisive when they needed to be going forward. The video assistants did rule out a seemingly inoffensive Tatsuya Ito goal in the 25th minute, which would have opened the scoring for Hamburg. After the game, Titz described this moment as a "key scene". Were it to fall the way of HSV then maybe the game would have finished differently. In the end however, Frankfurt deserved their victory. Christian Titz and his team will need to make sure that next week has a more positive end come the final whistle. HSV.de collected the thoughts of the players and coaches after the game.
Aaron Hunt: We worked hard today going forward. In the decisive moments however, Frankfurt were better than us. We still have a chance, even though it seems to be getting ever smaller. Now it's all about getting that game out of our heads. We still have a final to play against Gladbach, where we simply must get the three points. For me it was hard to tell whether Ito's goal was offside or not, but it is how it is. Next week we need to win and when we do we'll see what happens.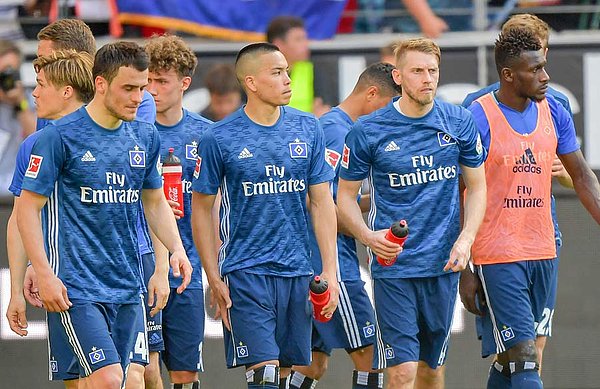 Gotoku Sakai: The defeat is obviously very painful. We did our best to stop them; put our tactics into practice well and got our goal – just unfortunately it didn't count. After that though we let up and conceded. We didn't give up even when in the second half we seemed to be lacking ideas against a deep-lying opponent. After we conceded the second however, we lost our shape. We needed to do that better because with a two goal difference, you now you can always make it a nervy finish if you get a goal. Now we just want to concentrate on our final game of the season. We need to get ourselves the win together with the fans. So this week we will give 120% to achieve that! We haven't given up hope, nor have the fans. Today they were completely behind us and wished us farewell in our final home game. We will fight until the end.
Nicolai Müller: To get back on the pitch today was hugely motivational for me. I've worked so hard for it; it was my biggest goal. On the pitch I only wanted to help and wasn't thinking about my knee. Of course the situation the club is in far outweighs my personal joy. We are all aware of the current situation but I hope that we can still do it. Köln will give it their all and fight till the end against Wolfsburg. They will want to say goodbye to the Bundesliga with a win. Our goal is now to train positively this week and then win at home!
Christian Titz: I had warned the boys already about Frankfurt. They are a dangerous team with great quality in their ranks, which they showed today. The first half was pretty even and the opening goal would have done us nicely but then shortly after we conceded. That was a good bit of play from Eintracht but at the time we were in the ascendency and we defended badly. Then of course it was tough against a strong side on the counter. We needed to be on our guard and could've come back through Doulgas' long-range efforts and the header from Papadopoulos. That unfortunately didn't happen and in the end Frankfurt deserved their win with the chances they had. I spoke to the boys directly after the match because it's acceptable for us to lose against a strong opponent like that. We know that today didn't do our situation any good. The team won't give up though. We will analyse the game tomorrow and then set our sights on next week. We know that everything is possible in football. I trust in my team to win the game against Gladbach.
Niko Kovac: I'm very really pleased with how today went. We played as a team as we have done so often this season as well as our aggression, willingness to battle and how we look to defend from the front. We had the game under control in the first half. After their offside-goal, we went into the lead and then could've doubled it with a couple of good chances. We knew during the break that Hamburg would have to come out fighting in the second half and our pressing was somewhat lacking then. We were too often waiting for our opponent to come onto us, but in the end we managed to get two goals on the counter, because our opponents had to push forward. It was a well-earned win with a great appearance for Alex Meier. Obviously the farewell was heartfelt for me too. I have had two great years here and during that time we have brought the team up to a new level. I say we, because this is a great team.