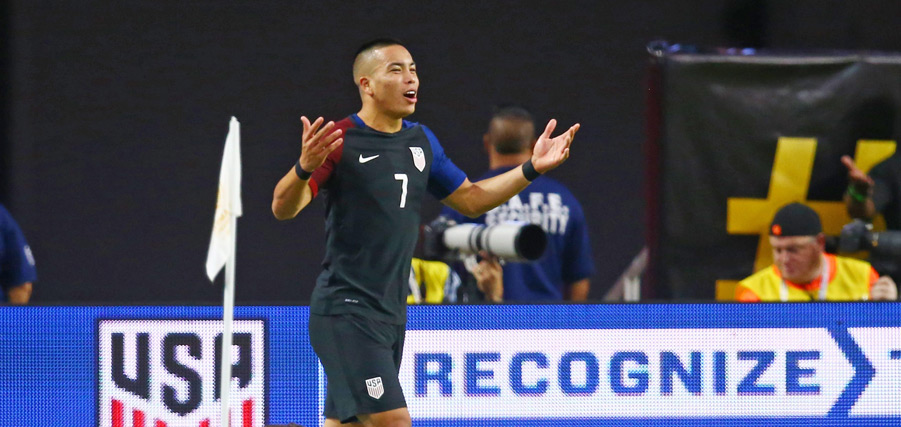 Wood on target for USA
Seven HSV players are currently on international duty. Read here on how they have progressed so far.
The international break from August 29 – September 07 has seen seven Rothosen men called up by their respective countries. Swedish midfielder Albin Ekdal made a whistle stop visit to the headquarters of Sweden's national team just to meet the new heqad coach, before returning to Hamburg on Aug 31. The other six players are mostly fighting for crucial points as they contest qualifying games for the 2018 World Cup finals in Russia. HSV.de has put an overview together for you.
US boys win – Japan lose
The week began especially strongly for Bobby Wood. On Friday (Sept.2) Woods and the USA national team under coach Jürgen Klinsmann won their opening qualifier with ease, beating St. Vincent 6-0. Wood opened the scoring on 28 minutes and the HSV new signing played the full 90 minutes. It was his seventh goal for his country, his second in a World Cup qualifier. On September 6, Woods and Co. take on Trinidad & Tobago in Jacksonville in a further qualifier.
Gotoku Sakai was not so lucky. His Japanese national team lost 1-2 against the United Arab Emirates in their first qualifier on Sept.1, thanks to a 54th minute penalty. Sakai also played the full 90 minutes and is next in action on Tuesday September 6, as Japan travel to Bangkok where Thailand await them in a further qualifier.
Kostic, Spahic and Gregoritsch begin qualifying campaigns
The other four have yet to begin their campaigns. That all changes on Monday (Sept.5) as speedy HSV winger Filip Kostic and his Serbian national team face Ireland in an opening World Cup qualifying encounter. Michael Gregoritsch will be in action for his native Austria as they lock horns with Georgia hoping for points in their qualifying group.
On Tuesday (Sept.6), Emir Spahic hopes to take a first step in the right direction as his Bosnia – Herzegovina side take on Estonia. HSV skipper Johan Djourou may only be playing a friendly with his Swiss national team but the game is special in many ways. It will be against newly-crowned European champions Portugal and of course their super star Christiano Ronaldo.