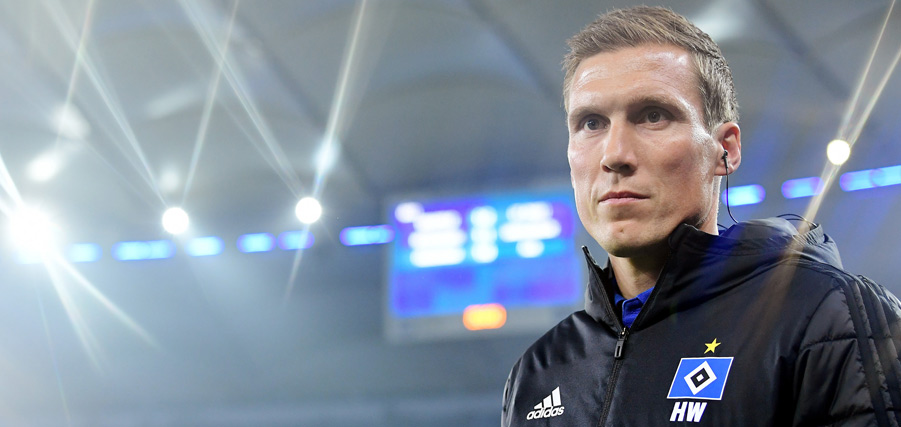 Post Match Report
06.11.18
"You have to stay in the mix"
The day after the 1-0 win against FC Köln, HSV boss Hannes Wolf spoke about being top of the league, the upcoming game in Aue, and the teamwork in the squad.
"Aue reads like it'll be easier, but it isn't. It'll be just as difficult. We'll have to have a good attitude during the week and keep our edge. We can't just press a button to repeat today's performance," said Wolf. HSV's win last night to send them top of the table provoked huge celebrations in the Volksparkstadion, but Hannes Wolf was already focussed on the next match in his post-match press conference. "I'm happy this evening, but it might not look like it," he said, laughing. He described his team's performance as "very good," and some might even call it the best performance of the season. The mood was similar with the players, who were just as happy to win the game and go top of the league. However, just like with the boss, their attention turns towards Aue straight away. "Sometimes it isn't so difficult to get to the top. The challenge is staying there," said Julian Pollersbeck.
… yesterday's game: It was a good, exciting game for us. The boys played really well. They were very hard-working and disciplined, and they didn't let the opposition get to them. I'm talking about the penalty that wasn't given for handball, or when Khaled cleared off the line. It was just as important as scoring a goal. Overall, we fully deserved the win. It was a good night for the fans in particular, you could feel that in their reaction.
… being top of the table: You've got to stay in the mix whether you're in good or bad form, because there's going to be set-backs in the future. Obviously I'd rather stay in the mix with three points in the bag, but without would be fine, too. Every point and every win is important, but being top of the league isn't an excuse to settle or do anything differently. If you start to take things for granted, you lose them. I've experienced this a thousand times. The only thing that matters is hard work.
… the upcoming game in Aue: We carry on. Aue might read as though it'll be a bit easier, but it won't be. If we play really well, we can win there. That's the reality, and we'll have to prepare ourselves well. The players have to use their day off well tomorrow so that they come back in perfect condition on Thursday and they can perform at the top level. It's about focus, emotions, and keeping yourself fit. If you just start on matchday, that's too late.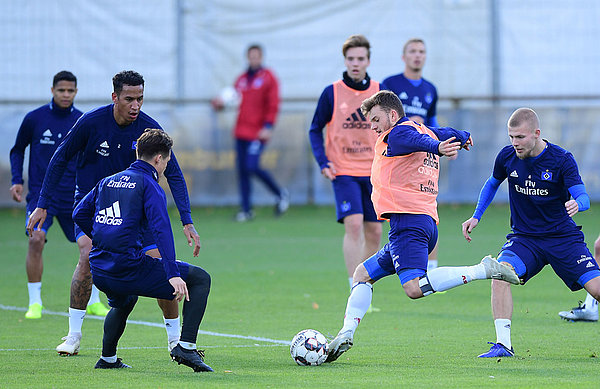 … squad depth: We don't just have 11 players, we also have the guys behind them, who trained very well today. We need this competition for places. For example, Christoph Moritz played well after coming off the bench yesterday. He played some good football. We have to decide who's going to start from game to game. We don't want to make any dramatic changes, but we've not had really had a week with more than two games so far, so we've not had any reasons to rotate.
… his work with the team: When you take over as manager of a team, there's a lot of stuff left over from what was done before. If I'd have done badly at Stuttgart for a year and a half, they would've been bad after I left, too. The team is working well and we're communicating both with ourselves and to the outside. That's the truth. My aim here is to win as many games as possible and to improve and develop the HSV players. We want to move forward and I hope that our fans enjoy the journey that we're on this season.
… Pierre-Michel Lasogga: Pierre is very important for us and he scored again. He's very hard-working and he's always there, pressing the defenders. He might not win many balls, but he puts the opponents under pressure to make decisions and play the ball forward. He can often occupy two defenders and he's an important player when competing for the second ball. He doesn't need to be all over the place, just be in the right moment at the right time.
… Douglas Santos: He's a left-back, but he also has the quality of a No. 8. He was very influential in the game yesterday, and obviously I'm hoping that he can stay at this level. He defends very well and is calm on the ball when going forward.
… Hee-chan Hwang: Chan has had some muscle problems recently and came off the bench for around 20 minutes yesterday. We reduced his workload a little today. We think that there's a heightened risk with him, so he didn't take part in shooting, sprint, or block training today. He was ready to play yesterday, so we brought him on. We won't risk the health of a player.