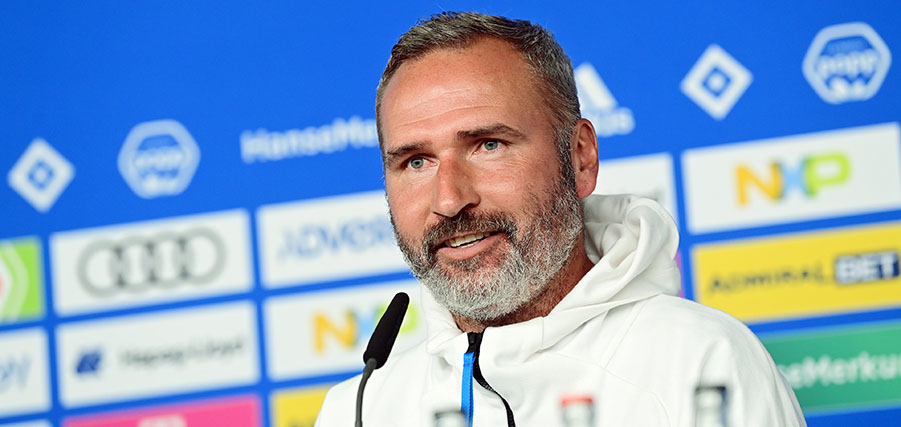 Press Conference
10.11.22
"No opponent is beaten in passing"
HSV coach Tim Walter spoke at the press conference between the Fürth defeat and the Sandhausen home game about the current situation and the end of the first half of the season.
He was able to laugh again, a little pained and smug, but still. Nevertheless, Tim Walter did not half-measure in his press conference on Thursday (10 November) despite the good face to the bad game - which the Red Shirts had lost 1-0 in Fürth the previous evening and which had angered their coach with its manner - and clearly addressed the grievances. At the same time, however, the coach was already looking ahead again, because the next task is already on the agenda for Saturday. The game against SV Sandhausen marks the end of the first half of the season - and at the same time the chance to forget the Fürth game with a victory and to bring the first half of the season to a positive close. And that's exactly what it's all about against SVS, the coach explained, while also raising his finger in warning. Tim Walter about...
... the defeat in Fürth: "Sometimes it's hard for me to understand how some things happen. And the Fürth game is one of them. Unfortunately, we didn't have the right attitude, we weren't awake, we reacted too much instead of taking action ourselves, and we weren't compelling enough at any stage. We discussed that together, so it's now also over and done with, after all, it's straight back to business as usual.

"SV Sandhausen will be a tough nut to crack"
... the upcoming opponent: "Fürth started very high up against us, SV Sandhausen will probably act from a somewhat more wait-and-see attitude and rely on switching moments and standard situations. These are the approaches of their game. It is crucial that no opponent is defeated in passing, SV Sandhausen will be a tough nut to crack. We and all the spectators must approach this game with the same respect.
... the importance of the end of the first half of the season: Our goal is of course to go into the long winter break with a win, that always feels better, even if there are of course only three points for this game. That would give us an average of two points per game after the first half of the season and we would finish the first half of the season as the team with the most wins. That would be a good development and a good conclusion, and accordingly this is also our clear goal.